By Chelsea Spear
With the beguiling Remain in Love, Talking Heads drummer Chris Frantz puts a refreshing spin on a familiar genre.
Remain in Love by Chris Frantz. St. Martin's Press, 400 pages, $29.99.
Buy from Bookshop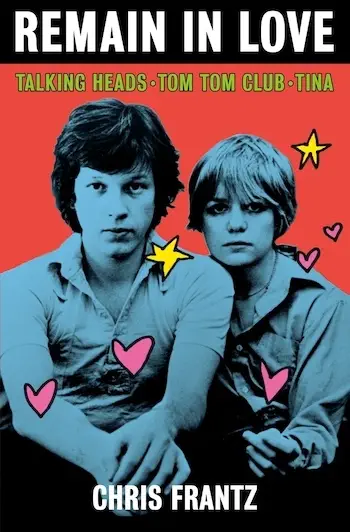 When reviewing rock biographies, words like "confrontational," "groundbreaking," and "uncompromising" often get a workout. One word you rarely see  — "charming." With the beguiling Remain in Love, Talking Heads drummer Chris Frantz puts a refreshing spin on a familiar genre.
Frantz's story begins not on the squalid stage of CBGB but in the comfortable confines of a WASP family in the mid-century South. Listening to and eventually making music provided him continuity as his family moved around the country. His adventures at boarding school and RISD seem like something out of an entertaining movie. The author is well aware of how he can exploit the cinematic qualities of his prose; when he first sees his future wife and musical collaborator Tina Weymouth, when she is bicycling through Providence in a Breton jumper, he compares the scene to a Truffaut movie. His grace and good humor –as well as his eventual domestic life with Weymouth — balance well with the chapters of the book set in '70s New York.
Most readers will know Frantz and Weymouth as the rhythm section of the iconic Talking Heads. While the band's eventual acrimonious breakup arrives like a gut punch, Frantz foreshadows its fate by exploring lead singer David Byrne's bizarre behavior. Beginning with Byrne's revisions to a RISD art show that took place after he dropped out of the school, Frantz details how Byrne frequently undermined his collaborators and claimed songwriting and art direction credit. Lou Reed's advice to the band early on — that "a band is like a fist" and record labels will try to "massage" one finger away from the others — assumes considerable prophetic power during the Stop Making Sense tour and production of the movie True Stories. Byrne treated these later Talking Heads enterprises as vanity projects, often minimizing the contributions made by other band members. Frantz points out in the book's opening chapters that Byrne had learning disabilities which weren't diagnosed until later in life. But he doesn't look away from the destructive effects of Byrne's impulsive decision-making on himself, Weymouth, and multi-instrumentalist Jerry Harrison.
Frantz's marriage to bassist Weymouth tempers the bitterness of the passages involving Byrne. The couple has been married for over 40 years, and Frantz describes himself as the luckiest man alive for falling and remaining in love with Tina. At times his effusive praise sounds like the reflections of a "wife guy," but anyone married to Weymouth has the right to brag. Of course, this might make some readers curious about Weymouth's side of the story.
The book loses some narrative steam after the Talking Heads disband, and later chapters have an episodic feel that can seem like we are being led through installments of Lifestyles of the Rich, Famous, and Fabulously Creative. At the same time, reading about Frantz's and Weymouth's idyllic life in Nassau, Bahamas, after the painful end of Talking Heads provides a healing experience. If Remain in Love has a guiding principle, it's that living well (and wealthy) is the best revenge.
---
Chelsea Spear has written for the Brattle Theatre's Film Notes blog, the Gay & Lesbian Review, and Crooked Marquee. She lives in Boston.