By Gabe Sherman
In Only for Dolphins, Bronson serves up his usual brand of excessive escapism, but it is offset by just enough emotional depth to suggest that he is maturing as a person and an artist.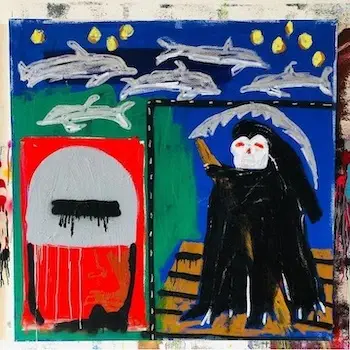 Escapism is a delicate thing. The real world and our greener pastures are never as separate as they would like to be. It often feels as if the harsh vicissitudes of our world bleed into and then taint the realms of the fantastic we invent through our words, our stories, and our visuals. Sometimes, for better or for worse, dreams are sold to us as though they are real, even if we know they aren't. Action Bronson's music is, in some sense, pure escapism. His brand is excess. As envisioned in his raps, his life is full of food, travel, nudity, and violence, and his lyrics are packed full of eclectic references to sports and movies from the far reaches of the pop-culture-sphere.
Bronson's creative endeavors are far-ranging. For a long time, I was more familiar with him as a TV chef via his show Fuck, That's Delicious. He had small parts in the films The Irishman and The King of Staten Island. His new album, Only for Dolphins, is an attempt to stretch his multimedia, multisensory reach even further. Along with the disc's release arrived a cologne called "Splash," which "smells like you've been in the sun, chilling at the beach, smoking some hash." "Bronsolino" also released a toy, an ice cream, and there are plans to sell olive oil. The cover art for the new album was also painted by Bronson.
Even in the early 2010s, when he was mostly known as a rapper, an embrace of sensory overload was part of his marketing plan. Back then, his salesmanship took the form of often questionable lyrics, notable for their bombast and shock value. On the 2011 cut "Keep Off the Grass," he raps, "got an asian hooker and she fluent in math," as well as, "you look confused and out of focus – autism." Cringe. There's also the song "Consensual Rape," which got him banned from performing at George Washington University in 2016. More concerning, he participated in a real-life transphobic incident in 2012, which was subsequently posted on Instagram. For years he assumed a defensive stance when confronted by these controversies. But by the time his GW performance was canceled, he had decided to change his tune.
"The lyrics I say are taken to heart many times as a representation of my beliefs or true feelings. SO please let me make this very clear: I think rape and acts of violence toward woman are DISGUSTING," he proclaimed in a statement on Facebook. Bronson also claimed that he had sat down with members of the LGBTQ community in order to understand how to "avoid being hurtful and insensitive."
That apparently has done the trick. Bronson has left most of these missteps in his past; they haven't come back to bite him as he's expanded his media empire, from publishing a number of books to the aforementioned many-pronged attack on the senses. While he seems to have mellowed and genuinely changed, he still says some eyebrow-raising things. Just weeks ago, in an interview with The Ringer, he was asked about being a white guy in rap and he responded, "I know where the origins of the music that I do comes from. I know my history.…I 've never looked at myself as the white guy in rap, because I'm fucking Baklava. I transcend color. I'm the fucking world's rapper."
So, back to where we began, escapism is a delicate thing; this kind of predicament leaves listeners in a bind. Bronson is a proud father and a motivated man (he recently lost over 100 pounds). He's witty, deeply knowledgeable about a wide range of subjects, and he is charismatic. But he also brings some disturbing baggage to the table. Some might choose to ignore the sludge and enter his lavish, psychedelic world without a care, but for the rest of us, an ethical reckoning is always close at hand. Ironically, Bronson probably says it best himself on the smooth "C12H16N2": "I got older and I realized there was no heroes."
Production-wise, Bronson's description of his cologne applies almost perfectly to the sound on Only for Dolphins as well. "Splash," which serves as a sort of quasi-promotional song for the fragrance, is anchored by reverberating synths and some very smooth '80s sax sound, while "Sergio" draws on a serene sample from 1972's "Go Away" by Jackie Wilson. The whole album is beachy in an acceptably over-the-top manner, from the sounds of dolphins, seagulls, and crashing waves, to the reggae sample on "Golden Eye."
Generally, Bronson sticks to the sunny script in predictable but enjoyable ways. Over a funky beat driven by a looped guitar and trumpets, he opts for humor on the hook of "Latin Grammys," yelling, "I may not be able to touch my toes but I will still fuck these hoes." Even when he can't resist from macho posturing, his dexterity is…admirable, as on "Capoeira," where he raps, "Safe to say my life's on fleek, no smoke and mirrors/Just models sniffin' coke off mirrors." His sports and culture references remain top-notch. In a single verse on "Cliff Hanger" he manages to shout-out the athletes Gary Sheffield, Earl Monroe, Bo Jackson, and James Worthy, while also touching on a variety of film genres, from Vampire in Brooklyn and The Matrix to Face/Off and the titular Cliffhanger. I was also relieved to discover that Bam Bam, a man of many nicknames, is still "butt naked" ("diving off boats," "ripping up the slopes," "playing ball") just as he was "in the Lamborghini" on 2015's "Baby Blue."
Still, Bronson's world has evolved in Only for Dolphins. He remains predictable, and that is comforting rather than monotonous. But the usual is offset by just enough emotional depth to suggest that he is maturing as a person and an artist. His delivery is slower and more deliberate now; he references fatherhood, proclaiming "I'm just tryna be at the top of the mountain, holdin' my son in the air." At times, he even laments growing older. On the closing track, "Hard Target," he raps "Ayo, the weed don't even hit me like it used to/When I was youthful/Man, I don't even know how to pray, dog." The change makes sense – he's close to 40. In that context, it's not a big leap to view his weight loss as an acknowledgment of mortality for someone who has boasted of being larger than life.
For all his music's flexing and braggadocio, Bronson is playing a character, though his persona contains some kernels of truth. At times, the facade weakens; there's a convincing moment of fragility on "Sergio" when he raps, "Give thanks for all these graces that's been placed upon me/Do I deserve it or not? Now that's a different topic/I think I do though/…I'm wired different/The slightest thought of me inspires vision/And puts a smile on the face of a man that knows he 'bout to die in prison." He quickly moves off this confession, but Bronson has come to the point where he  is willing to give us a glimpse of the person behind the mask. I would love to see what happens if he took it off entirely.
---
Gabriel Sherman is a student and writer from Brookline, MA, currently studying history at Pitzer College.