By Sarah Osman
For fans of novellas, Filthy Rich will be a trashy guilty pleasure.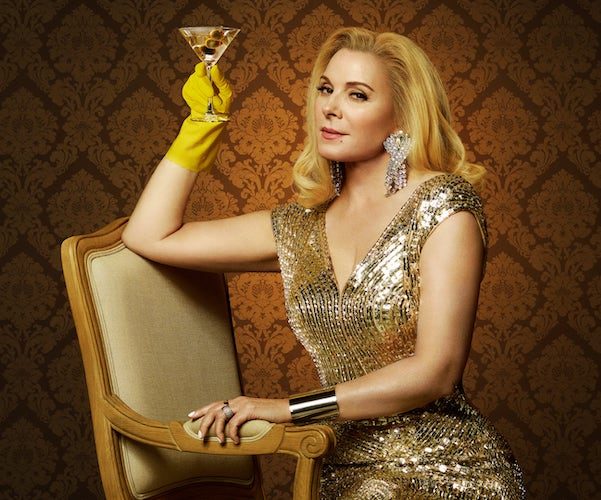 The first two episodes of Filthy Rich, Fox's newest prime-time soap, piled on a coma, identical twins, a man who was thought to be dead waking up in the middle of a swamp, and a porn empire about to make it big. Completely ridiculous? Yes, but somehow it works. Filthy Rich is not quality programming by any means. But the showrunners know that. Their mission was to serve up a trashy soap opera with wild twists and sly wit.
The series does have a sort of a central (albeit convoluted) plot. Set in New Orleans, The Monreaux's are a well-off Southern televangelical family, whose patriarch (Gerald McRaney) dies on a plane populated by scantily clad women. When his will is released, his wife, Margaret Monreaux (Kim Cattrall), is surprised to hear he had fathered three children out of wedlock. She and her other two children panic, and decide to try to buy off the three new kiddos. Bribery doesn't work. The three children become stakeholders in the Sunshine Network (led by the hit televangelical TV show, no doubt inspired by the 700 Club), so the family has to adapt to their new members.
Each new Monreaux comes with their own baggage. The most interesting character is Ginger (Melia Kreiling, arguably the best actor here), who runs a successful sex-themed website; she decides to bring her entourage of hoochie girls to New Orleans to capitalize on their new fame. Antonio (Benjamin Levy Aguilar) is an MMA fighter with a son and a shady past. And then there's Jason (Mark L. Young), who may not be who he says he is.
Filthy Rich will undoubtedly draw comparisons to HBO's evangelical satire The Righteous Gemstones. The latter was successful as satire; Filthy Rich is not because it doesn't have a point to make beyond celebrating the gauche and the glitzy. Filthy Rich is in the mode of Dynasty — nothing clever or sardonic intended. No doubt the writers studied numerous telenovelas; I kept expecting a priest to show up and someone to be pregnant (we do get a baptism in the second episode, so I'm not far off).
Cattrall herself is nothing too special. She oozes with honey in her failed attempt to play a faded Southern belle, which makes her one of the least entertaining parts of the series. She is stuck with the role of holding the family together, and the truth is that it's far more fun when they're fighting. Son Eric (Corey Cott) is equally boring — his only goal in life is to take over the company. It's the characters around the right-wingers who make the show fun, partly because they make things even more insane.
It's been a while since a memorably amusing and campy soap hit the airwaves (the last successful example was Revenge). The religious twist adds a humorous touch of biblical absurdity when, for example, characters hurl New Testament verses at one another to help them hawk perfume. Considering the chaos that surrounds us, as well as our serious (and mounting) problems, Filthy Rich comes off as a welcome escape. Hopefully, Fox will bring it back for another season; given the hellish situation we find ourselves in, this tawdry show is nothing short of heavenly.
---
Sarah Mina Osman is a writer living in Los Angeles. She has written for Young Hollywood and High Voltage Magazine. She will be featured in the upcoming anthology Fury: Women's Lived Experiences under the Trump Era.