By Noah Schaffer
Roy C may not have lived to see the current regime toppled or his litigation over past royalties resolved to his satisfaction, but he died knowing that he was — without a doubt — a Black American original.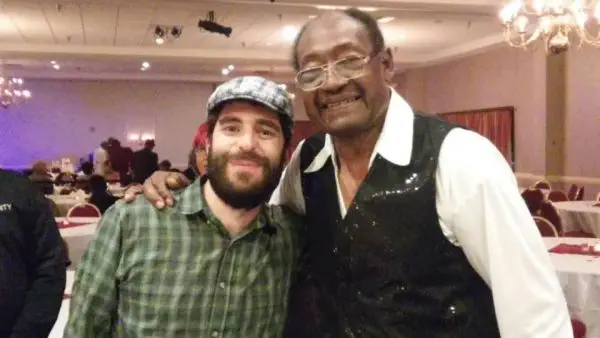 Roy C, the outspoken soul storyteller supreme, passed away this week at 81. He was active until the end, working at his Allentown, SC, record store, Carolina Records, where he also ran his longtime label, Three Gems. He had pending tour dates that had been rescheduled due to Covid-19.
Born Roy Charles Hammond, his career started in the '50s doo-wop days with the offbeat Genies, for whom he sung lead on songs like "Who's That Knocking" and "Twisting Pneumonia." He hit R&B pay dirt in 1965 with the single "Shotgun Wedding." The song's gunfire sound effects, along with a story line plucked out of the tabloids, reflected the humor and irreverence that would become a Roy C staple. The song was a big hit at Skippy White's record stores in Boston, cementing a lifelong relationship that continued well into the last decade, when Skippy would still produce Roy C concerts at Dorchester's Russell Auditorium.
In the early '70s, two accomplishments cemented Roy C's legacy. His Queens-based label, Alaga, signed a teenage group called the Honeydrippers to record in the same studio, at the same time Roy C was cranking out singles like "In Divorce Court" and "Merry Black X-Mas." They released the timely "Impeach the President," with Roy C contributing to the Honeydripper's Watergate-inspired chant. The subsequent Clinton and Trump impeachments have kept the song timely, but its funky beat is what really guaranteed its immorality — it is one of the most sampled songs in all of hip-hop. (Sadly, the valuable copyright ended up in the hands of lawyered-up label owner Aaron Fuchs. Years of litigation left Hammond feeling like he never got his just share of the prize.) Roy C never received the full royalties his music earned others.
But just as important was the 1973 Roy C album Sex and Soul. Songs like "Don't Blame the Man" showed the power of Hammond's songwriting, and the elegant production and the record's massive reception in Black America, the UK, and Jamaica showed there was an adult audience for funny yet sophisticated soul music that dealt with mature, real-life themes. A path was set for fellow artists like Millie Jackson and Marvin Sease.
An excellent sequel, More Sex and Soul, followed. Roy C was well into middle age in the late '80s, but he crafted some of the underground party songs that would remain staples of his live shows: "Peepin' Through the Windows" and the outrageous "Saved By the Bell (Infidelity Georgia)." While Roy C never garnered the massive White following that the soul stars of Stax and Motown enjoyed, or even got much mainstream R&B airplay, his concerts were always major Black cultural events, especially for Southern transplants. In a 2011 Boston Phoenix article, Skippy White explained that he could always sell the tapes and CDs Roy C self-released on his Three Gems label because his customers would go back South for family reunions and return "asking for a record they say is big in Georgia, so we track it down. If a record couldn't get played on the radio, we'd play it here in the store, and people would find out about it that way."
In that same article, Roy C, always a sharp cultural critic, downplayed the "chitlin' circuit" term that was sometimes applied to the venues he worked. His objection was that the term evoked images of tiny backwoods joints, rather than the classy theaters and function halls or well-attended festivals where well-dressed Roy C fans would turn out anytime he was in their town.
Like many of his Southern soul peers, Roy C's attitude toward religion was conflicted. He poked fun at the church in "I'm Gonna Love Somebody Else's Woman (Somebody's Lovin' Mine)," but also released gospel albums on his Three Gems label. An attempt at exposing Roy C to a new audience via a documentary that billed him as the "greatest singer White audiences have never heard of" never came to fruition, but an album recorded for the project with a live horn section is still a great listen. In recent years, Hammond could be found on social media sharing his music, engaging with his fans, and speaking his mind about both his business enemies and the racist society that had made "Impeach the President" relevant again.
Hammond may not have lived to see the current regime toppled or his litigation over past royalties resolved to his satisfaction, but he died knowing that he was — without a doubt — a Black American original.
---
Over the past 15 years Noah Schaffer has written about otherwise unheralded musicians from the worlds of gospel, jazz, blues, Latin, African, reggae, Middle Eastern music, klezmer, polka, and far beyond. He has won over 10 awards from the New England Newspaper and Press Association.