By Isaac Feldberg
In wrapping up Fantasia, I focused on The Five Rules of Success, Come True, and The Dark and the Wicked, three ambitious genre titles that have stuck with me long since their credits rolled.
My first year at the Fantasia International Film Festival – all-virtual this last month, amid a global pandemic that seems unlikely to make gathering in person for celebrations of most anything possible for years to come – was objectively a joy. Always an indulgent spread of genre cinema, North America's largest genre festival lived up to its reputation – no easy feat, in a year where festivals as major as TIFF have significantly reduced their programming and stumbled in fully realizing the appeal of online platforms.
In total, I took in 16 features from Fantasia's lineup, a number that's smaller than I would have liked, but still unearthed some gems I'm looking most forward to seeing the masses discover in these next few months. My first two dispatches covered a few of the highlights, like Ryan Spindell's The Mortuary Collection (coming to Shudder Oct. 15), Ryan Kruger's Fried Barry (still seeking distribution), and Ben Hozie's PVT CHAT (undated but in the care of Dark Star Pictures along with Zoe Wittock's Jumbo and Mickey Reece's Climate of the Hunter, two other fest highlights I'd previously caught at the virtual Chattanooga Film Festival). In wrapping up Fantasia, I focused on The Five Rules of Success, Come True, and The Dark and the Wicked, three ambitious genre titles that have stuck with me long since their credits rolled.
---
It's easy to see why Orson Oblowitz's The Five Rules of Success (hereafter Five Rules) has drawn comparisons to the stylishly nihilistic character studies of early Nicolas Winding Refn. In its wiry, cold-eyed way, the film is a similarly sickened sonata of violence and despair, pugnacious with purpose as it follows the experiences of a young parolee (Santiago Segura), credited only as X, after his release from state prison.
We come to learn the reason behind X's imprisonment, and it's awful, the kind of trauma that breaks a soul. But X keeps moving, and Oblowitz follows – literally, moving from an opening tracking shot to rougher, handheld camerawork that makes us feel like we're tailing the subject. Oblowitz invites the parallels to Refn. Before the half-hour mark, we're in a surreal, neon-lit karaoke lounge, the kind with Egyptian wall decor and a Korean-language song list. There, X gets a lap dance he didn't ask for and struggles to stay above the corrupting influence of snot-nosed Danny (Jonathan Howard), son of Avakian (Jon Skarloff), the restaurant owner who's given X his first post-prison shot at a paycheck. But Danny's persistent, and X can only fight him off so long.
Five Rules paints its underworld in saturated colors and off-kilter angles that make X seem as though he's sinking into or dwarfed by his surroundings. Narratively, it reminded me as well of Guy Ritchie's bare-knuckle Brit-crime capers, perhaps on downers instead of uppers but equally conscientious about making its characters feel authentic. Danny, an asshole, has his own fears and frustrations. Avakian, meaning well, has also put work before family, and Danny's the proof. We feel most for X as he pushes back against his circumstances, trying to follow a Fight Club-like set of rules out of the foul swamp of his past and present into something more promising. One twist belies Oblowitz's numbed anger and correspondingly vicious humor at the premise: X gets closest to his goal by trading on misery tourism, that contemptible yearning of the privileged to be exposed (temporarily, of course) to the lives of those less fortunate. The director's ultimate target is the American dream and how it's only for some of us, no matter how much we sacrifice to pursue it.
The whole world's a swamp, as X discovers. It sucks you under as you fight to stand. Recidivism is a crisis in this country not because of any criminality in the blood of repeat offenders but because the system is rigged against them, rooting for them to fail. We don't reform people in America; we punish them, banish them, out of sight, out of mind. Any piecemeal stabs at rehabilitation succeed in spite of the system, not as an outgrowth. For those like X, "reentering" society after serving a prison sentence is made to feel unnatural, painful, a forced rebirth. Unable to obtain a driver's license, stigmatized by most potential employers, he's marked as a pariah. An abusive, power-tripping parole officer (Isidora Goreshter) tells him he should consider himself "a prisoner on vacation" until she says otherwise, not that she will. Oblowitz doesn't go in for subtlety. At one point, X watches Trump on the TV, whipping supporters into a fever pitch with empty professions of patriotism, and pictures himself in his ill-fitted suit. "Steal a little, you're a thief," he says later. "Steal a lot, you can be king." Five Rules is grim like Bataillean philosophy and gutter poetry. It rings true as a kick to the head.
---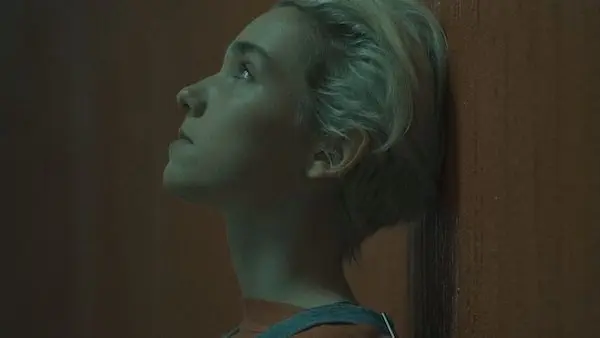 Come True, the second feature from Anthony Scott Burns, has an ambition that I greatly admired, and an eventual arrogance that I loathed as much. It's not unlike one of its key influences, Netflix's Stranger Things, in that way, just like it's not unlike Stranger Things in a lot of other ways. Haunted and maybe hunted, this film's Eleven – a young woman named Sarah (Julia Sarah Stone) – finds her psyche traveling involuntarily to a strange, interdimensional dream-realm lorded over by a palpably threatening deity. Conducting a "sleep study," scientists use her as a conduit to explore this other reality, recording and then playing back footage of whatever horrors lurk inside her unconscious mind from what they believe to be a safe distance.
That concept of "filming dreams" powers Come True through its engrossingly pensive first hour, where a synth-score by Burns (as Pilotpriest) and Electric Youth keeps the film's atmospherics soupy and rich. The trouble starts after that, when the film's world has been established. Burns has to figure out where to take it. To charge that a film feels derivative of Stranger Things is to complain about a Xerox-of-a-Xerox. But I mean it sincerely in the case of Come True because neither Burns nor that series' architects seem to be looking at what they're doing, as good as they make it look. The popularity of Stranger Things – and, less memorably, J.J. Abrams's time-capsule Super 8  – recontextualized '80s horror and sci-fi touchstones as cradles to rob and veins to tap. But synthesizing Spielberg, Carpenter, and King leads to a kind of super-aesthetic, thick and tactile, so intoxicating that it often becomes more the point of the art channeling it than any ideas their creators hoped to express.
Given where Come True ends up, it is important to note how Burns is an exceptionally talented composer of images. The film cleverly conveys the swirling amorphousness of its nightmare world; as the camera moves toward structures that mysteriously materialize out of the shadows. Things look alarmingly like one thing before they assume form as another. Come True also exploits the patchy, out-of-focus "reception" these scientists receive while monitoring Sarah's dreams, conjuring hazy glimpses of apparitions in a way that reminded me of Hideo Nakata's Ringu and its unsettling vision of vengeful ghosts in the machine. I'd hoped Come True might go further in that direction: what happens when whatever presence they observe sees it's being watched? What's in Sarah's head feels dangerous to them, too. One of the great disappointments here is that Burns only recognizes that danger in aesthetic terms.
The other great disappointment is the film's ending, one of the more infuriating and treacherous I've seen in recent years, a cop-out that retroactively taints all that came before it. Like the rest of Come True, it's an homage to Carpenter's Prince of Darkness, specifically the dream sequence where a voice intones, "This is not a dream, not a dream." The horror is fully embraced, a shadowy figure comes into view, mirrors open up portals to other dimensions. But Burns's film is too visually chilly and clinical, its writing too leaden, to execute that kind of delirious descent into madness. Prince of Darkness was Carpenter playing fast and loose; Come True is rigor mortis-level tensed. It can't break free of its aesthetic, perhaps because its chosen construction is a mirrored image, built out of what Burns has absorbed rather than what he's imagined. It lacks the elasticity of an original, which is to say that when a drastic transformation is required in the finale the film's inner logic is stretched so hard it snaps. But even before that I pinpointed the exact moment Come True came apart at the seams, and it's a doozy: a sex scene that not only tells us nothing about its characters but that's shot so indulgently, like a music video, it forces you out of the film. It's an instance of Burns losing his grip, and a dismal harbinger of Come True's final third.
---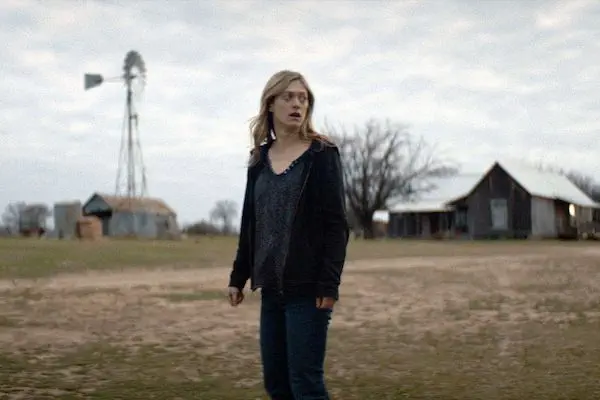 Bryan Bertino's The Dark and the Wicked is scary. Not "scary" just in the sense of its clanging, nerve-shredding jump-scares, though there are plenty of those, or even as a consequence of the diabolically upsetting denouement that caps this tale of a family under siege from unspeakable horrors. No, like The Strangers, Bertino's now 12-year-old masterpiece, The Dark and the Wicked is scary in how it's a document of where its director thinks we're at as a country. Depicting its homeland as cursed, condemned, and maggot-infested, it offers little solace to its doomed protagonists, only now waking up to its horrors. Read as commentary, it's bone-crushingly bleak.
Bertino stages his narrative in a depressed farmstead in rural Americana where a patriarch lays dying. His grief-stricken wife and children can only watch in misery as he's slowly taken – by a force that, we learn, won't stop with him. A daughter (Marin Ireland) and son (Michael Abbott Jr.) are left to mourn the safe haven they knew, even as their continuing presence on the farm leaves them horrifically exposed. This director has earned his reputation as a chronicler of American nihilism, slashing brutally at the lie of exceptionalism and posing powerlessness as the truth undergirding our lives. In The Strangers, four words – "Because you were home," the only answer given to a young couple under attack by masked intruders get for why they're about to die – captured the frightgeist of our post-9/11 years. It is a vision of death as random chaos; homes are safe only when no one's trying to get in. If that masterpiece pinpointed one particularly terrifying demon to exorcise, The Dark and the Wicked cuts possibly deeper in how it ferrets out whatever defenses we mount against said forces — faith, loyalty, family values, pure intentions — as lies we tell ourselves to ward off the truth of our impotence.
In its hopelessness, its oppressive atmosphere, its dismantling of qualities we believe insulate us from horror and tragedy, The Dark and the Wicked is a rich text. Bertino's films mirror this country's fraying self-image, a reckoning with the demons in its bones. Building on the more schematic anguish of Ari Aster's Hereditary, where the annihilation of the characters was so choreographed they were framed as playthings in a dollhouse, Bertino's vision of grief is that it is a force that will destroy you if you let it — or even if you fight back. Knowing he filmed The Dark and the Wicked on his own Texas farm adds another layer of agonizing, metatextual dread — where does one go, psychologically as much as physically, when the place that made them who they are is revealed to be a house of horrors?
It's a question I've been asking myself a lot these past few years, as any vestigial sense of national pride has been severed by this country's overtures toward fascism and isolationist fervor. Bertino sees that, in the cold light of day that's appended the War on Terror, we are mourning a country that we only ever thought existed. We're not the people we believed we once were — strong, devout, united — and we're profoundly vulnerable in ways that we cannot accept. The family at the center of this film is preparing for the death of a father who's helpless and comatose, already gone in all ways except one.  But that lingering physical presence is enough to keep loved ones attendant. According to traditional family values, a patriarch is more than the head of the table. He's the breadwinner, the architect, the creator, the one who sees further and keeps a pistol in the drawer to confront whatever might be lurking ahead. His death signifies the loss not only of a man but a front-line, a way of life, a belief system. What the family in this film can't reckon with is that he's not theirs, anymore. The disembodied whispers of a demonic force suggest that the devil has come. But his wife and children can't leave, can't imagine turning their back on the family and the home that defines them. That's not theirs anymore, either. The Dark and the Wicked proceeds with pitiless logic. It's a grim epitaph for our lapsed national identity, one that recognizes the primacy of darkness on the edge of town and knows we don't have a chance against it. It's a real downer, and the kind of prophecy I'm scared to agree with.
---
Isaac Feldberg is an entertainment journalist currently based in Boston. Though often preoccupied by his on-going quest to prove that Baby Driver is a Drive prequel, he always finds time to appreciate the finer things in life, like Michael Shannon.