By Alex Szeptycki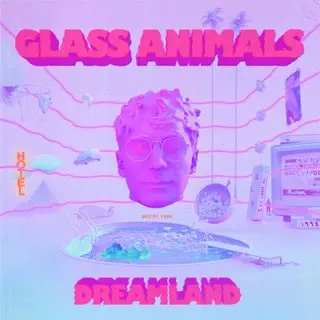 The Oxford band's third album dispenses with personality in favor of bland trap pop.
Glass Animals, what happened? Their first two albums were rife with growing pains, but the Oxford band still scored with a fun, psychedelic approach to pop music. But on their third effort, Dreamland, the band has swapped its voice for depressingly algorithmic trap pop — the group's merits crumble under the weight of the bland instrumentation and heavy-handed storytelling. Most concerning of all, though, is that Glass Animals have turned their backs on the musical personality that made them exciting in the first place.
Dreamland is a loosely autobiographical album, one that dips in and out of frontman Dave Bayley's life story. Audio from home movies pepper the tracklist, childhood memories that include watching Sesame Street and launching toy rockets. "Dreamland," the titular opening track, serves as a table of contents for the recording's personal concerns; it ends up outlining the album's problematic path. The woozy synths are atmospheric, but ultimately go nowhere. Over the mush, Bayley's methodical singing falls flat — declarations of "You've had too much of the digital love/You want everything live, you want things you can touch" are unpleasantly stiff. Bayley gets his message across, but his croony delivery doesn't put across his emotions with any force.
The lyrics' shortcomings limit the album's emotional power. "Space Ghost Coast To Coast" should be unabashedly dark — it's based on the real life experience of a childhood friend (of Bayley's) caught planning a school shooting. Pervasive violence is filtered through nostalgia, with references to the video game Doom and songs by Dr. Dre. But Bayley's vague imagery misses the mark entirely. It's hard to take lines like "Black cap back with a trench coat, eyy" seriously. Moments like this are tactless at best and troublesome at worst; Bayley's musings consistently fail to do these topics justice. The glitzy instrumental does nothing to redeem the track either; booming drums and buzzing synth only make the end product even more forgettable.
Unfortunately, there are also moments where there are no good ideas to ruin. "Tangerine," one of the worst songs I've heard in ages, represents everything that's wrong with the album — distilled into one sordid track. The instrumental is unforgivably inoffensive, defined by neutered synths that manage to sound like a "Hotline Bling" ripoff. Besides this, Bayley's cringy crooning reaches its nadir when he intones "I wish I could show you more of yourself/I wish I could make you somebody else." It's as inane as it is troubling. Further along, "Melon and the Coconut" is  equally calamitous. It's a breakup starring the two aforementioned fruits, an idea that's as bad as it sounds. Bayley tries painfully hard to be quirky, but the conclusion of "Off-White Air Force Ones in boxes/You're a fucking coconut couldn't even put em on" has all the appeal of trash cinema dialogue. The difference is that I can't enjoy this music, even approaching it with irony.
Dreamland's few redeeming moments occur on the back half, where Glass Animals make a few promising stumbles forward. The trilled melody of "Your Love (Deja Vu)" injects agency into the tracklist; it stands out in the instrumental mush. On the chorus, Bayley is sultry and yearning in equal parts as he sings "I can feel your love/Your temporary touch." The manic pop number proves to be the best platform on the album for his delivery. "It's All So Incredibly Loud," the finest track here, represents the biggest stylistic development for Glass Animals. The woozy slow burn the band employs is nothing new for them, but the sporty percussion plays off of the gossamer synths in new and exciting ways. Bayley finds himself in inspired form as well, singing candidly about having hurt a friend. When the chorus comes, it's an explosion of tranquilized pain. "Ooh we're breaking down/Silence would deafen me now," pines Bayley, managing to capture his regret with terrible precision.
Sadly, these moments are sparse on an album that ultimately fails to develop in a meaningful direction. Songs like "Hot Sugar" embody this predicament. The bouncy synths mesh with an understated beat and Bayley emotes sensually. Nothing is inherently wrong with this; in fact, lines like "I don't wanna be around you/Just wanna be like you" even manage to be interesting. The flaw is that this track is indistinguishable from the sea of trap-influenced pop around us. The glossy synths, the bassy halftime beat, the croony filtered vocals: there's not a glimmer of originality to be found. "Waterfalls Coming Out Your Mouth" suffers from a similar musical grayness; nothing here is able to shift the track past neutral. The tired melody is polished to the point of sterilization, and Bayley's treacly vocals have long worn out their welcome. When it's not annoying, Dreamland simply becomes boring.
Dreamland is frustrating, not only because of its mediocrity but because it turns its back on the band's potential. Glass Animals hit on something enticing in their first two albums. Yes, there were unmistakable missteps, but the group seemed to be in the process of establishing their identity. I am disappointed at how purposeless this record is; the glitzy, trappy blur feels like it is here only to chase a trend. The sad result is that the band has retreated into anonymity, creating music that is as generic as it is ill-conceived.
---
Alex Szeptycki is a writer from Charlottesville Virginia. He recently graduated from Stanford University, Majoring in American Studies with a focus in contemporary art and pop culture. He's currently working as a freelance writer at The Arts Fuse while navigating post grad life in a pandemic.