By Steve Provizer
If there's ever been a more distinctive jazz musician than Rahsaan Roland Kirk, you'll have to prove it to me.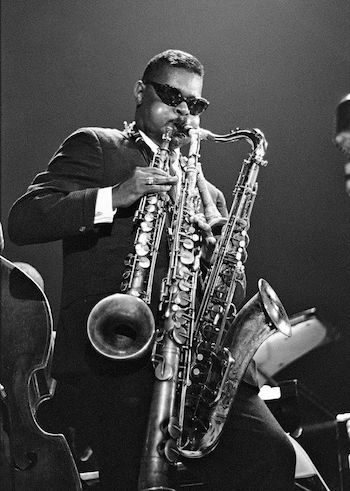 He was born Ronald Theodore Kirk on August 7, 1935, in Columbus, OH, and became blind at age two. Two dreams compelled him to make name changes: the first, to transpose two letters and become Roland, the second, to take the name Rahsaan. By age 15 he was already gigging in an R&B band and, according to saxophonist Hank Crawford, was already playing more than one horn at a time and "playing the shit out of them."
I was fortunate to go to a number of Rahsaan concerts, and to see him live was not merely to watch a person playing  multiple instruments, it was to encounter a musical force field. Rahsaan talked a lot about vibrations — for a while his band was called "The Vibration Society." His personal vibration was full-spectrum. He was in the low hertz ship-to-ship range, on the FM band, and in gamma-ray range at the high end. He knew all those frequencies were ripe for communication, and he dug deeply to find ways to access them. This is one crucial way of understanding why he played every kind of instrument or object he could coax a sound out of: tenor and soprano sax, flute, stritch, manzello, clarinet, harmonica, English horn, trumpet with saxophone mouthpiece, nose flute, whistles, gongs — not to mention alarm clocks, transistor radios, sirens, tape loops, garden hoses, and answering machines.
Kirk played tenor sax as well as anyone and completely transformed the way the flute was played. He could sound "correct" when he wanted to, but was more concerned with changing that keyed metal tube into a vehicle of self-expression. He spoke, hummed, whistled, groaned, and yelled into the instrument. Instead of speaking just one language, his flutes became polyglots.
He wanted to be able to play his instruments in any combination and for as long as he wanted, which is why he had several strapped to his body, often had several going at one time, and why he mastered circular breathing, which allowed him to play for minutes without stopping for a breath.
He was adept at the standard jazz repertoire, but was not satisfied staying within the strictures of jazz, as narrowly defined. Rahsaan listened to all kinds of music and infused their sensibilities into his own. He knew the work of composers like Villa-Lobos, Tchaikovsky, and Saint-Saens; for example, he draws on Dvorak's music in a medley with "Going Home / Sentimental Journey / In Monument / Lover" and in his "Variations on a Theme of Hindemith."
He recast popular songs like "Ma Cherie Amour," "Never Can Say Goodbye," and "I Say a Little Prayer," and made them his own.
Kirk was very aware of Black culture. The idea of "blackness" is one of his key touchstones: "Blacknuss," "Black Root," "The Black Mystery Has Been Revealed," "Volunteered Slavery." He fought for increased Black representation in media, and founded the Jazz and People's Movement (JPM) in the '70s. As many as 80 JPM participants would show up at the taping of the Dick Cavett, Johnny Carson, and Merv Griffin talk shows, blowing whistles, holding up signs denouncing their exclusion from broadcasts, and messing with the shows' tight schedules. Kirk negotiated to appear on the Ed Sullivan Show with a stellar group of musicians, including Archie Shepp, Charles Mingus, and Roy Haynes. They were supposed to play "Ma Cherie Amour." Instead, Kirk proclaimed "True Black music will be heard tonight!" and the group tore into Mingus's "Haitian Fight Song."
A number of Kirk's compositions have become jazz standards: "Bright Moments," "Serenade to a Cuckoo," "Spirits Up Above" and "Volunteered Slavery." He has been recognized by musicians in all genres as an influence: creditors include Jimi Hendrix, Ian Anderson, Derek Trucks, and Eric Burdon, who wrote "The Vision of Rassan." [sic]
Kirk was both a historian and a futurist; he filtered everything through his constantly probing consciousness. Whatever his source material or inspiration — from early Ellington to Stevie Wonder to Coltrane — the result was ineluctably Rahsaan. Another cause for celebration: that he was able to translate his energy onto his recordings as well as any improviser ever had.  His vivid presence is available on videos of his performances on YouTube. He died on December 5, 1977, but shaman-trickster-conjuror-virtuoso Rahsaan Roland Kirk, you still "Talk with the Spirits"  — and we are grateful.
You can see the playlist and listen to my radio program on Rahsaan here; https://brilliantcornersabostonjazzblog.blogspot.com/2015/08/the-rahsaan-program.html
---
Steve Provizer writes on a range of subjects, most often the arts. He is a musician and blogs about jazz here.