By Ellen Elias-Bursac
A supple, evocative novel that meditates on family and loss and art.
Difficult Light by Tomás González. Translated from the Spanish by Andrea Rosenberg. Archipelago Books, 150 pages,$18.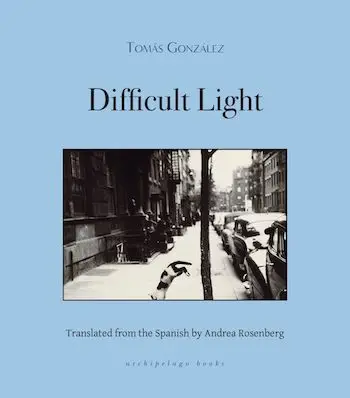 Colombian author Tomás González's short novel Difficult Light is a dream-like meditation on family, death, love, painting, and words. We're ushered into the story and the Manhattan apartment of narrator and painter David and his wife Sara during an evening and night while the household is waiting for word from two of their sons, Pablo and Jacobo, who are driving across country so that Jacobo can be helped to die in Portland, Oregon. Friends and family wander in and out all night long. Meanwhile David dips into the past to tell us what brought the family to this tragic moment. How they moved to Manhattan from Bogota via Miami, how he honed his art as a painter and they raised their family. And then one day their son Jacobo was hit by a pickup truck while riding in a taxi only a few blocks from their apartment, and was left permanently paralyzed, wracked by unbearable pain.
A second time frame, the vantage point from which he tells the story, is many years later in La Mesa, Colombia, where a much older David, having lost Sara to cancer two years earlier, is gradually losing his eyesight. With the help of a caretaker and driver and a magnifying glass, he has undertaken the task of recording what happened over the days when his son was helped to die.
This novel does not have a simple forward-moving storyline. The narrative meanders back and forth between that night of dread as they wait for the news of Jacobo's death and David's later years in La Mesa. I, myself, am a translator, and as I teased out the backs and forths and made sense of the flow and eddies of the storytelling, I could see that the time shifts must have been quite a challenge for translator Andrea Rosenberg as she finessed the English. Once I understood how the narrative was shaped, I had to admire her handling of the pasts and presents, while sustaining the hypnotic melancholy of the narrative voice.
I asked if they had any trouble when they turned in the van, and he said no. I'll pass you to your mother, I said, and their conversation was as fluid, and as mysterious to me, as it had been on other occasions. Though her voice remained steady, I saw Sara's eyes shining with impending tears, I decided to go out for a while.

Despite the large magnifying glass I use, I had to stop writing for more than an hour because I could no longer see the words clearly. And I write large, too, with letters about the size of a blackberry. When I can't see anymore, which happens more and more often now, I go lie down…
Threaded through the conversations with the traveling sons and the family and friends are glimpses of David and Sara's love for each other — the prose, again, jumping back and forth across time:
Sara was lying on her back with her eyes closed and her hands folded on her chest. I prized them apart to slip mine between hers, and the three hands slid down to rest on her belly, which rose and fell with her breathing under the fabric. At some point she had put on her pajamas. She wasn't sleeping. I always sleep naked, even now that I'm an old man, despite the cold, because pajamas always get twisted around me and keep me awake. Sara squeezed my hand without opening her eyes. I sat up a little to look at the clock on her nightstand: midnight. Now it really was midnight.
David's obsession with painting is another theme threading through the novel. "…at times I became so intensely involved in my work that I forgot to smoke or drink coffee." In the years before Jacobo's accident he describes his compulsion for unearthing subjects for his paintings —  a tricycle, a roller coaster. Even after the accident he keeps painting. As they wait for word of Jacobo's death, he keeps returning all that long night to his work on a painting:
The subject of the painting was the foam churned up by the propeller of the ferry as it leaves the dock, when the motor begins to roar in the seething green water. The emerald color of the painted water was pale, superficial, I thought, like a piece of spearmint-flavored candy. I hadn't managed to render it so that, subtly, imperceptibly, you could feel the depth of the abyss, feel death. The foam looked beautiful, incomprehensible, chaotic, separate yet inseparable from the water. The foam was good.
The intensity with which he approaches his painting makes all the more poignant his gradual loss of eyesight in his later years, a loss which pushes him towards words and the writing. González's virtuosity is married to Rosenberg's virtuosity in a passage that fuses the protagonist's passion for painting, writing, and love with the translator's skill —  by way of the resonance of the word 'pang':
Words are amazing things. I already tried my hand at poetry and short stories when I was very young, and I didn't do so badly. In those days I seemed to have more aptitude for that than I did for painting; it was in my blood [….] And now that I'm back at it all those years later, I am surprised once more by how supple words are—how all by themselves, or practically by themselves, they can express the ambiguity, the changeability, the fickleness of things. And yet I long for the aroma of oils or the powdery feel of charcoal in my fingers, and I miss the pang — like the pang of love — that you feel when you sense you have touched infinity; captured an elusive light, a difficult light, with a bit of oil mixed with ground-up metals or stones.
Even as I draw out just a few of the strands in this rich novel, all the ways González and Rosenberg give us for thinking about family and loss and art, I realize what a supple, evocative tapestry Difficult Light is. I warmly recommend that you read it and discover for yourselves the wealth of all it has to offer.
---
Ellen Elias-Bursac has translated over twenty-five novels and books of non-fiction by Bosnian, Croatian, and Serbian writers. ALTA's National Translation Award was given to her translation of David Albahari's novel Götz and Meyer in 2006. Her book Translating Evidence and Interpreting Testimony at a War Crimes Tribunal: Working in a Tug-of-War was given the Mary Zirin Prize in 2015. She is the president of the American Literary Translators Association.