By Steve Provizer
Peggy Lee's career took her far from the bifurcated sexual image expected of a canary — 40 percent coy seductiveness and 60 percent "I just want to settle down but will entertain you until the right guy comes along."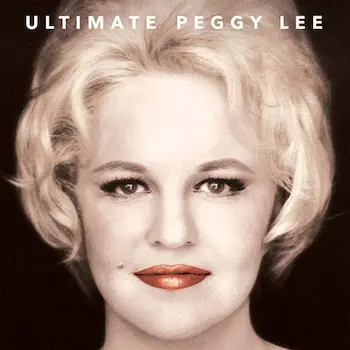 I recently reviewed re-releases by Nat Cole and Frank Sinatra. Now comes Ultimate Peggy Lee, a third pop-jazz vocalist. I've enjoyed listening to Lee's music, but my first response was that the collection is not noteworthy enough to motivate a review. Then I remembered whispers in the press of her fanaticism about control and recalled some of the visual images I had of "Miss Peggy Lee" (her preferred moniker): standing in front of Benny Goodman's '40s big band, innocence personified; emoting somewhat stiffly in '50s films; attending swank '60s events clad in faux Egyptian finery, and hiding behind large sunglasses, Greta Garbo style, in '70s Manhattan. So I decided to look a little closer. I discovered that the career of Peggy Lee (née Norma Deloris Egstrom) started off in typical fashion, but over time she took control of her career in a way that was exceedingly rare for a female performer in mid-20th-century America. It seems worthwhile to use this collection to tie together her music with her life — even if only in an abbreviated way.
Lee's career was long, extending from her debut with Benny Goodman through the '90s. Career highlights include a number of hit songs in the '40s, a classic album (Black Coffee) in the '50s, and roles in several films, including an Oscar nomination for Best Supporting Actress in Pete Kelly's Blues (1955), a hit song, "Fever" (1958), and a final hit with "Is That All There Is" (1969). She wrote about 200 songs and undertook and won a long court battle (1988-1992) to retain rights for her work in the 1955 film Lady and the Tramp when it was released on videotape. It was a case that set a precedent for how entertainment contracts would be written. She started a company called Peggy Lee Enterprises, which includes music publishing firms and a production unit for television and films.
Lee's back story was similar to that of her big band vocalist cohort Helen Forrest (whom she replaced in Goodman's band), Helen O'Connell, Helen Ward, and Doris Day. She grew up in '30s North Dakota (a large percentage of these women were from the Midwest) with an alcoholic father and a stepmother who beat her. She hooked into the popular music of the day on the radio — Goodman, Dorsey, James, Basie — recognized her own talent and saw her musicality as a way out. She sang on local radio and played area gigs until being "discovered" and brought up to the big time by Benny Goodman in 1941.
In the '40s-'50s, female singers (aka "canaries") were marketed to fit a bifurcated sexual image, about 40 percent coy seductiveness and 60 percent "I just want to settle down but will entertain you until the right guy comes along." Initially, Lee seemed to fall into this slot. She fell in love with Goodman's guitarist Dave Barbour and, even after having scored several hits, insisted that she just wanted to stay at home with Dave and their child. Part of this lack of ambition may have reflected Lee's honest feelings about the limitations of her voice; she seemed to be somewhat surprised at her early success. However, Barbour and others convinced her to get back in the biz, which she did.
Musically, Peggy Lee was slightly less talented than some female vocalists of the era and slightly more talented than others. She had less dynamic range and a lighter voice — she was more likely to convincingly coo than growl. Critics have likened her to Billie Holiday, and there is at times a similar light and slightly girlish quality to their voices. But Holiday was more of a melodic and rhythmic risk taker.
Lee is at her most effective when she is not trying too hard, when she approaches a song with an almost throwaway naturalness. "Just in Time" in this collection reflects that strength. There is an effort to "sell" the song, but there's an archness to the effort that undercuts it. "I know you're watching me and I'm watching you watch me." She generates a relaxed bond, an emotional mortise and tenon that hooks listeners. However, when Lee tries to express the dirtier side of the music — blues or rhythm & blues — the result is forced. It's hard to escape the "whiteness" of her approach. Lee had an early hit with "Why Don't You Do Right," but despite the song's earthiness, she plays the lyric as if it was coming from a fed up yet wistful mistress. The message becomes more yearning than waspish.
Her 1953 album (with more tracks recorded in 1955) Black Coffee was an early "theme" record, exploring the fragility of love. The lyric of the title track foreshadows the complicated image that Lee will create. She's still somewhat connected to the canary image of the '40s, but the veneer of innocence has rubbed off considerably, perhaps a reflection of Lee's rocky personal life. "Black Coffee" is a signature song for Lee and it fits like a glove. It's not a blues, but Pete Candoli's muted trumpet and sparse Lou Levy piano give it a properly forlorn bluesy quality. "A woman's born to weep and fret. To stay at home and tend her oven. And drown her past regrets in coffee and cigarettes."  Subtext oozes off the grooves.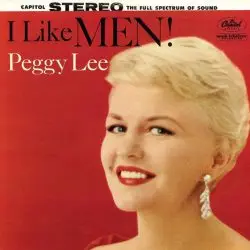 She wrote several songs in 1955 for Lady And The Tramp including "We Are Siamese." It's catchy, but it no doubt introduced '50s American children to the cheesy approach imitated by generations of composers scoring TV or films set in the "Orient": pentatonic riffs with slight permutations (Lee doubles down by harmonizing with herself in open fifths) that turn up in everything from Charlie Chan, Mr. Moto, Fu Manchu, and I Spy episodes set in Hong Kong. And, don't forget the gong.
In the late '50s, Lee changed her hairstyle, wore a $12,000 couture wardrobe, and announced she preferred to be known as "Miss Peggy Lee." The 1957 song "Fever" fit well with the image she was cultivating. She was 37 at this point, had been divorced three times, and was asserting more and more control over her career. She began to move into a more overtly sexual image, with a touch of sophisticated, elusive glamour. Her voice grew huskier, but any seductiveness still seems filtered, in contrast to the more assertive sexuality of singers like Julie London or June Christy. Lee takes credit for the arrangement of "Fever" — just bass, a little percussion and finger snaps. In truth, there are finger snaps on the original by Little Willie John. But, in any case, there's a lot of space in the recording, and it works.
Like most popular singers in the '50s, Lee included Latin and Brazilian material in her repertoire. She fits well into the bossa nova context, as here on "Sweet Happy Life." "(You Gotta have) Heart" performed as a mambo is not exactly in her wheelhouse, but is worthy enough to throw on the turntable if you want to roll up the rug and cha-cha in the living room. "Too Close for Comfort" is the kind of swinging suburban tune you could put on the turntable after the cha-cha if you want to switch to a coy fox trot.
"You Deserve," is a throwaway with a descending bass line that opens up ample space for the Lee purr. "Big Spender" is a natural, although the arrangement here is a little hyperbolic. In "World on a String," she does a nice job of varying her rhythmic approach. "I'm a Woman" is not convincing. She doesn't do gutsy very well. "It's a Good Day" is an effective piece for Lee. She ditches the darkness and gets down pitching a rosy American positivity. "Take a deep breath and throw away the pills."
"The Folks Who Live on the Hill" is another foray into nostalgic Americana. There's an appropriate emotional quaver in Lee's voice as she sketches out a scenario of future rural bliss; moving into what I imagine would actually be the factory owner's big house, located up on the hill so he could keep a close eye on his investment. Unfortunately, the arrangement brings out the bathos lurking in the song — and the tune brings out the socialist in me.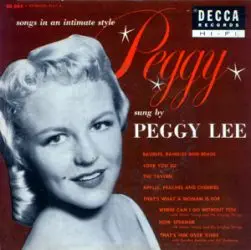 The track "Try a Little Tenderness" was apparently unreleased when it was recorded. Written in 1932, it was given a new life because of Otis Redding's impassioned 1966 version. This was a good choice for Lee; an old song, crafted in the old style, but with new popular potential thanks to Redding. Lee touches lightly on each word in the verse, like skipping stones across a pond, then digs in a bit in the bridge.
Lee worked consistently, but did go through periods of relative obscurity. As with Frank Sinatra, she made some ill-fated efforts during the rise of rock to regain popular traction. Still, several times she was able to hone her identity, find the right material, and re-emerge. In 1965, Sinatra hit with "It Was a Very Good Year" and in 1968 "Is That All There is" worked for Lee, making it to #1 on the Adult Contemporary charts. Jerry Lieber and Mike Stoller, more noted for their many rock and roll and R&B songs, wrote "Is That All There is." For those who don't know the song, it's in the world-weary cabaret style of Kurt Weill and Jacques Brel. The lesson is: life sucks, so we might as well have a drink. This is "Black Coffee" taken to its logical conclusion. The song arrived at a point when Lee's public persona had congealed. She was the classy lady who's seen it all and seldom leaves her penthouse and her poodles. The decadence limned by the arrangement — and fleshed out in her world-weary performance  — stood out starkly in the cultural frenzy of 1968.
Although she recorded until 1993, this was Lee's last hit. However, she continued to perform, carefully crafting every aspect of her appearances — costumes, lights, musicians. The newspaper The Guardian said in her obit: "She cultivated every move she made on stage, from the curl of a lip to the arch of an eyebrow, to the breathily receding resolving note of a song."
For a woman to take control of her career as early as the '50s meant having to battle a male-dominated entertainment industry. The sound of Lee's voice is almost the opposite of "tough as nails," but that's what she had to project in order to work as well and as long as she did; she, along with comedian Joan Rivers and Betty Carter in the jazz world. We might look to Grace Slick and Janis Joplin as '60s women in charge, but it's only with Madonna in the '80s that we see a genuine shift in power that continues through Lady Gaga, Beyoncé, and others. Peggy Lee set the table for this evolution. She had to be more circumspect than those who came after, but we can hear her ambivalence about this necessary artifice when we listen to her sing "Is That All There Is."
---
Steve Provizer writes on a range of subjects, most often the arts. He is a musician and blogs about jazz here.