By Steve Feeney
Adventurous jazz is not always as much fun to listen to as it is on Hero Trio, a stellar meeting of compositions, arrangements, and astute performances propelled by real passion.
Rudresh Mahanthappa, Hero Trio (Whirlwind Recordings)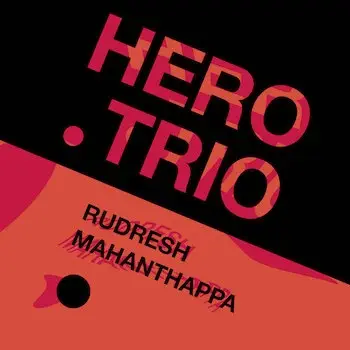 Rudresh Mahanthappa has earned a reputation as one the most intense alto saxophonists in contemporary jazz. Perhaps Steve Coleman, Anthony Braxton, Steve Lehman, and a few others would be considered rivals. But that's elite company.
Hero Trio, Mahanthappa's latest release, is a pared-down, opened-up, and remarkably rich recording in honor of some of the saxophonist's musical roots and forebears.
Joined on this disc by François Moutin (bass) and Rudy Royston (drums), Mahanthappa, who is the Director of Jazz at Princeton University, visits tunes by or associated with Charlie Parker, Stevie Wonder, Johnny Cash, and others. Most likely to honor his source material, the leader emphasizes the lyricism of the selected songs; he also relishes how comfortably they reward exploration. You are likely to come away humming many of the tunes, perhaps dancing a little to the funked-up rhythms. You will also be impressed at how nimbly advanced techniques are employed for the sake of such pleasing ends.
Parker's "Red Cross" leads things off. Mahanthappa's arrangement conveys a sense of urgency, from the intensity of the performance to its pacing. The bop head of the tune inspires frantic variations from the leader, as Moutin and Royston rumble and roll underneath. The musicians reach an inspired level of communication: this track epitomizes the edgy paradox of contemporary jazz — playful, yet driven by an underlying sense that life-depends-on-it.
Parker's "Barbados" is paired with John Coltrane's ""26-2." Here rhythmic variations are used to generate classic themes. When the familiar Parker line arrives, it's as if an old friend has unexpectedly come in for a visit. The refreshing quality of Parker's art is recalled and then recontextualized through the trio's energetic interplay. The Coltrane tune is given an expansive treatment that memorializes the giant's legacy while personalizing it (a bit) in order to push it forward.
The final Parker piece is "Dewey Square." The choice of an irregular rhythm creates a lurching backdrop for Mahanthappa's examination of the outer reaches of the bop aesthetic. At under three minutes, the piece could be considered a model étude in contemporary jazz interpretation.
Stevie Wonder's "Overjoyed" and Keith Jarrett's "The Windup" provide melodic satisfactions rivaled only by Johnny Cash's classic "Ring of Fire." Ornette Coleman's poignant "Sadness" features stirring arco work by Moutin. Mahanthappa's skillful evocation of the composition's mournful tone confirms how relaxed he is in the challenging world of vintage Ornette.
The standards "I Can't Get Started" and "I'll Remember April" are updated, treated with a dig-deeper reverence that lifts the songs out of nostalgia. We, and they, are given a brief spin around town, circa 2020. The trio conjures considerable beauty out of a supple reliance on implied harmonies. The tunes provide a yin-yang balance: the somber feel of the former contrasts nicely with the ebullience of the latter.
Adventurous jazz is not always as much fun to listen to as it is on Hero Trio, a stellar meeting of compositions, arrangements, and astute performances propelled by real passion.
---
Steve Feeney is a Maine native and attended schools in Maine, New Hampshire, and Massachusetts. He has a Master of Arts Degree in American and New England Studies from the University of Southern Maine. He began reviewing music on a freelance basis for the Portland Press Herald/Maine Sunday Telegram in 1995. He was later asked to also review theater and dance. Recently, he has added BroadwayWorld.com as an outlet and is pleased to now contribute to Arts Fuse.