By Scott McLennan
Self Made Man is a perfect piece of music for anyone eager to push, shove, jump, and shout after months of being told to stay put.
Self Made Man, Larkin Poe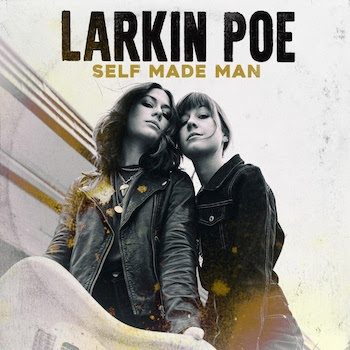 Larkin Poe's Self Made Man is a hot blast of restless and raw rock 'n' roll that amps up the swampy blues featured in the band's previous work — including the Grammy nominated Venom & Faith — without vaporizing the roots of the band that sisters Rebecca and Megan Lovell formed a decade ago.
The music is still steeped in various Southern musical traditions, with Megan Lovell's lap steel and dobro anchoring the songs while Rebecca Lovell sings and plays guitar and keys. But Self Made Man has a lot more brass, and we're not talking horn sections. These are songs full of defiance and muscle.
Opening track "She's a Self Made Man" sets the pace with its buzzing riffs, snaky guitar solo, stomping rhythms, and a stack of badass proclamations: "Like it or not, I don't give a damn.… For an underdog, I've been riding high…. When I roll the dice, everybody wins."
"Holy Ghost Fire" howls out rock 'n' roll's redemptive powers. It shifts the music into a spooky realm as it maintains the album's tension and crackle. Larkin Poe self-consciously celebrates the powerful spirit of its influences in "Back Down South," which weaves references to Little Richard, James Brown, Charlie Daniels, and the Allman Brothers Band into a smartly made quilt that is dedicated to unification, which is especially noteworthy in these particularly divisive times.
The Lovells are also good storytellers, best demonstrated here with "Tears of Blue to Gold," told from the perspective of the guy who grew up next to Elvis Presley, and "Ex-Con," a noble contribution to the rich tradition of country and blues jailbird laments.
Larkin Poe dives deepest into the blues with an update of Blind Willie Johnson's Titanic-inspired gospel number "God Moves on the Water,"  adding in references to other disasters in which people depended on faith to endure.
"Every Bird That Flies" is the album's high point, a subtle and finely nuanced compendium of all of the spiritual and mystical motifs that are carefully layered throughout the album. The music comes from many directions — a wafting keyboard line, swells of vocal harmonies, pumping keyboard parts — but it hits with a powerful and focused wallop. It's a fine distillation of the potent ingredients packed into this album.
The coronavirus pandemic disrupted Larkin Poe's release and touring plans for this excellent follow-up to Venom & Faith. But, oddly enough, the appearance of Self Made Man at this point in time turns out to be fortuitous; this is the perfect piece of music for anyone looking to push, shove, jump, and shout after months of being told to stay put.
---
Scott McLennan covered music for the Worcester Telegram & Gazette from 1993 to 2008. He then contributed music reviews and features to the Boston Globe, Providence Journal, Portland Press Herald, and WGBH, as well as to the Arts Fuse. He also operated the NE Metal blog to provide in-depth coverage of the region's heavy metal scene.