By Noah Schaffer
"We ask that you limit your stay to two hours, and remember that our restrooms are not open."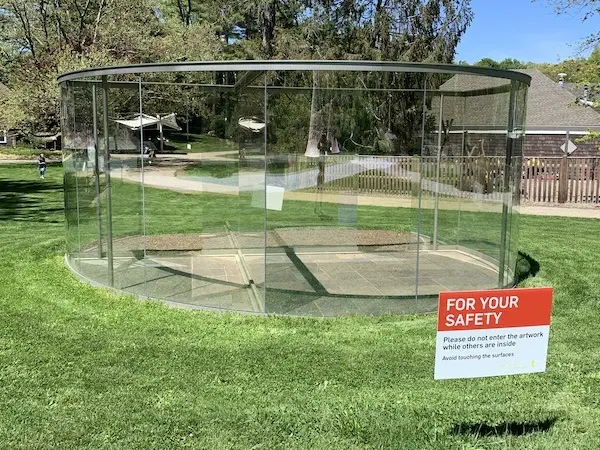 The above statement was the greeting I received as I entered the first museum I've visited in over two months: The deCordova Sculpture Park in Lincoln. Thanks to being a predominantly outdoor attraction, the deCordova has been able to reopen at a time when most of its indoor museum peers are still trying to figure out if, when, and how they'll deal with visitors, safely, in a COVID-19 world. (The deCordova's indoor museum remains closed to the public.)
A day at the deCordova suggests how any cultural institution will have to adjust during the pandemic. To prevent overcrowding, entry is timed — I had to reserve a ticket in advance online and then arrive within a one-hour window. Although there were plenty of picnickers, it was all BYO — the cafe remains closed.
Some of the more interactive elements of the deCordova are modified: You can peek into, but no longer walk right into, Andy Goldsworthy's "Watershed." The containers next to "The Musical Fence" weren't stocked with sticks, although children had no problem finding some in order to make music on the sculpture's aluminum pipes.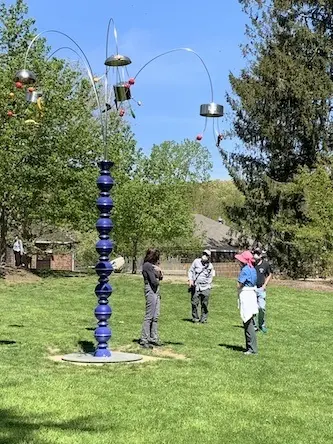 Given its 30 acres, the deCordova lends itself to social distancing. Still, with about 100 cars in the parking lot, other patrons were inevitably within eyesight on the grounds. Approaching the art often involved an awkward dance; checking out who else was nearby and then waiting for them to depart. This will surely be part of the "new normal" when engaging with art.
Mirroring what can be seen along many Massachusetts streets or in parks, most museumgoers adhered to the state's clearly stated guidelines about wearing a face covering whenever possible. A minority didn't: it was generally families without face coverings who seemed to be the least concerned about distancing from other parties.
Spending a sunny afternoon amidst the deCordova's treasures was a wonderful escape from the dark days of this virus. But the experience also underscored how difficult it will be for cultural institutions — operating at partial capacity —  to make themselves accessible to all. My access to the ticketing system for the trial run opening came via my membership in the Trustees of the Reservation. At $70 a year, this is a great bargain when it comes to visiting spaces around the Commonwealth. But that amount would be a luxury to someone unable to afford groceries.
Accessibility is not a new issue at this location. The deCordova provides great examples of what in another context would be labeled public art. ("The Musical Fence" served that purpose in Cambridge.) But the museum's location — away from mass transit — keeps away some of the public. (To the museum's credit, anyone arriving by bicycle gets in for free, and children are also free, regardless of how they arrive.)  Unfortunately, a long abandoned amphitheater, once one of the best concert venues in New England, couldn't survive being located in an upscale suburb where neighbors fretted mightily about traffic.
But that the deCordova can open at all right now is well worth celebrating. Arts institutions are still trying to figure out how to open up during a pandemic — it's good to have a model of how to serve the public, safely.
---
Over the past 15 years Noah Schaffer has written about otherwise unheralded musicians from the worlds of gospel, jazz, blues, Latin, African, reggae, Middle Eastern music, klezmer, polka, and far beyond. He has won over 10 awards from the New England Newspaper and Press Association.