By Steve Provizer
A review of the 60th anniversary reissue of Frank Sinatra's album Nice 'n' Easy. Though not without a few rounds with the Sinatra mythology — not the complicated man, but his music.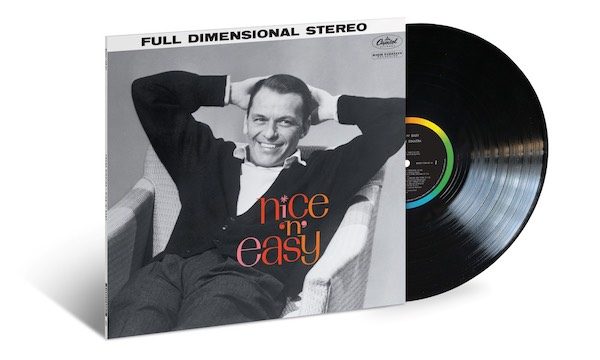 The mere act of rereleasing a 1960 Frank Sinatra album testifies to the fact that his name still creates ripples when tossed into the cultural pond; still has the power to inspire a reaction when most other vocal stars of yore have receded into distant memory. An ocean of ink has been spilled in numerous portraits and musical critiques of the "Chairman of the Board," some of it merely respectful, most adulatory. Long ago, the rough, mafia-inflected edges were smoothed out: the battle was won, or should I say the seduction was complete. At this point, you can still write about Sinatra, although you feel like the 50 millionth customer at Arby's. Nonetheless, I get in line (socially distanced, of course) and review the 60th anniversary reissue of the album Nice 'n' Easy (albeit briefly). First, however, I will have to go a few rounds with the Sinatra mythology — not the complicated man, but his music.
In order to get a whiff of the current zeitgeist, I asked a question on jazz social media, "Sinatra: jazz or pop singer," and the response was immediate, large, and disproportionately vehement. Phrases like "impeccable phrasing," "transcendent," "stamps his own indelible imprint on a song" appeared often in the comments. Some took offense at the question being asked at all, proclaiming that: "He's one of the greatest singers of all time. He doesn't need approval from anyone." One attempt to put Sinatra in the jazz category came up with this defense: "'scooby dooby doo' is scatting." Some hardcore jazz people were reluctant to claim him as their own but, overall, ne'er was heard a discouraging word. Of course, as Perry Mason would say, it's irrelevant and immaterial whether one categorizes Sinatra as a pop or a jazz singer. But the subtext in most of the messages seemed to be: Old Blue Eyes's voice soothes the mind and stirs the heart — don't spoil the mood with critical analysis.
Pushing ahead, nonetheless. On the jazz side of the ledger, Sinatra listened to and borrowed from the best: Louis Armstrong, Billie Holiday, and Mabel Mercer. He also surrounded himself with the best jazz musicians, composers, and arrangers. There's a quality of relaxation that the mature Sinatra brought to the table — an easy sense of time in mid-tempo tunes and laying back in up-tempo songs that one can easily associate with jazz. The notion of "phrasing" came up often as a Sinatra encomium. There's something in that, but "a story comes with it," as Damon Runyon would say. Sinatra often talked about how closely he observed trombonist Tommy Dorsey; he wanted to copy his breathing technique and extend the length of his phrases. Then he recalled how he learned to hold his breath underwater. Here's my take: he had excellent breath control and when he was singing with a band like Count Basie's, he soaked up the atmosphere and his phrasing sounded "instrumental." In other musical environments there was little to separate Sinatra from other crooners with a "jazzy" edge (except his voice, which was singular). So, there's truth here, but it's been burnished to a higher shine.
The fact that Sinatra brought a singular sense of emotional vulnerability to male singing has been stated often. (I compare Sinatra's emotional fragility to Chet Baker here.) Yes, but it's also true that he was a capable actor; by demonstrating vulnerability on the screen he helped reinforce its appearance in his vocal performances. Again, there's truth, but deftly reinforced.
The most obvious quality at play in designating anything as jazz is improvisation, and there's a lot of exaggeration surrounding the improvisatory capacities or inclinations of Sinatra. He took few real melodic risks. Of course he diverged from the way songs were written and never sang a song "straight," but no popular singer has given us a melody straight since Sophie Tucker sang "Some of These Days" in 1907. As far as his recordings go, reality departs widely from the myth that Sinatra would go in the studio and just rip a performance off  right away — boom, one or two takes and that was it. When in the studio, he was not an off- the-cuff swinger who took it as it came — as take #8 of "I've Got a Crush on You" in this reissue of Nice 'n' Easy proves. In fact, as detailed in Sessions with Sinatra: Frank Sinatra and the Art of Recording, the singer was a perfectionist who would reject hours of recording that he thought were not "just right." He experimented with the vocal details, would find what he liked, and then stick with it. As to whether this marks a jazz singer, the answer is ambiguous (c.f. Billie Holiday). But anyway you slice it, "scooby doo be do" is not scat. He carefully crafted his music. He didn't create it on the spot.
As far as Sinatra's "ring-a-ding-dings," "broads," and sly homophobic interjections, etc. — I can do without them. But it says more about Sinatra as a man than a musician and in this review I'm doing what I can to separate the two.
After Sinatra rose to fame in the late '30s-mid '40s, he hit a trough around 1950, as R&B and rock and roll began to take hold. He recorded a bunch of failed pop-jazz hybrids during that period (with Mitch Miller, whom he never forgave), but it was the series of recordings of ballads and "easy swingers" (Sinatra never had blues in heavy rotation) he made in the mid-'50s that revitalized his career.
In the middle of that resurgent period, he began releasing LPs that fell into two categories: swingers, with the likes of Count Basie, and ballads, the slot into which Nice 'n' Easy falls. The title states the mood clearly enough, perhaps understating it, given that the title track "Nice 'n' Easy" has a little bounce to it  — and is friskier than any other song on the album. I won't go into detail on individual tunes, except to say that "You Go To My Head" is my favorite and "How Deep is the Ocean," my least favorite. The songs are all well crafted by professional songwriters and arranged by Nelson Riddle, who understood as well as anyone how to best set off Sinatra's voice. Still, the overall effect of the disc is a shade on the soporific side, edging toward the inert. For me, all-ballad albums work best when instrumental solos are present to break up the straight-ahead repetition of melodies. But that doesn't happen here. One sees why record producers are wise to alternate ballads with mid- and up-tempo tunes. In general, even on Sinatra's swinging recordings, instrumental solos are fairly rare and brief, though sectional contributions commonly break up the arrangements.
Nice 'n' Easy comes from 1960. but there's great consistency in the way Sinatra approached a ballad, whether he was singing it in 1940, 1950, 1960, or 1970. During the course of at least four decades, the singer managed to epitomize the American romantic musical imagination. What sense would 2020 ears make of this music? I can't say. The music might sound alien, cornball, or inferior to the ballad singing that came from others in that era, like Johnny Hartman, Nat Cole, or Sarah Vaughan. Or, hearing Sinatra might be revelatory — "this is what all the fuss was about" — although I think that's likelier to occur by listening to one of Sinatra's recordings with Basie. The jury will always remain out on whether to call Sinatra a jazz or a pop singer. That's partially because it is a complicated question, and partially because, in popular American culture, it's hard to tell the tropes without a scorecard. There's quality here — no question — but there's plenty of mythology too. If you can, try to shut out the noise and do what singer Jon Hendricks advised: "Listen!"
---
Steve Provizer writes on a range of subject, most often the arts. He is a musician and blogs about jazz here.