By Michael Ullman
Saxophonist Brian Landrus seems to know what he's got in this magnificent trio: Fred Hersch on piano, Drew Gress on bass, and Billy Hart on drums.
For Now, Brian Landrus (Blue Land Records)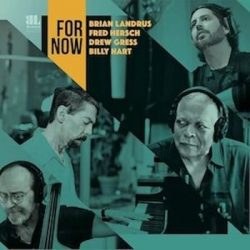 For his sequel to the big band recording Generations, baritone saxophonist (and bass clarinetist) Brian Landrus has assembled a small band that plays a gentle sort of hard bop on "The Signs," that swings lightly on "The Wait," and sounds appropriately poignant on the Ellingtonian ballad "Clarity in Time." (Compare the opening here to Ellington's "Isfahan" from his Far East Suite.) The trumpet player on many of the cuts is Michael Rodriguez. Less satisfactorily, to my ears, Landrus also has written in a string quartet led by violinist Sara Caswell. What a rhythm section, though! He has Fred Hersch on piano, Hersch's frequent collaborator Drew Gress on bass, and the estimable Billy Hart on drums. Landrus seems to know what he's got in this trio. Landrus's deep-voiced, lyrical solo on "Clarity in Time" gives way to Hersch's solo: the transition is as smooth as silk. The pianist has a few choruses to express himself; it is wonderful to hear the gradual intensifying of his sound over the patting of Hart's brushes. Like bassist Gress, who knows when to interject a strongly plucked note at just the right time, Hart senses when to push forward with soft-shoe patter. The percussionist recedes completely when the theme is recapitulated and the strings take over.
The string writing is a problem. Undoubtedly because of the low range of his own instruments, Landrus has the string quartet playing (mostly) long tones high up in the treble. To my ears, the approach clutters up the background. "The Miss" opens with Hersch playing solo piano, musing in a purposeful manner. He is joined by the bass and drums and, unnecessarily, by the quartet. Landrus's baritone solo emerges effortlessly from the ensemble: he interjects playful swirling patterns in lyrical, transparent lines. His hefty sound appeals, as always. His compositions, such as "The Second Time," are likewise inviting: after an agitated introduction, the gracefully wandering theme of this mid-tempo number is stated by baritone saxophone and (I believe) cello and viola. The violin emerges from the mix momentarily and then Landrus solos. "For Now" is a wistful ballad which Landrus plays on bass clarinet. Note how Hersch emerges from the background via a fragmented phrase at the perfect time.
The very center of the session spotlights a bass clarinet solo on "Round Midnight." The choice is, of course, a tribute to Thelonious Monk, but it is also a homage to Eric Dolphy's solo bass clarinet performances, particularly on "God Bless the Child." Dolphy solved the problem of keeping the melody vibrant while soloing on this instrument by alternating a swirling pattern with fragments of melody. Landrus does something strikingly similar. I've praised his compositions: his taste in choosing songs is also impeccable. He supplies an zesty up-tempo version of "Invitation," the Bronislaw Kaper movie theme that has been taken up by everyone from Rosemary Clooney to John Coltrane. Hersch is remarkable (again) here, both for his lines and ventures into interesting harmonic territory. For Now ends with what many will hear as the session's highlight: a tender, beautifully realized duet version of Monk's "Ruby, My Dear" in which Hersch backs up Landrus and solos. They demonstrate a rare example of comradeship in virtuosity: maximum feeling and intelligence with no showboating or unnecessary display.
---
Michael Ullman studied classical clarinet and was educated at Harvard, the University of Chicago, and the U. of Michigan, from which he received a PhD in English. The author or co-author of two books on jazz, he has written on jazz and classical music for the Atlantic Monthly, New Republic, High Fidelity, Stereophile, Boston Phoenix, Boston Globe, and other venues. His articles on Dickens, Joyce, Kipling, and others have appeared in academic journals. For over 20 years, he has written a bi-monthly jazz column for Fanfare Magazine, for which he also reviews classical music. At Tufts University, he teaches mostly modernist writers in the English Department and jazz and blues history in the Music Department. He plays piano badly.