By Adam Ellsworth
Who wants timely now? I sure as hell don't. I want an escape and a podcast dedicated to the Grateful Dead's live career is easy to get blissfully lost in.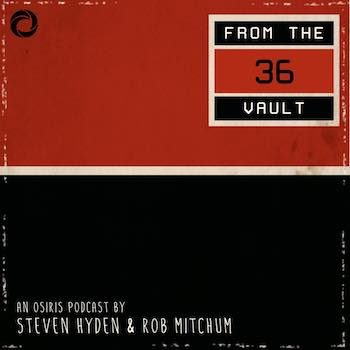 In a world gone to shit, it helps to have an escape. Something you can get lost in, something that's just for you.  Something you can enjoy without wearing a mask.
Since social distancing became a way of life, my escape has been the podcast 36 From the Vault.
Hosted by music critics Steven Hyden and Rob Mitchum, 36 From the Vault explores the Dick's Picks series of Grateful Dead live recordings selected by the band's late archivist Dick Latvala and released between 1993 and 2005.  Each episode of the podcast offers an in-depth unpacking (two-plus hours is the norm) of a single Dick's Picks, moving volume by volume through the collection.
The pod has served as my soundtrack for grocery runs, liquor store runs, and a near-futile multistore quest to buy bleach. I've listened to it while cooking, while doing the dishes, and while folding laundry. 36 From the Vault is basically the only podcast I've listened to these past two months, which is saying something considering I used to have a pretty healthy pod rotation.
I don't suppose my extreme commitment to this or any other diversion during these topsy-turvy times is all that unusual, except for the fact that I'm not now, nor have I ever been, a Deadhead. I've always found the Dead to be interesting, though more as a sociocultural phenomenon than a musical one. I own a total of four Dead live releases (three of which are composed of three or more discs), a 600-plus page biography, and a copy of the 4-hour 2017 documentary Long Strange Trip: The Untold Story of the Grateful Dead on Blu-ray, which I admit is a lot of stuff for a casual-at-best fan to have hanging around the house, but it doesn't exactly qualify me for membership in the Church of Unlimited Devotion. I've never even listened to a nonlive Grateful Dead album.
Upon reflection, I realize that what I like so much about 36 From the Vault is it provides me passage into a world I am otherwise not an inhabitant of.  I know enough about the Grateful Dead that I can follow along, but not so much that I end up scoffing at how if I were a host I would have done it better. I actually learn things. For example, I never knew that the instrumental portions of the live staple "Dark Star" were mostly built on well-worn thematic jams. So well-worn in fact that they even had unofficial names, like "Tighten Up Jam," "Feelin' Groovy Jam" and "Mind Left Body Jam." It doesn't mean the group weren't improvising in these sections — they were — just that the improvisations had a launch pad to take off from. True Deadheads will shake their heads in disgust at my writing this as if it were some amazing factoid I've uncovered, but it was news to me!
While Hyden and Mitchum are clearly Deadheads themselves, they're also not afraid to criticize the band (or just poke fun at them) when warranted. They're discerning Deadheads, which seems to drive Dead Twitter nuts, but I appreciate it.
As of this writing, the podcast has only made it through the first eight volumes of Dick's Picks but, because those volumes weren't released chronologically, that means I've already had the opportunity to travel from 1973 to 1971, fast forward to 1977, and then head backwards to 1970. This was followed by trips to 1979 and 1983, before retreating to 1974 and then making yet another stop in 1970. That's less than 15 years covered so far, but in Dead-time, that's four keyboard players and countless musical changes. Going back and forth through the years can give you whiplash, but it also rewards you with an introduction to the different eras of the group's history and opens up infinite avenues for further exploration. It's only a matter of time before I go down a 1970 rabbit hole that I may not return from until a vaccine is developed.
Everything I love about 36 From the Vault would still be lovable even if we weren't living through the end of the world as we know it. To be honest, I've been a fan of the pod since the first episode arrived in mid-January. Back then, if I thought about COVID-19 at all, I thought of it as China's problem. But as much as I enjoyed those pre-shelter-in-place episodes, when forced to choose between 36 From the Vault and the number of other podcasts in my feed, I normally turned to more timely options. I figured I'd get to the Dead eventually. It was evergreen content, and there was no need to go out of my way for it.
But who wants timely now? I sure as hell don't. I want an escape and a podcast dedicated to the Grateful Dead's live career is easy to get blissfully lost in. Do I have a favorite performance of "Dark Star?" Do I have anything intelligent to say about the relative strengths and weaknesses of the "Brent-era?" Have I ever sought out a Dead bootleg? Nope, nope, and nope, but another few months of our new normal and those answers might change. Even if they don't, I'll still have 36 From the Vault to turn to when the real world becomes too much for me to handle.
---
Adam Ellsworth is a writer, journalist, and amateur professional rock and roll historian. His writing on rock music has appeared on the websites YNE Magazine, KevChino.com, Online Music Reviews, and Metronome Review. His non-rock writing has appeared in the Worcester Telegram and Gazette, on Wakefield Patch, and elsewhere. Adam has an MS in journalism from Boston University and a BA in literature from American University. He grew up in Western Massachusetts, and currently lives with his wife in a suburb of Boston. You can follow Adam on Twitter @adamlz24.