By Jonathan Blumhofer
The two best things about Simon Rattle's new recording of Die Walküre are, well, Rattle, himself, and the Bavarian Radio Symphony Orchestra; Johann Strauss's operetta Blindekuh is a well-written miss; a strongly played and majestically sung performance of Felix Mendelssohn's unfairly neglected Die erste Walpurgisnacht.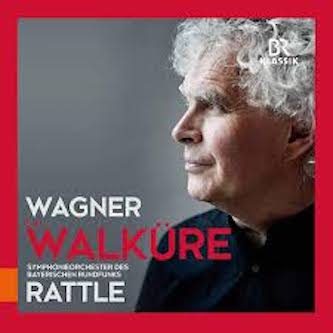 The two best things about Simon Rattle's new recording of Die Walküre are, well, Rattle, himself, and the Bavarian Radio Symphony Orchestra (BRSO). Conductor and orchestra have followed up their terrific 2015 Das Rheingold with a reading of Walküre that is exceedingly well shaped and paced, not to mention played with a breathtaking mix of sumptuous color, textural delicacy, and dynamic nuance. Indeed, for lushness, energy, and sweep, theirs is a performance of uncommon excellence
If only the same could be said of the opera's casting.
Granted, not everything here is dire. Stuart Skelton's Siegmund is as memorable as anything Rattle and the BRSO provide: radiant, flexible, unforced, and lyrical, his is a brilliant, characterful account of this taxing part.
Likewise dynamic is Elisabeth Kulman's Fricka. Here, her fresh, natural account of the role in Act 2 comes over with a musicality and sense of dramatic energy that's simply gripping.
Unfortunately, the remainder of the parts veer between the adequate and the forgettable.
Eva Maria Westbroek's Sieglinde isn't exactly unsympathetic in her Act 1 scenes with Skelton. But, as the drama proceeds, her voice, with its unwieldy vibrato. loses focus.
Similarly, James Rutherford's Wotan offers a strong sense of presence and authority, especially in his Act 2 interactions with Kulman's Fricka, but his tone is sometimes untrue and his projection tremulous. Much of the latter quality also mars Eric Halfvarson's Hunding.
By far the most problematic performance, though, belongs to Iréne Theorin, whose Brünnhilde sounds pushed and out of her depth throughout. There's never the sense that Theorin's totally in command of the part: her first appearance in Act 2 is frustratingly inexact, rhythmically, and things never move beyond competent over the next two and a half hours (even as she has some success reigning in a cumbrous vibrato over that time frame). Forget Nilsson comparisons: this is a Brünnhilde that makes Jeanine Altmeyer's shine like the sun on a stormy day.
As for the Valkyries, well, the less about them, the better: suffice it to say, this is an ensemble made up of some fine individual singers (and led by no less a Wagnerian than Alwyn Mellor) that somehow never gels. Perhaps the best tribute one can pay them is that it's a relief when Wotan dismisses the bunch in Act 3 and we're left with 30-some minutes of Rutherford and Theorin in conversation.
Would that there was more praise to go around but, outside of Rattle, the BRSO, Skelton, and Kulman, this is, ultimately, a misfire of a Walküre.
---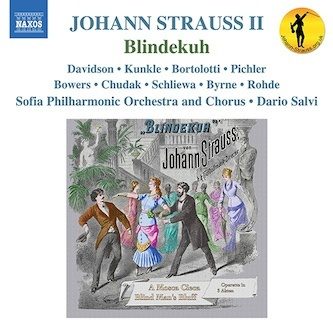 Is Blindekuh, Johann Strauss's dismally received 1878 operetta, a lost masterpiece? Not by a long shot. Its much-belated premiere recording from the Sofia Philharmonic Orchestra and Chorus led by Dario Salvi is many things – but the resurrection of the long-lost successor to Der Zigeunerbaron (or Eine Nacht in Venedig) is not one of them.
Certainly, the piece deserved better (and a stronger reputation) than it got courtesy of its 16-night opening run 140 years ago. While Strauss may not have been a master dramatist, he was a fine composer who knew how to keep one's attention focused, musically. (What's more, one can rightly argue that Blindekuh's convoluted plot of mistaken identity with an American twist is its biggest problem: surely the conceit would have given Strauss's admiring contemporaries – like Verdi or Wagner – a run for their money.)
Indeed, Blindekuh is a major Strauss score and it's played with plenty of panache by Salvi and the SPO, which gives a lusty account of the overture and supply discreet – but never scrawny – accompaniments throughout the rest of the proceedings.
The cast is headlined by Roman Pichler's Hellmuth, which is sung with a pleasing lightness of tone and clarity of diction. Similar stylistic excellence marks Emily K. Byrne's Elvira and Julian Rohde's Johann.
Daniel Schliewa brings a lively degree of personality to Herr Kragel's stratospheric Act 2 aria "Jung und schön," while Martina Bortolotti's Waldine is silver-toned and chorus member Peter Petrov's Zsupan-like tonal quality is a welcome surprise in the small part of the Landrath von Silbertau.
Kirsten C. Kunkle imbues the role of Arabella with fine diction and tone, as does James Bowers the part of Adolf Bothwell. Robert Davidson's Herr Scholle sings a bit strictly in Act 1 but settles nicely into the part as the drama proceeds.
Throughout, the SPO Chorus's singing is full-bodied, resonant, and warm.
Salvi's tempos all move smartly: he's a conductor with a fine sense of Strauss's style and knows how to pace things well.
Accordingly, even if Blindekuh doesn't turn the theatrical world on its head, what we've got here is a well-written miss. Perhaps that what the piece has always been; regardless, it's great to finally have the score on disc – and so sympathetically played and  sung to boot.
---
Why Felix Mendelssohn's 1833 setting of Goethe's Die erste Walpurgisnacht doesn't rank among his most popular and frequently programmed pieces is a continual mystery to me. It's a score that has nearly everything going for it: it doesn't waste a minute, bristles with color (Walpurgisnacht's orchestration rivals those of Weber and Berlioz), packs a hefty dose of irony (faux-Lutheran chorales sung by pagan Druids, for one), and positions Mendelssohn as one of his generation's most gifted purveyors of musical drama.
And yet, the score remains the purview of connoisseurs. Go figure.
Happily, there's a fine new recording of Walpurgisnacht out now, courtesy of the Kammerchor Stuttgart and Deutsche Kammerphilharmonie Bremen, all under the direction of Frieder Bernius, to help rectify the situation. Together, this group's got an excellent sense of Mendelssohn's manner, playing (and singing) with plenty of rhythmic energy, fine tonal blend, and a close attention to textural detail.
The Overture, for instance, is taut and lively. In the chorus "Verteilt euch, wackre Männer," the orchestral execution is delightfully elfin, while the following sequence of "Diese dumpfen Pfaffenchristen" and "Kommt mit Zacken" drives with playful, lusty spirit.
The Kammerchor's contributions are marked by an impellent sense of direction and clarity of line, the last partly accomplished by a minimal use of vibrato. In general, too, their singing has a light touch that, in this repertoire especially, is compelling. Walpurgisnacht's big moments – the "Hinauf" interjections of the opening "Es lacht der Mai" and the noble concluding "Die Flamme reinigt" among them – have plenty of body and weight. But still they manage to float effortlessly.
Walpurgisnacht's four solos are capably handled by alto Renée Morloc, tenor David Fischer, baritone Stephan Genz, and bass David Jerusalem. Fischer, in particular, stands out for the excellence of his turns in "Es lacht der Mai."
Filling out the album are three choruses from Mendelssohn's incidental music to Sophocles's Oedipus in Kolonus. They're all charming – though particularly the first, "Zur rossprangenden Flur," with its atmospheric woodwind trills evoking an Acadian idyll.
On the whole, then, this is a strongly played and majestically sung set. My only serious complaint has to do with engineering that results in the orchestra sounding thin and unnaturally lean at a couple of spots (particularly in the Walpurgisnacht overture). Otherwise, from Bernius's compelling sense of Walpurgisnacht's architecture to the performances and programming, there's much here to love.
---
Jonathan Blumhofer is a composer and violist who has been active in the greater Boston area since 2004. His music has received numerous awards and been performed by various ensembles, including the American Composers Orchestra, Kiev Philharmonic, Camerata Chicago, Xanthos Ensemble, and Juventas New Music Group. Since receiving his doctorate from Boston University in 2010, Jon has taught at Clark University, Worcester Polytechnic Institute, and online for the University of Phoenix, in addition to writing music criticism for the Worcester Telegram & Gazette.