By Sarah Osman
In its fourth season, Insecure remains a hilarious look at the lives of black millennials growing up in Los Angeles.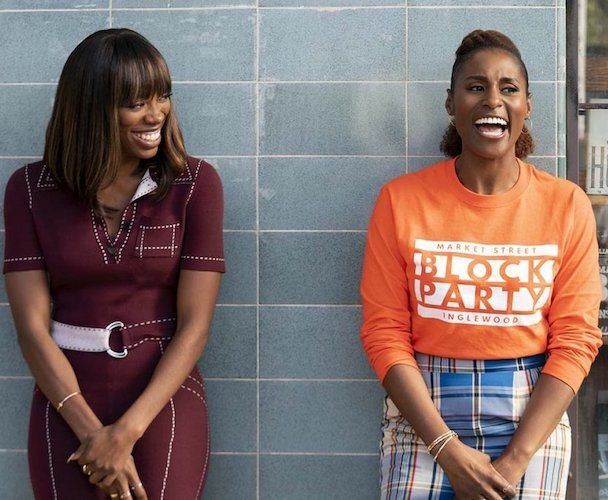 Close female friendships have always made for great comedy on television, from Sex in the City and Girlfriends to Golden Girls. Insecure, now in its fourth season, is firmly in that tradition. The friendship between Issa (Issa Rae) and Molly (Yvonne Orji) has been the most compelling aspect of the show for the past three seasons. But things are changing. Issa's declaration that she no longer "fucks with Molly" in the opening moments of the fourth season premiere strikes a discordant note.
Not that the spirit of the series is gone. Insecure remains a hilarious look at the lives of black millennials growing up in Los Angeles. Unlike other relationship dramas, creator Issa Rae and co-creator Larry Wilmore never become cynical, pessimistic, or too twee. Yes, the characters make a few regrettable choices, but that's all part of their development into mature human beings. At no point do the characters ever make any truly dangerous or flat-out stupid decisions (here's looking at you, Girls). They steadfastly remain sympathetic, likable people. Insecure's biggest drawback is how many characters we have to keep track of — but overpopulation is a  minor nuisance.
This season presents a flash forward to how Molly and Issa drifted apart. It also focuses on Issa's budding friendship with Condola (Christina Elmore), who happens to be dating her ex (Lawrence Walker). The situation is undeniably sticky, compounded by the fact that Condola and Issa are supposed to be working together on the block party Issa is planning for her Inglewood neighborhood. Entangled in this messy situation, the women (and Lawrence) have trouble figuring out how to handle it. The writing makes you cringe at the awkwardness as well as feel a bit of empathy,
Meanwhile, Molly remains as much a perfectionist as ever when it comes to her new boyfriend, Andrew (Alexander Hodge). But she is beginning to discover her life may not be as satisfying as she thought. She begins to become jealous of Issa's eventual friendship with Condola and all the work Issa's putting into her block party. Thus the seeds of the pair's eventual breakup are planted early on; these hints leave you wondering exactly what happened to break them apart.
As always, Issa remains the focal point of the series, and she  remains as gawky as ever. The plucky heroine attempts to reinvent herself with her block party; she also works as the super for her apartment building. Some of the show's biggest laughs are served up by the residents in Issa's building. They barge into a mixer for the block party and blithely ignore the residence's rules. A departure from previous seasons: little attention is given to Issa's love life, but this is a reflection of how she is growing up — and how her priorities are changing.
Los Angeles remains one of Insecure's central characters. Issa and her friends float from Porto's in Burbank to West Hollywood's Gracias Madre in a way that mirrors how New York is almost the "fifth girl" in Sex and the City. And this urban focus turns out to be an added value as we remain in lockdown due to COVID-19. It's a pleasant escape to see the city as vibrant as it was before the virus struck.
Female friendships have always been complex. As women grow older their priorities change, and that transforms some of their most valuable friendships. Insecure's fourth season explores the reality of this bittersweet conundrum — and is all the more powerful for it.
---
Sarah Mina Osman is a writer living in Los Angeles. She has written for Young Hollywood and High Voltage Magazine. She will be featured in the upcoming anthology Fury: Women's Lived Experiences under the Trump Era