By Peg Aloi
Killing Eve is as exciting and compelling as ever. But its narrative structure is becoming somewhat fractured and increasingly odd.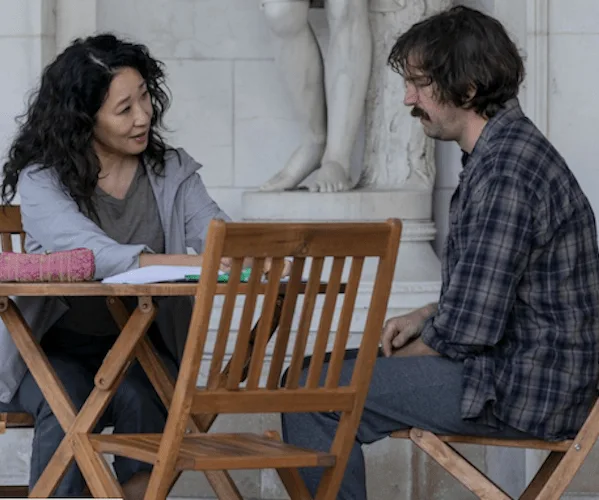 Kudos to BBC for moving the premiere of the third season of this acclaimed series up by two weeks for those of us lucky enough to be able to distract ourselves with crime shows. Season 1's head writer was the phenomenal Phoebe Waller-Bridge (of the Emmy-studded Fleabag and Crashing), then Season 2 was handed off to Emerald Fennell (who has also worked on The Crown and Call the Midwife). In this third season, the show runner torch has been passed to another woman, Suzanne Heathcote, whose writing credits are thinner and less impressive than Waller-Bridge and Fennell's. Fear the Walking Dead is her only previous experience as a writer and story editor.
I'm not sure passing this show on to a less experienced writer, as the drama ramps up and becomes more complex, was a particularly great idea. Having seen the first five episodes of the new season (prior to tonight's premiere), I can confirm the show is as exciting and compelling as ever. But the narrative structure is becoming somewhat fractured and increasingly odd. Still, with its outstanding cast and gorgeous production values, the series continues to be hugely entertaining as it starts off after the major life changes set in motion by last season's finale.
Season 2's ending was definitely a cliffhanger, but not a mortal one. Of course, Eve didn't die, at least not yet. At the end of the season finale, Eve Polastri (Sandra Oh) had been shot by Villanelle (Jodie Comer). In a suspenseful build up to that final episode, the two women had been traveling to various European cities: Villanelle to perform her duties as a hired assassin; Eve to keep tabs on her as a member of an elite crime solving team for MI6. Wandering through some increasingly metaphorical Roman ruins, they emerged through boarded up entryways to an open-air amphitheater full of crumbling structures (a sort of disappointing Arcadia) for an epic confrontation. Despite having similar obsessions, even similar sociopathic tendencies, their contrary perspectives could not be clearer (Villanelle in bright red and Eve in somber green underscores the opposition). Villanelle's delusional belief that the two women will become lovers and live in some idyllic retreat is firmly rejected by Eve, who has been forced by Villanelle to perform a savage act of violence. Angry at being rejected, Villanelle shoots Eve and leaves her bleeding, face down, her leg bent in the symbolic Hanged Man tarot pose, denoting suspension and waiting. One sees this frequently in overhead shots of people near death.
At the beginning of Season 3, some weeks have passed. Eve is still alive, and the two women are picking up the pieces of their lives, pieces that remain fractured and volatile. In the first episode, Villanelle is raising a toast to her beautiful new bride at an elaborate wedding reception. But, Villanelle being Villanelle (Jodi Comer continues to astonish in this demanding role), the celebration is derailed within minutes when a ghost from her past appears uninvited. Villanelle attacks — mayhem and destruction follow.
That unwelcome guest is a woman named Dasha (played by the excellent British actress Harriet Walter), a Russian gymnast and one of Villanelle's mentors from an early age. This season provides insightful flashbacks into Villanelle's troubled history; we see her reckon with her past, even possibly find cathartic release for her pent-up anger, hatred, and pain. But once a sociopath, always a sociopath: the butchery continues.
Then there's Eve. After being shot and left to die, she is, some weeks later, healing from her gunshot wound while working in the kitchen of a Korean restaurant in London. It is grueling, anonymous work and that is just how Eve likes it. At the end of Season 2, her marriage to Niko (Owen McDonnell) had broken down. She left him and he stayed with his fellow teacher Gemma (Emma Pierson), with a hint that they would become lovers. Following Villanelle's brutal murder of Gemma, Niko became so traumatized he began living in a mental health facility. Eve visits him occasionally. Her life seems calmer, yet also messier: she is obviously depressed, drinking too much, and has difficulty navigating social situations. She clearly feels enormous guilt but won't seek professional help. She's a ticking time bomb, and her situation becomes increasingly fraught. Sandra Oh is once again fantastic in this role, combining humor, brashness, and vulnerability.
The third woman whose fate dangles over Villanelle and Eve is Carolyn (Fiona Shaw), Eve's former boss. Her connections go beyond her role as a senior official in MI6, reaching into mysterious international organizations that may be Villanelle's employers. Eve's handler, Konstantin (Kim Bodnia), is still around, mainly to support his former lover and colleague, Carolyn. Loyalty and secrecy go hand in hand; the danger of working up close with assassins is that, once you become a target, no one can protect you. The people in Villanelle's orbit always seem to be looking over their shoulders.
Speaking of assassins, Season 3 sees Villanelle's reckless behavior increasing, especially once she is recruited to train and manage others. The body count grows; it includes several main characters. Their losses leave gaping emotional voids, which sets up an escalating sense of anger and paranoia. Carolyn is one such person affected. It's hard to see how this character could become any more captivating or this performance any finer, but Shaw allows us to see the tiny fissures in Carolyn's hard facade. Her icy professionalism and cold pragmatism, cracked by shock and grief, begin to slowly erode, and it's stunning to watch.
Also present is the usual quotient of beautiful costumes, glamorous settings, and outrageous situations and dialogue. But in this new season the story line fractures, breaking up into anthology-like chapters. The intertitles — once bold colorful announcements of the exotic city the characters were in — now display character names. Story arcs take up one episode at a time, instead of interweaving multiple character trajectories, as they did before. The new approach leaves viewers wondering what's happening elsewhere, especially given that major plot developments leave us hanging. Five episodes in, it is hard to say where Killing Eve is going, but it is not getting there by way of the tighter narrative story structure of the first two seasons. And I miss that.
---
Peg Aloi is a former film critic for the Boston Phoenix and member of the Boston Society of Film Critics. She taught film studies in Boston for over a decade. She writes on film, TV, and culture for web publications like Vice, Polygon, Bustle, Mic, Orlando Weekly, Crooked Marquee, and Bloody Disgusting. Her blog "The Witching Hour" can be found at themediawitch.com.