Marcia B Siegel
The dance revolution of the 1960s and '70s seems to be making a comeback as dancers think about making their performances less artificial, more "natural." In the age of hype, I find this a relief.
As the year began, the wonderful Choreographic Objects show at the Institute of Contemporary Art was still running. Opened in November, it ran into February, providing a chance for the public, especially schoolkids, to play with William Forsythe's ingenious games and structures. Forsythe not only challenged our physicality but asked us to pay close attention to the environments we move in.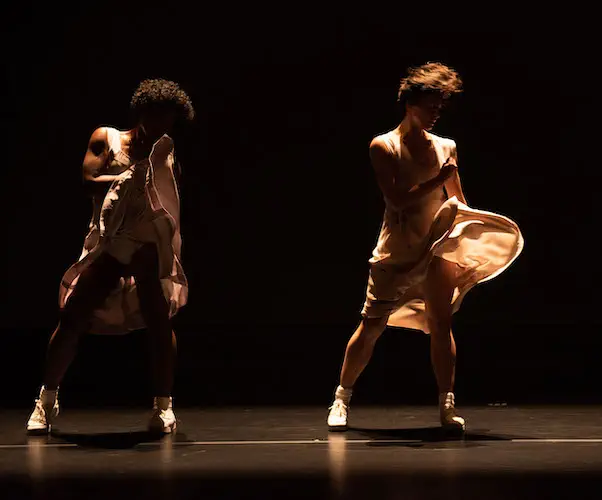 In the fall, Anne Teresa De Keersmaeker's work came to the ICA's theater with Fase, her four-part dance to Steve Reich's early minimalist music. After her first solo encounter with Reich ("Violin Phase") in about 1980, De Keersmaeker added more sections and another dancer to the work. But she stuck to the minimalist movement parameters of walking, turning, bending, and pedestrian gestures. Without the distractions of virtuosity or ego, Fase was a riveting experience.
Besides downplaying dance technique, the revolution told us that ordinary people could dance and perform. Instead of ramping up technique as most contemporary dancers do now, Monica Bill Barnes uses her dance training as one device in a pageant of ordinary activity. Barnes brought her cabaret show Happy Hour to the public space at District Hall in March, complete with songs, jokes, audience participation, edible snacks, and purposely tacky dancing.
---
Internationally known writer, lecturer, and teacher Marcia B. Siegel covered dance for 16 years at The Boston Phoenix. She is a contributing editor for The Hudson Review. The fourth collection of Siegel's reviews and essays, Mirrors and Scrims—The Life and Afterlife of Ballet, won the 2010 Selma Jeanne Cohen prize from the American Society for Aesthetics. Her other books include studies of Twyla Tharp, Doris Humphrey, and American choreography. From 1983 to 1996, Siegel was a member of the resident faculty of the Department of Performance Studies, Tisch School of the Arts, New York University. She has contributed two selections to Dance in America, the latest edition in the Library of America's "Reader's Anthology" series.
---
Jessica Lockhart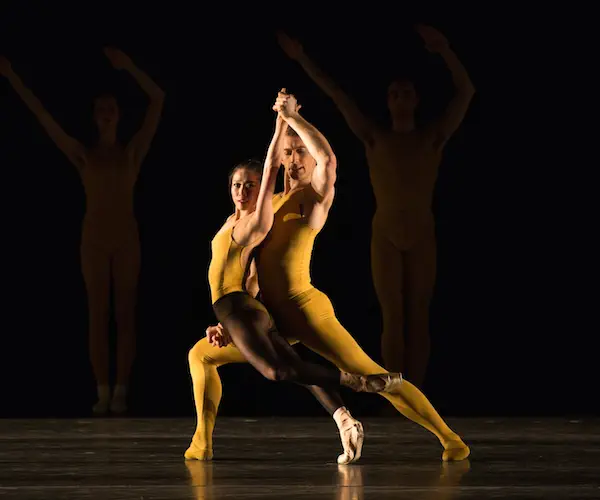 William Forsythe — Full on Forsythe staged by the Boston Ballet at the Boston Opera House, March 7-17
William Forsythe is considered to be one of ballet's most groundbreaking choreographers. He has worked in Europe for the past 30 years. When he decided to return to the U.S., Forsythe established a partnership with Boston Ballet. Yay! All three dances were presented on a big open stage: the focus was only on the bodies and the sound. Forsythe asked dancers to go beyond their mastery of technique — in order to have the music bring audiences to a higher level of emotional involvement. The upshot was that the dancers were precise but not rigid — they are actually playful.
Ohad Naharin Batsheva Dance Company — Venezuela at Boch Shubert Theater, Boston, April 5-6.
Absolutely mesmerizing! This esteemed company is from Israel. Arts Fuse Critic Marcia B. Siegel wrote "This mysterious dance may have no meaning at all beyond its cryptic theatricality and movement. Or it may mean a lot. When you try to understand, you can't write off the many provocative signs offered. Taken by itself, the movement looks intricate. … The dance is given twice in succession. The second time, a different cast takes the main roles; the lighting and music are different. That's when you can see things that you've seen before, with slight movement differences."
Peter DiMuro//Public Displays of Motion/The Bang Group — Significant Others: Dances for Family, Friends and Lovers at the Calderwood Pavilion at the Boston Center for the Arts, Martin Hall, Boston, MA, May 30-June 2
Boston-based artist Peter DiMuro put together a dance performance that drew on movement and storyelling that explored his decades of studying gay lives and identities. The evening's highlight was the addition of The Bang Group a rhythm-driven company based in N.Y.C. The company's technical virtuosity featured movements that were surprising and bold. It's performance was a joy to watch.
Red Sky Performance — Trace at Jacob's Pillow, Becket MA, August 7-11
The American premiere began with an image of a giant black hole being slowly lowered down from the sky. At the same time, a dancer stood straight atop the shoulders of other dancers. She was up in the heavens and the group supported her descent; she sank 'earthbound' by way of a series of diving, swinging, and rushing orbits. This contemporary Indigenous dance company from Canada offered live music, stunning visuals, and glorious dancing with their compelling look at life and the creation of the earth.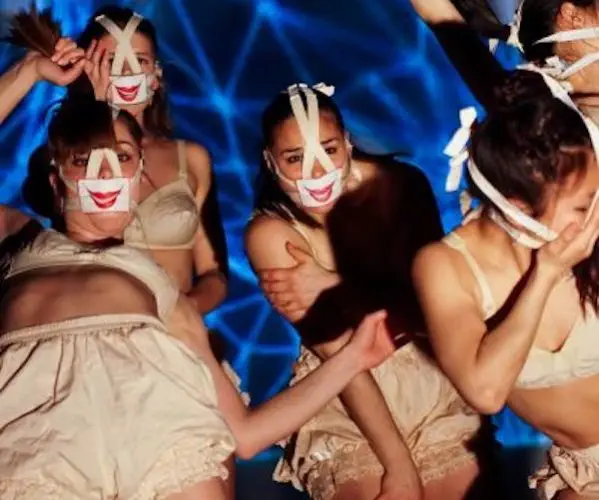 Kairos — Object at the Boston Center for the Arts, Boston, MA, November 15-17.
This daring performance was four years in the making, the brainchild of DeAnna Pellecchia, the artistic director of Kairos, a Boston-based company. Performed with admirable concentration, the dancers brought considerable physical and emotional strength to this intense study of how women are objectified. Yes, the subject matter was visceral, disturbing, and very brave.
---
Jessica Lockhart is a National Endowment for the Arts Fellow in Dance Criticism and has a BA in Communication from the University of Southern Maine. Lockhart is a Maine Association of Broadcasters award-winning independent journalist. Currently, she also works as program director at WMPG Community radio.
---
Mary Paula Hunter
Dances by Isadora, at Mount Auburn Cemetery, Cambridge, MA on June 22.
Hands down my favorite dance performance took place under a blue sky in Mt Auburn cemetery. The lovingly reconstructed dances of the pioneer, Isadora Duncan lingered in the mind because the dancers performed with a selfless commitment to the material. Add to this a picture perfect setting that framed and enhanced these most essential of dances. Towering oaks and a flowing green lawn were like the choreography, both grand and simple.
---
Mary Paula Hunter lives in Providence, RI. She's the 2014 Pell Award Winner for service to the Arts in RI. She is a choreographer and a writer who creates and performs her own text-based movement pieces.