By Susan Miron
The charmed trifecta of John Adams, Yuja Wang, and Gustavo Dudamel produced a hit, at least to this Boston audience.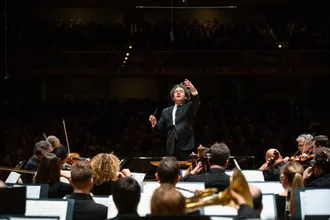 Two striking color statements were made in the first half of the Los Angeles Philharmonic's concert at Symphony Hall on Saturday afternoon (presented by the Celebrity Series of Boston). The first, a shockingly red harp, was on the stage being tuned before the concert began. What in the heck was this THING, people around me queried. They were accustomed to gold or black or natural wood harps. The second memorable item was the unforgettable purple dress worn by fashionista pianist Yuja Wang, whose scanty clothing is often mentioned by critics before they take up what she played, and how well. Her clothing, or lack thereof, is designed to be distracting, comment-provoking, and daring. It all but upstages her as a performer, which is a shame, because Wang is a gifted pianist who would have reached her current top-of-the-heap status wearing a brown sack.
The program began with Alberto Ginestera's Variations Concertantes, a rarity in these parts. The BSO has played it only once before at Symphony Hall and twice at Tanglewood. The piece begins beguilingly with the red harp, which plays the arpeggio Ginestera also uses in his Harp Concerto. (These pitches — E, A, D, G, B, E — supply material for the variations). Regrettably, those who weren't familiar with the harpist on stage were left in the dark. Listed in the program was the soon-to-be-former Principal Harp; few realized that the performance featured the superb Emmanuel Ceysson, who still has one year left on his contract as Principal Harp of the Metropolitan Opera Orchestra, where he has reigned as superstar for the past several years. (He awed many in Symphony Hall, who videotaped his live performance and posted it on YouTube.) Here, Ceysson played with utmost tenderness and beauty, both in the opening duet with cello and later with double bass. He has a serious fondness for red harps; the Metropolitan Opera Orchestra now uses two of these frightful contraptions.
Variaciones Concertantes was composed in 1953, during a difficult period for Ginastera. Political conflicts with the Perón government forced him to resign as director of the music conservatory at the National University of La Plata. He supported himself by scoring films, as he had been since 1942, and accepting commissions such as the Variaciones, which came to him from the Asociación Amigos de la Música in Buenos Aires, where Igor Markevitch conducted the premiere in June 1953. This is a central work in the "subjective nationalism" of Ginastera's second stylistic period, in which he idealized and sublimated folkloric and traditional materials in a personal way. A characteristic of this approach is his use of harmony derived from the open strings of the guitar, heard in the harp under the solo cello statement of the theme at the piece's opening, and again before the final variation. Two interludes (the first for strings, the second for winds) frame seven variations featuring different solo instruments with the orchestra — flute, clarinet, viola, oboe and bassoon, trumpet and trombone, violin, and horn. Ginestera rounds this off with a reprise of the main theme, again accompanied by the harp, but this time with double bass taking up the tune. A final variation, for the full ensemble, takes the form of an ebullient malambo, the gaucho dance that was a major influence on Ginastera. The steadily repeated notes represent tapping feet, accented by virtuosic and jazzy instrumental flourishes. Dudamel conducted the work splendidly and his orchestra played with panache. So glad to have heard this composition live; it really does make a difference.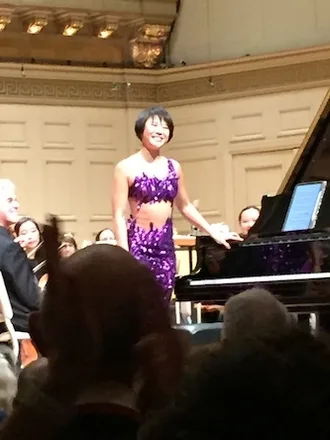 John Adams's new, third piano concerto, "Must the Devil Have All the Good Tunes?" was commissioned by the L.A. Philharmonic, where he holds the Creative Chair. Written for Yuja Wang, this 25-minute piece — all in one movement — has been an essential part of the orchestra's recent tour repertoire. Audience members seemed to like it a lot — or maybe they were just amazed by Ms. Wang's newest outfit. The charmed trifecta of Adams, Wang, and Dudamel produced a hit, at least to this Boston audience. The piece's funky title has attracted a lot of attention, but Adams has always loved fun titles: "Gnarly Buttons," "Son of Chamber Symphony," "Roll Over Beethoven," and "American Berserk" among them.
Adams's composition was described brilliantly by the Washington Post: "This is a city piece: all steel girders and glass monoliths, pounding factory rhythms and fatally seductive temptations around every corner — very much the modern-day equivalent of a Lisztian Totentanz that Adams has said he was aiming to create. The opening section (titled "Gritty, funky, but in strict tempo") deconstructs a Peter Gunn-like vamp into what might be described as a Prokofiev-style piano concerto, retrofitted with minimalist rhythmic cells, bebop bursts of brass and ironic commentary from a sampled, out-of-tune, honky-tonk piano. The final section ("Obsession/Swing") returns to the energy of the first, its driving syncopations and riot of orchestral color building to a satisfying finish."
For this listener, the piece felt overlong. Wang's extraordinary technique was on full, mind-boggling display, but she was just as affecting in the slow middle section, where she could show off her calmer, more poetic side. Adams seemed elated with her performance when they appeared together at a curtain call. Wang thrilled the packed hall with two encores.
Finally, a piece tailor made to be conducted brilliantly by Dudamel: Igor Stravinsky's 1913 Rite of Spring. He led a Rite on half of a BSO subscription series last year, and it left an indelible impression (he became ill halfway through the run). It was interesting for those who may have heard both performances in the same hall to compare impressions. The L.A. Philharmonic held up very well; they obviously have been playing this piece a LOT — they approached it with great assurance and polished confidence. The quiet parts were spooky, and the score's surprises had me (nearly) jumping out of my seat several times. Dudamel's conducting was enormously impressive; he seems to have absorbed this piece into his DNA. His right hand crisply beat time while his left modulated balance, expression, and entrance cues. This once-shocking score can still leave one feeling shattered and unnerved. The highlight for me in the performance was the bass drum in the second part, which was invigorated with plenty of rattling drama through the punctuation of  syncopated rhythms, especially in the Danse Sacrale. It was like a heartbeat gone mad. I would love to acknowledge the superb percussionist, but the program merely lists all the players in his section. Well, bravo to him, and to Dudamel, who was, in a word, sensational. And tireless, entertaining us with yet another encore, John Philip Sousa's "Liberty Bell."
---
Susan Miron, a harpist, has been a book reviewer for over 30 years for a large variety of literary publications and newspapers. Her fields of expertise were East and Central European, Irish, and Israeli literature. Susan covers classical music for The Arts Fuse and The Boston Musical Intelligencer.