By Lucas Spiro
Jack Taylor has always been a version of the reluctant detective, but now he seems more impotent than ever — distracted, beat down, and very tired.
Galway Girl by Ken Bruen. Grove Atlantic, 368 pages, $26.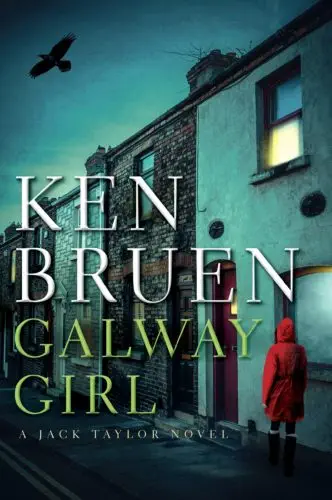 Jack Taylor is grieving. Since the death of his daughter he has been mostly hugging the toilet bowl, "having the first drink to be sick enough for the second one to stay down." Readers of Ken Bruen's Irish noir series focused on the ex-cop turned private eye will recognize this as a familiar state for Jack. Some might wonder just how much abuse Jack can take, a lot of it self-inflicted, before it catches up with him. Bruen seems to be wondering this as well in Galway Girl, wherein Jack must contend, once again, with the violent chaos that is his life, having lost more than a step in a world where everything is the same, only worse.
Galway Girl is a novel about doubles. Jack's previous nemesis, the psychopathic killer Em/Emily/Emerald, who he did away with in the The Ghosts of Galways, comes back to haunt him in the form of her vengeful lover, another young woman, the eponymous Galway girl, named Jericho. Like Jack, Jericho is also grieving. Unlike Jack, her grief moves her to do harm to others, not herself. Jericho is little more than a remainder, "a poor man's Emerald," that Jack can't bring himself to counter with the same intensity and purpose he had in the past. Jack has always been a version of the reluctant detective, but now he seems more impotent than ever — distracted, beat down, and very tired.
A customary aspect of Bruen's writing is that you can expect glib observations of current events peppered throughout the anarchic fury of the narrative. The jibes function as desultory evidence of our senseless world, where there is little hope to rage against the machinations of power and cruelty. Not because of the domination of evil, but the triumph of neglect, deprivation, and ordinary people's alienation from playing any role in social decision-making.
Take, for example, the Pope's recent visit to Ireland, the first pontific sojourn to the island since 1979. Throughout the novel Jack issues a number of asides about how much it will cost the state to accommodate such a dignitary. The number he comes up with is somewhere around 30 to 40 million euros (the "official" number might have been more like 17 million euros). Meanwhile, there is an ongoing and deepening housing crisis, breakdowns in health care provision, and lack of confidence that any way will be found to discipline the self-promoting political class. Somehow, though public and social services are being gutted, there is enough money to pay for the extravagant ceremonies tossed during the Papal visit. Yet only about 150,000 people came out to witness the Pope's mass at a Dublin stadium (something like one million showed up at Phoenix Park back in 1979).
Jack on the Pope's visit: "Temporary morgues were being arranged as so many pilgrims were expected but – Big but – Due to security, snipers on rooftops (I shit thee not), no vehicles were allowed within a ten-mile radius. Ten! So elderly folks along with the other poor bastards, had to walk ten miles just to reach the venue." And, of course, you can't have the stick without being forced to eat the carrot, too. "A PR flunkey hired by the Church," Jack continues," "told the Pilgrims to Train Plan Get fit, as if to climb Croagh Patrick… Forty or so million for the dignitaries but no buses for the faithful." In an Ireland where the Church finds itself exerting less and less direct control over people's lives, the institution is a natural fit in a neoliberal austerity economy, where the price of maintaining profit is to put the screws to the common people and tell them it's good for 'em.
Jack traces Ireland's woes to the demise of the Celtic Tiger, a period of rapid economic growth that was followed by the global financial collapse and government belt-tightening.The detective is one of those left behind. "God forgot me somewhere in the middle of the Celtic Tiger," he says to a stranger at one point. The novel's Galway reflects the cultural contradictions of a society that is showing considerable cracks. There are the old school pubs and players, "rich on paper gobshites" and a younger generation obsessed with fame and celebrity, with an "intense blend of Irish/US/UK mongrel mind." Galway Girl takes place during the abortion referendum. Jack, who doesn't seem to have an opinion, just sees a "bitterness fueled by ferocity that had opposing placards."
Bruen demonstrates once again why he is among Ireland's most celebrated crime writers. His bizarre twists on the noir genre, coupled with his deep affection for a particular Irish city in crisis, are inspired by the ultra-violence and economic misery that afflict his homeland. In the old detective novels, readers felt better once the homicide was solved — a bit of order was restored. Now, even when Jack prevails against some villains, solves a case or two, Bruen finds a way to remind us that the shot-callers at the top of the elemental power structures continue to benefit from our struggles against one another. Jack's deepening fatigue is symptomatic of those of us who feel powerless to stop where things are going: we all seem to be running out of steam.
---
Lucas Spiro is a writer living in Dublin.