By Mark Favermann
Watershed is an unadorned but stunning addition to the offerings at the deCordova Sculpture Park and Museum.
Andy Goldsworthy: Watershed at the deCordova Sculpture Park and Museum, Lincoln, MA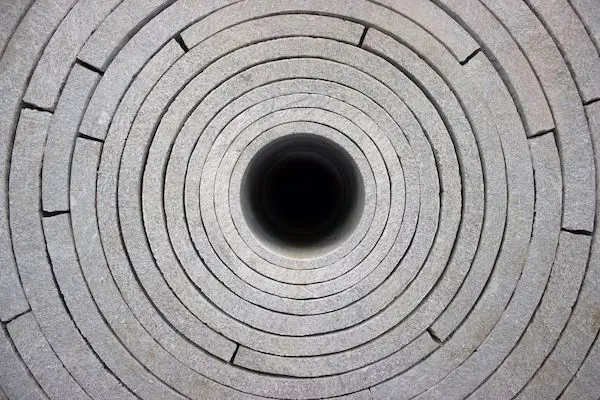 Partially embedded along the slope of a hill, Watershed is a site-specific structure created by internationally acclaimed earth artist Andy Goldsworthy to interact with the deCordova Sculpture Park's distinctive landscape. The piece overlooks Flints Pond.
The small open building will endure the natural flow of hillside water; it is designed to record the area's eventual erosion. The interior is the project's focal point; the rear wall is made up of concentric circles of stonework surrounding a drain outlet that is set at the center of the wall. The result: an image that asserts a powerfully poetic statement about water's strength, energy, and shape-shifting. By utilizing local materials, Goldsworthy's British team built the nine-by-fifteen-foot granite stone structure in a New England vernacular style that mirrors the ubiquitous stone walls and simple geometric structures found throughout the region.
This artist's body of work is made up of a series of vernacular architectural statements. Goldsworthy's approach is to create something like visual timelines, designed to reflect various characteristics of the local environment, climate, culture, technology, and, in some cases, even community experiences. Over the course of his career, Goldsworthy has habitually explored the nature of water, how its energy and force, enhanced by long-term (and changing) weather conditions, have serious consequences for the natural and human landscape.
Goldsworthy's photographs, sculptures, installations, and documentaries span four decades, documenting his examination of the effects of time on the relationship between humans and their natural surroundings. He was born in Cheshire, England, in 1956, and is based in southwest Scotland. Some of the artist's permanent, site-specific installations are located at the National Gallery of Art, Washington, DC; the de Young Museum, San Francisco; Storm King Art Center, Mountainville, NY; Stanford University, Palo Alto, CA; Nelson-Atkins Museum of Art, Kansas City, MO; and the Presidio of San Francisco. Major solo exhibitions of Goldsworthy's work have been presented by Yorkshire Sculpture Park, West Bretton, UK; The Metropolitan Museum of Art, NY; and Museum of Contemporary Art San Diego, CA.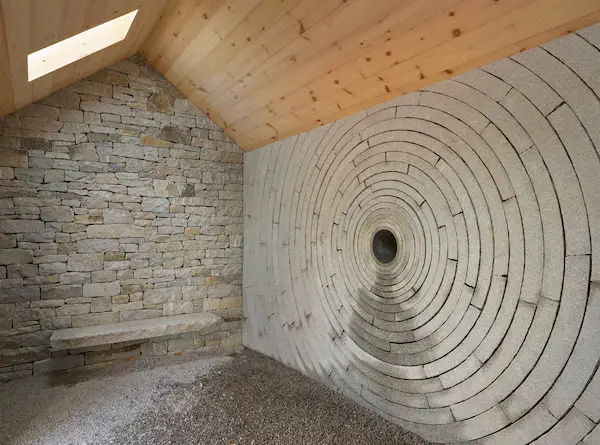 Goldsworthy has been described as an earth artist, a genre that is also referred to as land art, environmental art, and Earthworks. Generally associated with artists from Great Britain and the United States, this art movement emerged in the '60s and '70s. However, artists who are part of the movement are not limited to those countries.
Earth art consciously and conceptually expands creative boundaries by drawing on mostly natural materials. These works are often large scale and placed quite carefully in the natural environment. The materials used include soil, rocks, vegetation, recyclable debris, and water found on or near the sites, often distant from population centers. That means that they can sometimes be fairly inaccessible; documentation of these pieces, including drawings, photographs, and even material samples, is often presented in an art gallery or museum setting.
Philosophically, this art movement is about rejecting the commercialization of art-making while enthusiastically embracing ecological concerns. The projects also, in some instances, dismiss the complex artificiality of urban living and endorse the simplicity of bucolic lifestyles. From its start, earth art has been about connecting viewers to a spiritual zeitgeist, a vision of the Earth as a precious home planet for humankind.
In addition, there was (and is) a visceral rejection of the disengagement encouraged by modernism from social (and later environmental) issues, ideas spearheaded by ubercritic Clement Greenberg and his followers. Many involved with earth art have been inspired by minimalism and conceptual art. For example, Isamu Noguchi's early and late work were influences.
Perhaps the best-known example of earth art is by American artist Robert Smithson. It is the Spiral Jetty (1970), where Smithson arranged rock, earth, and algae to form a long (1500 ft) spiral-shaped jetty that protrudes into Great Salt Lake in northern Utah. The work is best seen from above in a plane. It should be noted that much of the visibility of the piece depends on the fluctuating water levels of the Great Salt Lake.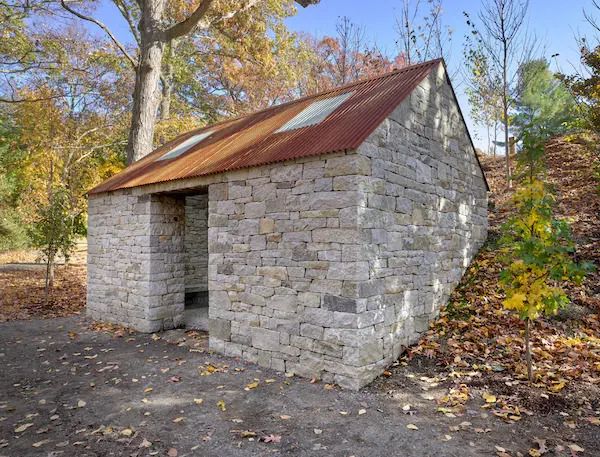 Along with Smithson, other artists in the movement include Walter De Maria, Carl Andre, Maya Lin, Jan Dibbets, Chris Drury, Hans Haacke, Michael Heizer, Neil Jenney, Nancy Holt, Alice Aycock,  David Medalla, Robert Morris, Dennis Oppenheim, Andrew Rogers, James Turrell, and Günther Uecker. Gordon Matta-Clark (recently written about in Arts Fuse) is very urban-oriented, but he could be included on this list as well. Alan Sonfist brought historical nature and sustainable art to primarily urban settings around the world. In 2012-13, he created a piece for the deCordova Sculpture Park and Museum: The Endangered Species of New England.
"When a project like Watershed is finished, that's the beginning of its life. The life that my sculptures have are so dependent on people — not as an audience, but as part of the work. Without people being in there to activate the space, it will not work," notes Goldsworthy.
With the advent of heavy rain, the water that flows across deCordova's paved upper lot is collected and channeled underground, eventually streaming from the spout built into Watershed's back wall. The result is that visible form is given to the usually unremarkable course of groundwater as it moves across hard surfaces. Thus the artwork, which will evolve over time, illustrates both the impermanence of and the enduring effects of water.
Goldsworthy is an artist who uses nature to create poetry. A stunning addition to the offerings at the deCordova Sculpture Park and Museum, Watershed is a structure of mysterious simplicity. The building welcomes the random forces of nature while underscoring our connection to the environment. It is a small edifice that records the beauty created by loss and regeneration.
---
An urban designer and public artist, Mark Favermann has been deeply involved in branding, enhancing, and making more accessible parts of cities, sports venues, and key institutions. Also an award-winning public artist, he creates functional public art as civic design. Mark created the Looks of the 1996 Centennial Olympic Games in Atlanta, the 1999 Ryder Cup Matches in Brookline, MA, and the 2000 NCAA Final Four in Indianapolis. The designer of the renovated Coolidge Corner Theatre, he is design consultant to the Massachusetts Downtown Initiative Program. Since 2002, Mark has been a design consultant to the Red Sox. Mark is Associate Editor of Arts Fuse.