By Jessica Lockhart
We are immersed for 70 minutes in a powerful evocation of the destructive culture created by men who treat women as sex objects.
Object., performed by the Kairos Dance Theater. Choreographed by DeAnna Pellecchia at the Boston Center for the Arts, Boston, MA (November 15-17).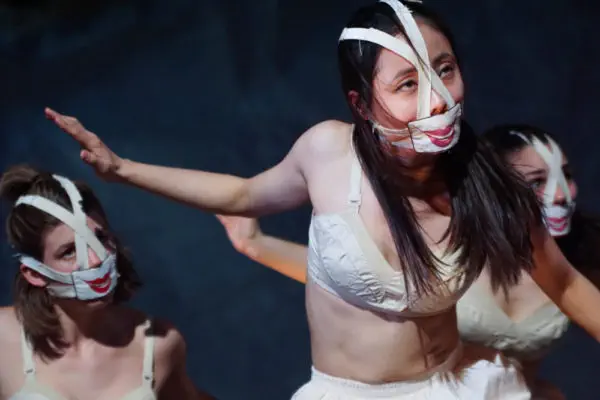 Near the end of the world premiere of Object., a multimedia performance that examines the oppression of women throughout the ages, we hear an audio collage of men speaking demeaning and sexist comments. At one point the voice of President Donald Trump joins in with his infamous sentiments, "I moved on her like a bitch" and "I grab them by the pussy. " Trump's comments have been replayed often in the media, to the point that they have been "normalized." But, by placing them among the jibes of the other harassers,they were given an amplified power, a testament to  Kairos Dance Theater's strategy in this piece.
We had been immersed for the past 70 minutes in an evocation of the destructive culture created by men who treat women as sex objects. This daring performance was four years in the making, the brainchild of DeAnna Pellecchia, the artistic director of Kairos, a Boston-based company. The evening began with a preshow that featured what looked like cabaret with pole dancers. As audience members wandered in with their drinks, talking to their friends, the atmosphere resembled that of a strip club. The girls perform exotic and sensual moves while the crowd talks loudly and pays little attention to them or alternatively stares at them lewdly. And that demeaning marginalization was a central theme throughout this performance — how men look at woman and the haunting stares back from the objects glared at.
The six dancers in the company wore bras, old-fashioned bloomers, and clear plastic stiletto high heels. The three-act performance had the women striking sexually provocative poses. They squatted, lay on the floor with legs opened wide, looked over their shoulders while wagging their asses. As they continued to "perform," their fake smiles changed into grimaces and voiceless screams. Next, they appeared with surgical masks strapped to their heads, with painted smiley mouths in red lipstick. They contorted their happy faces as they grabbed their breasts and sank to the floor in anguish. The action was repeated over and over again — and it was startling.
Film collages by Lindsay Caddle Lapointe provided samples of how women have been portrayed visually over the decades. These were images of women as beauty objects, coy manipulators, or dumb housewives. Choreographer Pellecchia notes in the program that the past has been filled with this kind of dehumanizing gender oppression. In this piece, she explores the ways American culture objectifies women in fashion, the movies, and even cartoons.  And she connects this treatment with antiwoman violence and harassment.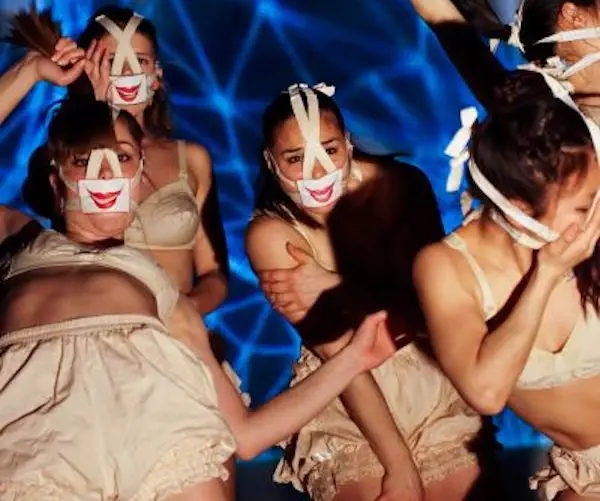 The scenes revealed different ways women are objectified. In the section titled "Jeepers Creepers" the dancers were on chairs scattered around the stage. The six women sat stock still, staring at the audience. Their expressions, often glaring and piercing, challenged in different ways. One looked bored — but with icy intent. The eyes of another said "go ahead if you dare." At this moment it was clear what the message was —  "do not mess with me." After a few minutes the women, once again, went back to dancing — with smiley-faced masks and wearing stiletto high heels. Taking back control is not an easy thing, when the norm is to be dominated. Then, as the dancers moved, they used the chairs as weapons, holding them overhead and slamming them to the ground with a loud crash. Slam after slam and crash after crash generated an urgent duality, compounded of tension and frustration. In "Rearview Glass," the dancers stood downstage — as close to the audience as possible  — looking straight ahead with aggressive stares, daring audience members to look away. The final scene, "Timber," was the most energetic, with all the dancers running as fast as they could — with one shoe off and one shoe on. They ran and then crashed to the floor. They tried to stand while balancing on one stiletto-heeled foot, but would inevitably topple down in a heap. They wouldn't stop trying: this fierceness was exhilarating, yet it was also depressing because they were trapped, helpless.
The music featured well-known songs by Annie Lennox, Ani DiFranco, Fiona Apple, and many more. Kristin Wagner's sound score imported dissonant ambient sounds during the performance's darker sections, increasing the atmosphere of anxiety. The company's dancers — Robin Amylon, I. J. Chan, Maggie Markham, DeAnna Pellecchia, Kristin Wagner, and Yagi Wu  — performed with admirable concentration, bringing considerable physical and emotional strength to this intense study of how women are objectified. Yes, the subject matter is visceral and disturbing, but Pellecchia writes that the intent of Obect. is to be jarring yet accessible. And she has succeeded.
---
Jessica Lockhart is a National Endowment for the Arts Fellow in Dance Criticism and has a BA in Communication from the University of Southern Maine. Lockhart is a Maine Association of Broadcasters award-winning independent journalist. Currently, she also works as program director at WMPG Community radio.