By Susan Miron
These superbly produced — and sung, played, and conducted — holiday music albums are perfect stocking stuffers.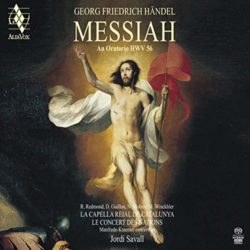 Do we need yet another Handel Messiah? It is, hands down, the most popular Christmas oratorio of all time. Well, listen to Jordi Savall's revelatory version and you can't help but agree that there is room for one more. Yes, indeed. Savall, the viola da gamba–playing rock star of early music, has brought an astounding amount of beauty to this very familiar piece. (Programming The Messiah is very good for business — audiences and audiophiles cannot get enough of it.) What's more, it was recorded in the Royal Chapel of Versailles, which the "most Christian monarch" Louis XIV built between 1682 and 1710, and the album's sound (produced by Alia Vox) is luminous; the ensemble's performances and singing glow equally.
Savall's gifted collaborators are: the 22-member choral group. La Capella Reial De Catalunya; the 26 piece instrumental ensemble, Le Concert des Nations (with whom he has frequently recorded); and four excellent soloists — soprano Rachel Redmond, countertenor Damien Guillon, tenor Nicholas Mulroy, and baritone Matthias Winckhler.
The Messiah has a curious history. It was originally an Easter offering and premiered at the Musick Hall in Dublin on April 13, 1742. The audience swelled to a record 700; in order to make "Room for company," ladies heeded pleas by management to wear dresses "without Hoops" and men were advised to leave their swords at home. Handel's superstar status was not the only draw; many also came to glimpse the contralto Susannah Cibber, then in the midst of a scandalous divorce. Mozart paid Handel the supreme compliment of reorchestrating The Messiah; Mozart confessed that he was humble in the face of Handel's genius. He insisted that any alterations to the score should not be interpreted as an effort to improve the music. "Handel knows better than any of us what will make an effect," Mozart said. "When he chooses, he strikes like a thunderbolt."
Several of the arias and choral pieces here really do strike thunderbolts, especially those we know well. Handel composed 32 oratorios based on biblical texts, Savall writes in his booklet notes, "developing them as vast sound frescoes to which he brought a truly dramatic dimension. Yet it was Charles Jennin's new libretto, consisting of a mosaic of texts taken from the Bible, that inspired Handel to write his Messiah, a work that defied all known categories: it was his 'Great Sacred Oratorio,' which, more than any other of his works, was to bring him lasting fame."
A staggeringly large number (20 of its 52) are choral. Regarding its most famous moment, the Hallelujah chorus, ("For the Lord God omnipotent reigneth") the word "hallelujah" is repeated 70 times. In the 1750s, King George II is said to have risen to his feet when he heard this joyful (if sometimes boisterously performed) song, initiating a tradition of standing in England and the US. Savall points out that The Messiah, at least in its instrumental demands, is one of Handel's most sparsely written works, especially for its debut in Dublin (no oboes, bassoons, flutes, horns, trombones, or harps, all called for in other Handel scores). The number of musicians for the premiere was 20. Yet, by 1794, 20 years after Handel's death, it was performed at Westminster Abbey by 275 instrumentalists and a chorus of 300. In 1883, the Crystal Palace boasted four thousand performers, setting it, according to Savall, on its way to "permanent disfigurement."
Savall and his musicians here provide a leaner, cleaner, and revelatory Messiah — both uplifting and thrilling.
---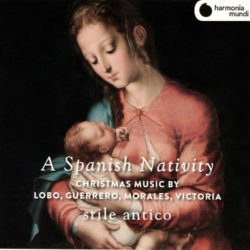 Stile Antico, a group of 13 British singers who befriended each other about a decade ago while at Oxford and Cambridge Universities, were hit by a thunderbolt of luck when, at a choral competition, the head of the record label Harmonia Mundi loved what he heard. They have been with the label ever since; their albums are best sellers, and they give 45 concerts a year. The group appears yearly at the Boston Early Music Festival, where they have a large, loyal following — which invariably includes this reviewer.
Stile Antico's Christmas CD, A Spanish Nativity, is devoted to the musical world of Renaissance Spain (its so-called Siglo de Oro — Golden Century). The recording is full of sumptuous polyphony and exuberant folk dances; at its heart sits a mass full of grace and beauty by Alonso Lobo (1555–1617), "Missa Beats Dei genitrix Maria," based on a motet by Guerrero and intended for performance at Toledo Cathedral. More secular offerings are interspersed along the way.
Stile Antico offers a vibrant "ensalada" (salad) by Mateo Flecha, which invites us to be "present" at the nativity through its adroit use of traditional dance rhythms, lovely Christmas miniatures by Tomás Luis de Victoria, and classic villancicos — Spain's answer to the traditional carol. My favorite song here is a Spanish early music hit, the much-recorded villancico "Ríu Ríu Chíu" (1556), an energetic tune which is given a witty spin by Stile Antico. (The piece is attributed to a Mateo Flecha el Viejo.)
The opening track, Tomás Luis de Victoria's (1548-1611) gorgeous motet "O magnum mysterium," sets the tone for much of what is to come. The music is sung beautifully, occasionally generating a high-spirited joy. Another lovely villancico here is Francisco Guerrero's "A un niño llorando (to a crying boy)." The villancico was originally a secular form, dance-derived, but in the later 16th century devotional and religious variations on the genre became commonplace. The album's excellent booklet informs us that "after the Counter-Reformation, they often replaced Latin music in church on important feast days — above all, on Christmas and Epiphany. Use of the villancico generated controversy, given its close kinship with popular and profane songs, especially its fondness for comic text and 'low' dialogue. As the musician-priest Pietro Cirone rather grumpily put it in 1613, the songs 'turn God's church into a public theatre or recreation room.'"
These superbly produced — and sung, played, and conducted — holiday music albums are perfect stocking stuffers.
---
Susan Miron, a harpist, has been a book reviewer for over 30 years for a large variety of literary publications and newspapers. Her fields of expertise were East and Central European, Irish, and Israeli literature. Susan covers classical music for The Arts Fuse and The Boston Musical Intelligencer.