By Jonathan Blumhofer
The Seattle Symphony does right by Langgaard but not Strauss; Esa-Pekka Salonen's Beethoven is micromanaged to death; Brandenburgisches Staatsorchester offers an ideal off-the-beaten-path Offenbach disc.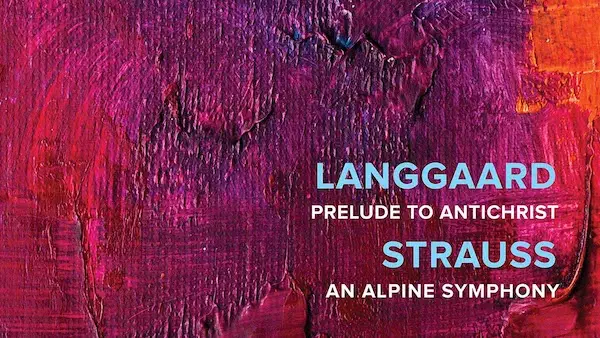 On a surface level, the Seattle Symphony's new release featuring Richard Strauss's Eine Alpensinfonie and the prelude to Rued Langgaard's opera Antikrist is devastatingly smart: the anti-Christian Strauss originally titled his tone poem Der Antichrist and, while he ultimately opted for the less-provocative title, the work's adoration of the wonders of nature has something of a secular feel to it.
Langgaard, by contrast, was a Christian, and his 1923 opera tackled themes of hedonism and debauchery in the modern world. Not premiered until 1980 (nearly 30 years after Langgaard's death), it remains a fascinating piece on the fringes of the repertoire.
Thomas Dausgaard, the Seattle Symphony's incoming music director, is a Langgaard specialist and his inclusion of the concert version of Antikrist's Prelude here is more than welcome. True, it's a bit of a disjunct piece that smacks a bit of Nielsen in its pungent dissonances but also offers moments of sweeping lyricism and beguiling colors reminiscent of Langgaard's early symphonies.
The Seattle Symphony's reading of the Prelude is about all that you could want: shaded and fluent, leaning ever-so-rightly on its sour harmonies while providing the consonant ones a glowing shimmer.
Their Alpensinfonie features some similarly inspired moments. Strauss's low-string writing in "Der Anstieg" speaks powerfully, the solo cello line in "Auf blumigen Weissen" sings robustly, "Gefahrvolle Augenblicke" is very well (and carefully) articulated, and the "Gewitter und Sturm" movement packs a mighty punch.
Throughout, the ensemble sounds wonderful, playing with a nuanced range of color, textural clarity, and attention to dynamic and articulative detail; the horn and principal trumpet playing is particularly excellent.
At the same time, Dausgaard's interpretation leaves a bit to be desired.
It's directed, yes, but too much so. Just 46 minutes long, his reading is more emotionally chilly than not, lacking the warmth and mystery one finds in comparable accounts of this piece by Karajan, Jansons, Nelsons, and Haitink.
Perhaps one can do without too much subjective personality in Eine Alpensifonie. But Dausgaard too often glosses over the score's great moments: he breezes through the serene climax of "Auf dem Gipfel" and turns in a breathless, frustratingly literal take of the radiant "Ausklang."
It all adds up to a reading that, while well-played, is faceless and disappointing: that of a hiker dutifully traipsing up and down an Alp, but little given to the wonders encountered along the journey, all too happy to return to his cabin and a hearty mug of beer. Given all the excellent Alpensinfonies out there, that's a fatal problem – one even some fantastic Langgaard can't completely overcome.
---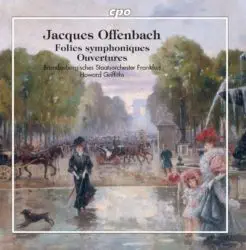 Jacques Offenbach's overtures are among the most inviting in the repertoire, as Howard Griffiths's devilishly absorbing account of a full dozen of them with the Brandenburgisches Staatsorchester Frankfurt reminds.
Offenbach was a composer who almost couldn't help passing up a good tune – or crafting something fetching out of less-than-promising material, the latter of which he did convincingly over the closing sections of the overtures to Les Bavards and Les Bergers, which open the present recording. The shorter selections on this album – like Les Brigands and La Créole – demonstrate a lively sense of melodic and harmonic invention, while the longer ones (like Monsieur et Madame Denis or La princesse de Trébizonde) are perfectly formed essays.
Throughout, the orchestra's playing is excellent – the woodwinds, in particular, jump out for shapeliness and color (Monsieur Choufleuri restera chez lui, le… shows them in conspicuously fine fettle) – and, if the ensemble doesn't rival the virtuosity of Karajan's Berliners or Paray's Detroit Symphony in similar fare, well, they hold their own with those and there's never a question that they understand the spirit and character of this music.
Above all, Griffiths knows how to bring this music to life. His tempos are always well-judged and balances carefully shaped. He doesn't micromanage anything: what needs to dance (and nearly all of this music does) trips gaily. Offenbach's lyrical writing always speaks. In a word, Griffiths's is some great, hands-off conducting: these are perfectly controlled performances but, at the same time, totally free and unobtrusive ones.
Add to that CPO's full-bodied and warm sonics, and you've got an ideal off-the-beaten-path Offenbach disc.
---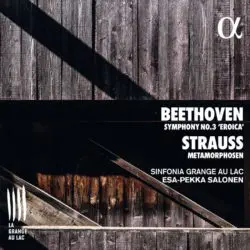 Let's cut to the chase here: Esa-Pekka Salonen has never been a thoroughly convincing Beethoven conductor (which is not necessarily a bad thing – but that's a discussion for another day). His new recording of the Eroica Symphony with the Sinfonia Grange au Lac, though, is bizarre even by Salonen's standards.
Its fundamental problem is a thoroughgoing lack of spontaneity and freedom. Too much in it – dynamics, textures, tempos, phrasing – is micromanaged to an extreme degree. This tendency is especially problematic over the first two movements.
The opening one (which omits the exposition repeat) is at once well-paced and, thanks to an urge to push through phrase transitions, breathless. While it's played well – the ensemble does everything Salonen seems to be asking of it – the reading veers between sounding frenetic and calculated, neither qualities much valued in Beethoven, generally. Perhaps the painfully deliberate tempo shift at the coda's peroration sums it up: it's a move that's simply unwarranted by everything that precedes it.
Breathless as the first movement is, the second is turgid: stately and sad, to be sure, but missing an underlying sense of rhythmic direction. Where Salonen pushed through transitions in the first movement, he draws them out here; add to that a take on the central fugue that is breathtakingly sluggish, and you've got one of the squarest readings of some of Beethoven's most visionary and expressive music on record.
The last two movements fare better – the Scherzo, in which Salonen simply lets the orchestra play, is fine – while the finale, if it doesn't get an earthshaking performance, at least isn't as overly indulgent as the score's first half.
Richard Strauss's Metamorphosen fills out the album and, again, Salonen's reading has its high points: the strings' playing is clean-textured, impeccably in tune, and beautifully balanced (the opening soliloquy is as articulately played as I've ever heard it). The recorded sound, too, is impressively full and even.
But, interpretively, the conductor's approach to this elegiac music lacks tension and momentum: throughout, tempos drag and, expressively, the playing is antiseptic when what's needed is some emotional heat.
In sum, then, this all adds up – disappointingly – to one of the year's least satisfying albums.
---
Jonathan Blumhofer is a composer and violist who has been active in the greater Boston area since 2004. His music has received numerous awards and been performed by various ensembles, including the American Composers Orchestra, Kiev Philharmonic, Camerata Chicago, Xanthos Ensemble, and Juventas New Music Group. Since receiving his doctorate from Boston University in 2010, Jon has taught at Clark University, Worcester Polytechnic Institute, and online for the University of Phoenix, in addition to writing music criticism for the Worcester Telegram & Gazette.