By Robert Israel
Few of the numbers in Choir Boy fail to astonish.
Choir Boy by Terrell Alvin McCraney. Directed by Maurice Emmanuel Parent. Staged by SpeakEasy Stage Company at the Calderwood Pavilion, Boston Center for the Arts, 527 Tremont St., Boston, MA, through October 19.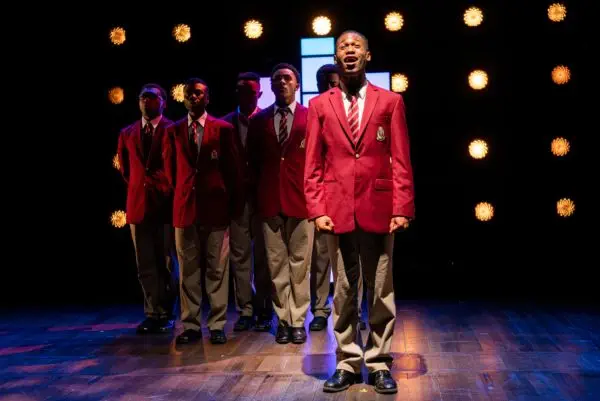 The SpeakEasy Stage production of Terrell Alvin McCraney's one-act play Choir Boy is a hot ticket in Boston at the moment, thanks to the staging's talented 10-member all-male ensemble cast, performing under the insightful direction of Maurice Emmanuel Parent. Add co-conspirators David Freeman Coleman (music director) and Yewande Ocietoyinbo and Ruka White (choreography) to the mix, and you have a show that zestfully captures hearts, minds, and spirit.
But the show's core magnetism comes from the cast's stellar a cappella delivery of traditional gospel tunes, along with a peppering of finely crooned contemporary songs. (Some of the music is written by Jason Michael Webb and Fitz Patton, with some arrangements provided by Webb.) These tunes, performed by the cast in perfect harmony (with several outstanding solos) generate plenty of onstage foot stomping, arm flailing, kung fu ferocity. There is nary a number that does not astonish. Taken together, the score delivers what folk/roots performing artist Ben Harper celebrates in his tune the "Power of the Gospel." To quote Harper, the songs sung by the ensemble in Choir Boy will "make a weak man mighty . . . make a mighty man fall . . . it will fill your heart and hand, or leave you with nothing at all."
Playwright McCraney — who wrote the script for the Oscar-winning film Moonlight — tells the story of a group of African American boys matriculating at the school in an unnamed location (we assume it is the American South) where the school choir occupies a central place in the institution's devotional consciousness. It is not by accident that an electrified crucifix dominates center stage: the power of gospel, after all, is powered by various fuels: neon, as is the stage prop, and the unfailing energy of deep faith.
But what if that faith is tested by questions of sexuality? Issues of sexual identity – specifically, of attraction to the same sex — are in direct conflict with the teachings of the Church. The catechism, after all, instructs students to put their faith in family and fellowship and to eschew matters of carnal fulfillment. As exemplified by the "boy" in the play's title, Pharus Jonathan Young (played by the ultra-talented Isaiah Reynolds), that elemental conflict cannot be contained or controlled (or suppressed) by belief in God alone. His gay inclinations ooze from his pores — as the light streams from the illuminated onstage crucifix.
Director Parent wisely pumps up Choir Boy's physical and choral elements in order to compensate for the script's vulnerabilities; the play, in many places, is weak. The spoken words fall short of the production's musical punch. For example, the encounters between several of the students and Headmaster Marrow (J. Jerome Rogers) are predictable (these include reprimands, rote citations of house rules, repeated reminders to call home, etc). Yes, these conflicts place us firmly in the school's environment by painting a realistic portrait of a repressive educational environment. But, in contrast to the show's electrifying harmonics, they are prosaic, undramatic. There are too many of them, to the point that you become impatient for them to end. Paring them back (especially deleting the awkward "calling home" scenes) would make those that remain more immediate — because they would be less familiar.
My point may seem minor in a show that clocks in at just a bit over an hour and a half. But the propulsion of the production stutters too often. In contrast, the script contains many surprises and, near Choir Boy's end, some unexpected compassion.
To quote again from Harper's "Power of the Gospel": "Now you may leave tomorrow . . . and you may leave today . . . but you've got to have the gospel, when you start out on your way." It is that kind of electrifying grace that Choir Boy supplies — generously.
---
Robert Israel writes about theater, travel, and the arts, and is a former member of Independent Reviewers of New England (IRNE). He can be reached at risrael_97@yahoo.com.