By Michael Ullman
For many listeners, Zigsaw will serve as a welcome introduction, not only to a virtuoso jazz ensemble led by an innovative leader, but to the music of composer Steve Lampert.
Zigsaw: Music of Steve Lampert, Noah Preminger Group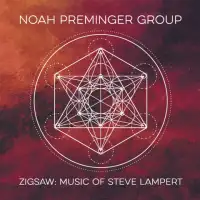 Surely one of the most gifted improvisers playing today, tenor saxophonist Noah Preminger is also one of the most unpredictable. He has recorded a disc of jazzed-up Chopin, which sounds like a terrible idea, but also renovated the magnificent wordless vocal, "Dark Was the Night, Cold Was the Ground," recorded in Dallas by Blind Willie Johnson in 1927. Preminger has recorded his own pieces, of course, but also Bob Dylan and Sam Cooke and George Harrison. More recently, he released Preminger Plays Preminger: the great filmmaker Otto Preminger was a distant relative, which was sufficient reason for Preminger to play themes from Otto's movies. His new septet session Zigzaw: Music of Steve Lampert is, at least in terms of the complications established by the composition, his most ambitious album to date. Written by a hero of Preminger's, trumpeter/ composer Steve Lampert, it was commissioned by and is dedicated to Preminger. It's a single piece, 49 minutes in length. (Longer than Coltrane's "Ascension"!) Lampert says it was inspired by his dreams, with their typically capricious recurrences and deviations.
It's not a dreamy work. Zigsaw begins with a synthesized bell-like note, a slight pause, and then, on the same instrument, a downward-moving arpeggio rendered in single notes that are as distinct as falling raindrops. This opening is followed by a furious-sounding repetitive ensemble passage. (Lampert tells us that it is 24 bars.) These opening gestures may, at first, seem more casual than they turn out to be. The arpeggio, and the first two bars of the ensemble passage, mark off sections of the piece. They become the listener's friends, readily recognizable, a guide to the composition's 12 large sections, each broken down into four parts. At first the soloist, Preminger, plays over a kind of vamp. Then we hear the arpeggio and the instrumentalist plays more freely around a given bass line. The sign that that section is over is signaled by the repetition of the two bar "theme," which is followed by a deliberately hazy section, often over sustained sound by the synthesizer of Rob Schwimmer.
It sounds complex, but the music itself is not intimidating. About five minutes in, pianist Kris Davis gambols around with the arpeggio, and makes its bell-like sounds her own. It's almost an expected move: this is free jazz with a plan that the individual musicians respect. Then she is followed by alto saxophonist John O'Gallagher. Each soloist contributes his or her own interpretation of the material. Part of a Jason Palmer trumpet solo takes place over a wild piano accompaniment from Davis: it ends with Palmer sputtering a single note over synthesizer. Then the two-bar theme and some dreamy synthesized sounds come in under the saxophone. Kim Cass's bass solo maintains the somewhat frantic sound of the ensemble, even in the fourth, dreamy part. Part of his section almost becomes a duet with Davis. Elsewhere we hear an alto solo over what sound like distorted voices. The soloist is given the freedom to float over the rhythm, or to engage with the frantic mood of the theme. Some sections give us the soloist interacting actively with the accompaniment.
There's a mystery for this listener in the piece. At various moments, we hear a woman's sweet voice softly reciting numbers. This anonymous vocal chants in order: 6-9-4-3-2-1. (I won't go on.) I queried the composer. In a private message, Lambert responded:
My dreams often blend speech, musical sounds, swirling images, people, wild colors, noises, geometric shapes, symbols of various types. Sequences of numbers and/or letters occur with some frequency as well. As for what it all means . . . I truly believe that each listener creates their own meaning for what they resonate to in a given piece of music.
I like this voice in the wilderness, but can't satisfactorily speculate on the meaning of her enumerations.
Despite that enigma, Zigsaw is, in fact, easy to listen to. Each soloist, including drummer Rudy Royston, performs brilliantly, asserting their freedom within the context of a composition whose divisions are constructed to generate a diversity of sounds and approaches. Thanks to its recurrent passages, and to the regard the improvisers have for the music, the proceedings are always coherent. At times, its surprises are as witty as those found in the compositions of Joseph Haydn. The piece ends with a fresh series of distinct, synthesized notes, which are separated by exaggerated pauses. It's a kind of coda that leaves you guessing: where and when it will end? For many listeners, Zigsaw will serve as a welcome introduction, not only to a virtuoso jazz ensemble led by an innovative leader, but to the music of composer Steve Lampert.
---
Michael Ullman studied classical clarinet and was educated at Harvard, the University of Chicago, and the U. of Michigan, from which he received a PhD in English. The author or co-author of two books on jazz, he has written on jazz and classical music for The Atlantic Monthly, The New Republic, High Fidelity, Stereophile, The Boston Phoenix, The Boston Globe, and other venues. His articles on Dickens, Joyce, Kipling, and others have appeared in academic journals. For over 20 years, he has written a bi-monthly jazz column for Fanfare Magazine, for which he also reviews classical music. At Tufts University, he teaches mostly modernist writers in the English Department and jazz and blues history in the Music Department. He plays piano badly.