By Jason M. Rubin
John Powhida International Airport, The Bad Pilot
Musically, The Bad Pilot encompasses the sound and feel of everything from Philly soul to new wave, hard rock, funk, and progressive rock.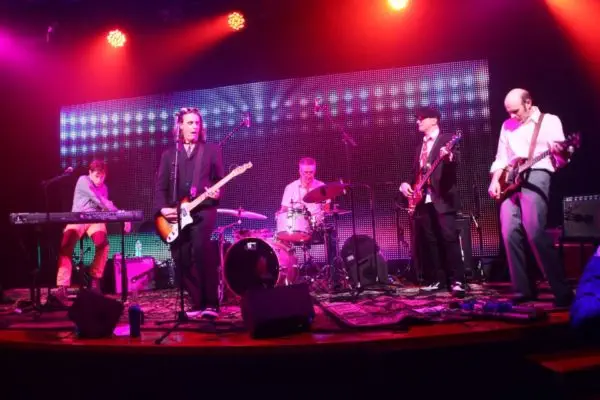 When an unsigned Boston band self-produces its latest album, it usually doesn't generate headlines. It typically means little more than that they have an extra box to carry to their gigs. But the latest recording by John Powhida International Airport (winners of the 2011 Rock & Roll Rumble) is worthy of note because it's their first album in five years, and it's really, really good. Some people are prodigiously talented but never find their way through the revolving door of the commercial zeitgeist; such are Airport leader Powhida and his partner in chime, Peter Moore, co-producers of the just-released The Bad Pilot.
The two have been collaborating for many years now, having been introduced in 2002 when Powhida was appearing in Boston Rock Opera's presentation of Alice Cooper's Billion Dollar Babies. Each was recommended to the other by a Boston music scene insider. Sharing several of the same influences (including Todd Rundgren and Hall and Oates), they are truly simpatico on stage and in the studio. For his part, Moore has been active on the local scene since graduating magna cum laude from Berklee College of Music in 1986. In addition to his bands Think Tree and Count Zero, he has served as vocalist/multi-instrumentalist for Blue Man Group and has composed music for video game developers.
"Peter's great gift is his gorgeous harmonies," says Powhida, who moved to Boston from Albany, New York, in 2000. Given their influences, that's an important gift indeed. Powhida also praises Moore for his ability to execute Powhida's musical ideas on the spot in the studio: "I can say I want a keyboard part that goes [unintelligible verbalization accompanied by hand motions in space], and he does it perfectly. That comes from working together for a long time."
On the new album, Powhida sings lead and plays guitar, some keyboards, percussion, a little bass, and drums on two tracks, while Moore supplies most of the keyboards, background vocals, percussion, sax, and drums on one track. The Airport also features guitarist Mike Castellana, who rips off some nice solos, and the steady rhythm section of Jim Haggerty on bass and Nathan Logus on drums.
Musically, John Powhida International Airport is clearly rooted in the 1970s — but that decade was nothing if not kaleidoscopic, so the new album encompasses the sound and feel of everything from Philly soul to new wave, hard rock, funk, and progressive rock. The Bad Pilot opens with a slow jam worthy of WERS's Secret Spot, "Downtown Freddy Brown" (a re-recording of a song from Powhida's previous Boston-based band, The Rudds) and closes with a song called "Rickie Lee Jones." The title of the killer second track, "Denver (Be Gentle With My Stuff)," is clearly a play on the Bee Gees' 1975 hit, "Fanny (Be Gentle With My Love)."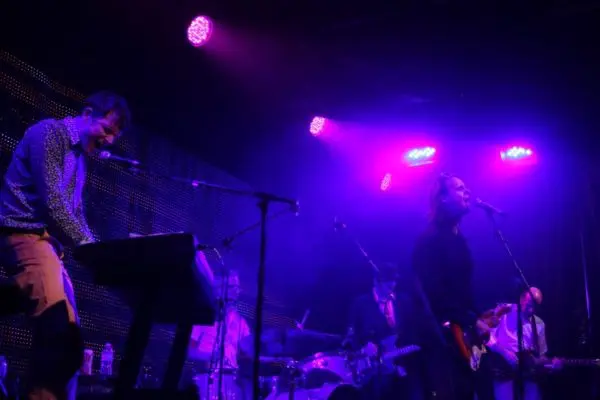 This '70s fascination is nothing new for the Airport. Their last album, 2014's Airport Life (the single from which, "Cover Me, I'm Going for Milk," was a Song of the Year nominee at the 2015 Boston Music Awards), features an uncanny Bowie-knockoff title track, and 2011's Cut Way Down (an mp3-only release) opens with a disco tune that name-drops Jethro Tull (and begins with a count-in of "Uno, dos, Suzi Quatro"), which has become a live favorite. Of course, this versatility also reflects the deep imprint of Todd Rundgren, who can go from pop balladeer to prog brigadier from one song to the next (Powhida also performs in a Rundgren tribute band called Hermits of Mink Halloween).
Humor is another color on the Airport's palette that reflects Rundgren's influence. "Recycle Morning in Arlington Heights" is a shuffle that probably speaks for itself, while the Laura Nyro-ish "The Star Spangled Banner" (one of two songs ably sung by guest vocalist Amber Casares) laments the pressure of singing the national anthem at a sporting event. "Invisible Now" contains the lines, "What's wrong with people?/People who need people/Are the loneliest fuckers around" and "Thought I heard the Beach Boys/Singing Bar-bar-barbarism." The rocking "I Know What the Housewife Dreams" may be Powhida's thoughts about Daddy duty ("I am the housewife," he sings) as he refers to "the Collinses: Jackie and Phil."
Five years in the making, The Bad Pilot was culled from numerous songs recorded over that time period, which means the band already has a strong head start on the next album. But that doesn't mean the ones that weren't picked were not worthy of inclusion.
"We chose the songs that we felt comprised a cohesive album," explains Powhida. "It wasn't just a matter of taking the best. There's good stuff we didn't release right now because they didn't seem to fit."
With a generous 14 tracks, The Bad Pilot holds together as one of those classic feel-good albums that were played at every teenage house party in the '70s. If you want to join the party, the Airport has a residency at Toad in Porter Square, Cambridge, every other Tuesday, starting at 7:30 p.m. No cover. You can buy the new CD at any gig, or purchase it — and previous recordings — at the band's Bandcamp page; or send $15 via PayPal to jpowhida@hotmail.com.
---
Jason M. Rubin has been a professional writer for more than 33 years, the last 18 of which as senior creative associate at Libretto Inc., a Boston-based strategic communications agency where he has won awards for his copywriting. He has written for The Arts Fuse since 2012. Jason's first novel, The Grave & The Gay, based on a 17th-century English folk ballad, was published in September 2012. His current book, Ancient Tales Newly Told, released in March 2019, combines in a single volume an updated version of his first novel with a new work of historical fiction, King of Kings, depicting the meeting of King Solomon and the Queen of Sheba. Jason holds a BA in Journalism from the University of Massachusetts Amherst.