By Helen Epstein
If you enjoy singing and dancing in your theater seat to the sound of good music while learning a bit about American cultural history and its personalities, you will enjoy this show.
Rock and Roll Man: The Alan Freed Story Book by Gary Kupper, Larry Marshak, and Rose Caiola. Original music and lyrics by Gary Kupper, Directed by Randal Myler. Staged by the Berkshire Theatre Group at the Colonial Theatre,  Pittsfield, MA, through July 21.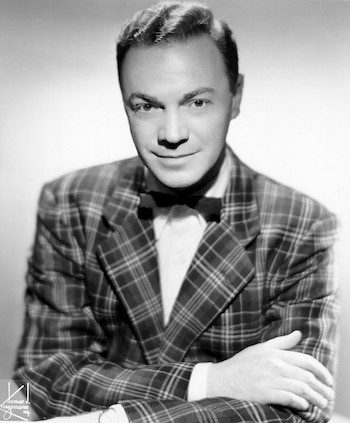 If you think frothy old-fashioned musicals like Bye Bye Birdie and Grease are a waste of time, and Beautiful – the Carol King bio-musical — a crock of nostalgia, read no further. But, if you're like me, and enjoy singing and dancing in your theater seat to the sound of good music while learning a bit about American cultural history and its personalities, you will enjoy this show.
Rock and Roll Man is a musical about the rise and fall of Alan Freed (1921-1965), the midwestern disc jockey celebrated in Cleveland's Rock & Roll Hall of Fame for coining the term rock and roll. Like Beautiful, Rock and Roll Man boasts a dramatic, if far darker, storyline and a treasury of fabulous music and dance that dates back to the 1940s. Seeing it in the restored, 115-year-old Colonial Theatre, with its heavy velvet curtain and deep revolving stage, is a treat.
Unlike Beautiful, the book by writer and editor Larry Marshak and Gary Kupper eschews a realistic biographical structure. The show begins with a down-and-out Freed dying at the age of 43 on a couch in Palm Springs, California, but the plot takes place in a frame of an outrageous dream in which events from Freed's life play out in a "court of public opinion." I liked this conceit as well as the sometimes over-the-top tone of the production.
The multi-level courtroom, luridly lit by Matthew Richards, morphs into cheery record store, swanky club, and modest local and big city radio stations; the prosecutor is J. Edgar Hoover, and Freed's defense attorney is Little Richard. There are nearly 50 musical numbers sung by Freed himself, Jay Hawkins, Little Richard, Buddy Holly, Laverne Baker, Frankie Lyman, Pat Boone, Fats Domino, and a succession of groups. They include "Roll Over Beethoven," "Shaboom, Shaboom," "Lucille," "I put a Spell on You," "Smoke Gets in Your Eyes," as well as original music and lyrics by Gary Kupper, a songwriter/singer musician who toured with Chuck Berry for 30 years. The new music pales beside the old, but what music wouldn't beside these rock classics?
The narrative alludes to Freed's Jewish father and Lutheran mother, skips his teenage infatuation with jazz (he started a high school band called The Sultans of Swing), his time at Ohio State majoring in mechanical engineering, and his first job as a sportscaster. Freed's mock trial, in which he is charged "with the destruction of American life through rock and roll," begins in the 1940s, with Freed working as DJ for a quick succession of radio stations: WSLM, Salem Ohio; classical station WYGT Youngstown; WAKR, Akron, Ohio. He marries the first of what will be three wives, has the first of what will be four children, and handles setbacks and anxieties with booze.
Veteran actor Alan Campbell plays Freed as a congenial generic Midwestern white guy (he reminded me a little bit of Richard Chamberlain; a little bit of Dick van Dyke; a little bit of Dick Clark) who fell deeply in love with black music. He is credible as the optimistic and earnest DJ who, while ambitious, suffers from a lack of street smarts. He seems clueless about women as well: an encounter with an Arthur Miller Dance Studio instructor leads to his first divorce, second marriage, and his subsequent move to WJW Cleveland, where he wanders into a shop called Record Rendezvous, which changes his life.
The owner Leo Mintz (wonderfully played by Bob Ari as a sympathetic adult akin to the corner pharmacist in West Side Story) lets his teenage "white and colored kids together" pick through the store's rhythm & blues albums and dance to the music as well. Leo introduces Freed to an instrumental by the New York musician "Moondog" (aka "the Viking" who for years stood on Sixth Avenue and 54th St) and persuades Freed to feature R&B on WJW. The music is a hit. In July of 1951, as he explains in his mock trial, Freed starts a new show called "The Moondog House" and, as King of the Moondoggers" plays black music for the first time to a large, white audience. The response to it is so strong that he organizes a rock concert that turns into a fiasco when twice the number of people expected show up at the doors.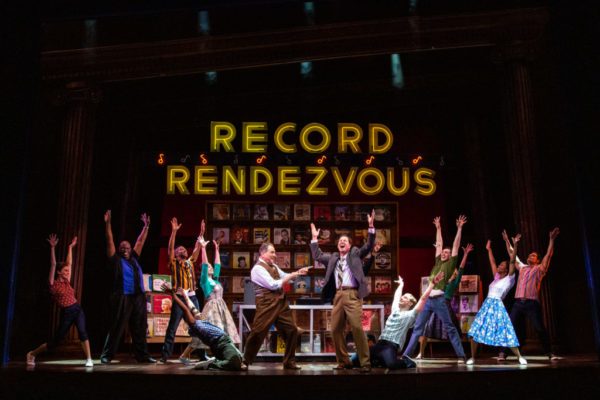 After a few years of growing celebrity, he's hired first by WINS radio in New York, then WABC. Mintz stays in Cleveland and, without his mentor and moral compass, Freed moves into the higher stakes territory of television and international venues, accepts payola (an arrangement, legal in some states, illegal in others, through which DJs were paid by record studios to play their records) and comes under the influence of Morris Levy (also played by Bob Ari) and organized crime.
Director Randal Myler has kept his cast of 22 actors, singers ,and dancers moving from start to finish to music played by a fine five-man band. I especially liked the quartet of singers who performed the various group numbers, including A.J. Davis, Jerome Jackson, Early Clover, and Eric B. Turner, who doubles as Fats Domino; an arrogant George Wendt (of Cheers) as J. Edgar Hoover; and Richard Crandle, as an ebullient Little Richard .
The history of how "music made by Negroes and sold by Jews" transformed American culture is complicated and doesn't easily lend itself to the simplification of musical comedy. Freed's promotion of rock and roll offended many Americans and provoked police action in Cleveland and Boston. In 1960, when a Congressional subcommittee and the New York District Attorney's office turned its attention to payola in radio broadcasting, Freed was fired from WABC and relocated to Los Angeles. And, while Freed was key to the success of many black musicians and a force for American cultural integration (ABC television canceled one of Freed's shows after southern affiliates protested a black and white couple dancing together), he is also accused of ripping off black musicians and pocketing their royalties.
Both music journalists and cultural historians will find fault with Rock and Roll Man: The Alan Freed Story. But theatregoers interested in a more in-depth view can go online to research the musicology. It's an ambitious musical, a showcase for its cast of largely African-American performers and great fun to watch.
---
Helen Epstein is the author of Joe Papp: An American Life and nine other books of non-fiction. She has been reviewing for The Arts Fuse since its inception.