By Paul Dervis
Lighting Martha delves into the psychological tensions generated by alternative lifestyles — many, many decades ago.
PortFringe, in Portland, Maine, various locations, through June 22.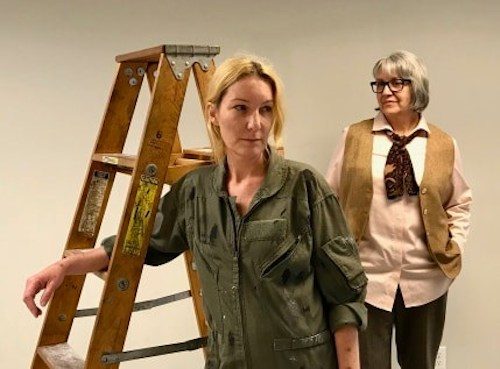 The Fringe Festival in Portland, Maine opened last weekend with hits, misses, rain, and sunshine…and the fun is just beginning.
Let's start with the best of it: Lighting Martha by Carolyn Gage. Gage is a prolific feminist writer who lives in Maine and is internationally known and respected. She has written nine books on lesbian theater and has penned 65 plays (which puts my paltry 25 entries to shame). Among her prizes: a 2009 National Lambda Literary Award in Drama for The Second Coming of Joan of Arc. In Lighting Martha she has picked a subject that delves into the psychological tensions generated by alternative lifestyles — many, many decades ago.
It's 1969.
'Stonewall' is happening. If you, by chance don't know what Stonewall is …well here is Wikipedia.
The Martha in the title is American dance legend Martha Graham, who's final appearance as a dancer has been cited as taking place anywhere from late 1968 to early 1970, when she was in her mid seventies. (She died in 1991.)  Ironically, the choreographer does not appear in this one-act play, which takes place after the final dress rehearsal for Graham's 35th season opener at the City Center. But her presence is very much felt – through the conflict between Graham's long-time lighting designer, Jean Rosenthal, and Rosenthal's assistant/partner in life, Miki.
Rosenthal is dying of cancer — she only has weeks to live. But she is going to do her job; even if it means lighting Graham from a gurney if need be. And, of course, it is her assistant, her partner, her love, who will be on the ladder with the spotlight. (Cue the production's very Brechtian set.)
But this script is not about performance, about lighting, or Graham, or dance, or 'the show must go on." This is a heartfelt script abut love, pain, self identity, and the fear of reality.
The designer has been publicly closeted about her relationship; even after 13 years with Miki and impending death, she still cannot bring herself to acknowledge their defining relationship. Even though her peers are violently demanding respect down on Christopher Street, so very few blocks away.
The three hander was well acted throughout, but Elizabeth Freeman's performance as Miki should be singled out. (Note: I have worked several times with Freeman.) The actress makes Miki's intensity, her sorrow, palpable.
My reservation about Lighting Martha it is that I felt as though I had walked into the second act of a full-length play. I wanted to see the foundation of this relationship, because what we experience of the love between these two women in this one-acter is very moving.
Seance on a Tuesday Afternoon bills itself as a comedy about Internet psychics … the production felt woefully under rehearsed. The pacing was laborious and well … it just wasn't that damn funny.
I also saw May We/(Mais Oui). I believe this could be called a movement piece  … unfortunately, there was not a whole lot of movement. Part of the problem was a problematic stage arrangement  … the two performers spent much of the piece lying down. Because there was no raisers for the audience, it was difficult to see what was going on, let alone appreciate it. C'est la guerre.
One weekend down…three more days to go. One truly special night out of six would be very good odds in a fringe fest.
---
Paul Dervis has been teaching drama in Canada at Algonquin College as well as the theatre conservatory Ottawa School of Speech & Drama for the past 15 years.