By Paul Robicheau
The best (or worst, depending on your preferences) aspect to Boston Calling has become its attention to youth-centric subcultures that have blown mainstream in DJs/electronic music and hip-hop.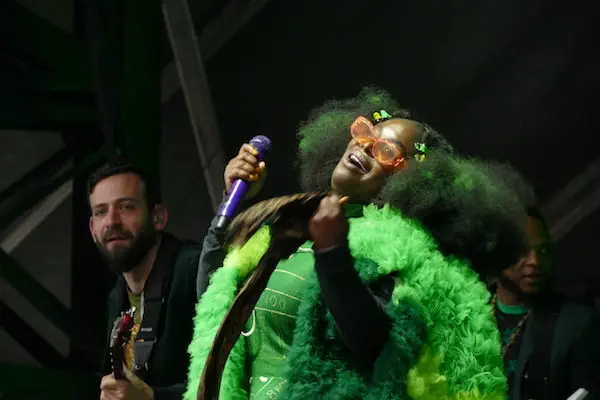 Modern-day rock festivals can be a crapshoot, a rotation of circuit copycats that jockey for bigger crowds in a glutted landscape. It's a long way from Woodstock, which vies to mark its 50th anniversary with problems of its own in financing and cookie-cutter programming. Today's mega-fests also boast broader food options and VIP perks all the way up to bonafide bathrooms and tent seating beyond the mud, even if they don't seem the most ideal environment for artistic expression.
At least Boston's lucky to avoid clogging rural roads and host its own larger-than-midsize rock festival. The 10th edition of Boston Calling, which began in 2013 with twice-yearly lineups on City Hall Plaza, still faced its third Memorial Day weekend on the manicured fields of Allston's Harvard Athletic Complex with its own issues. The slate of bands seemed underwhelming even before cancellations by Janelle Monae (who cited a scheduling conflict) and hip-hop act Black Star, whose Talib Kweli got in a Twitter spat with promoters over advance payment. Demographics also hewed younger in the choice for alt-mash duo Twenty One Pilots and rapper Travis Scott to bookend the event as headliners geared for heat and hormones.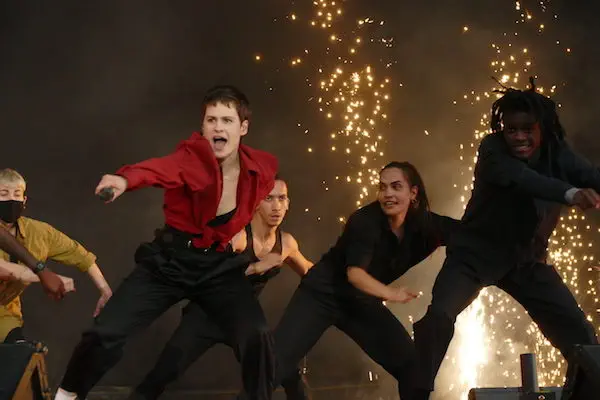 To each their own, however, as Boston Calling proved surprisingly successful this past weekend at juggling and pleasing various tribes. Credit the rain-free weather (neither too hot nor cold, though Friday lent a cloudy, breezy chill), great sound and production values, and a range of experiences that held together in stretches and challenged in others. You can't catch everything, as festivals force you to either settle in at one stage or keep moving to get the best possible sampling.
Along those lines, stylistic conflicts were few, perhaps the worst being to pick Christine and the Queens or Tank and the Bangas, two of the weekend's most arty, engaging outfits on Friday. Christine – or Chris as French singer Heloise Letissier prefers these days – channeled inspiration Michael Jackson as she led her androgynous dance crew through tart, sensual choreography that balanced tension and freedom. "You can be whoever you want — there is no judgment here," Letissier gushed to the crowd at one of Boston Calling's two adjoining main stages. "Man, it feels good to be out." And at the far-removed third stage on a cozy soccer field, Tarriona "Tank" Ball let her own freak flag fly in billowing, fluffy layers the color of new album Green Balloon as her New Orleans group dropped a bouncy, sinuous mélange of hip-hop, soul, and funk. They nodded to George Clinton's Parliament Funkadelic while exuding their own eclectic personality.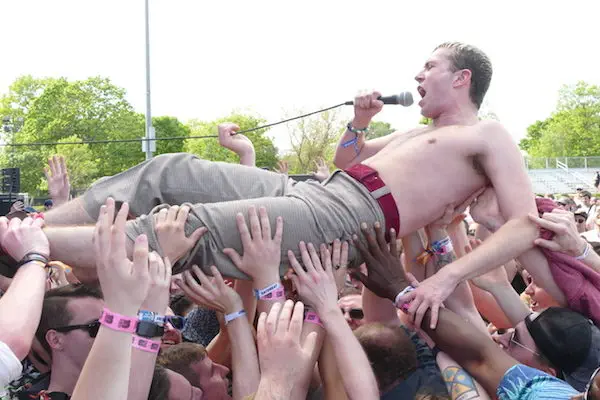 The same couldn't be said of Greta Van Fleet's allegiance to Led Zeppelin back at the main field. The young Michigan quartet dressed the part of '70s idols in the open-chested embroidered jackets of high-scaling singer Joshua and his guitar-slinging twin brother Jake Kiszka, whose moves aped Zep's Jimmy Page while his look said Sgt. Pepper (the film). The band has improved its chops on the road, but still falls short of songs that demand interest – and hint: don't throw in a drum solo when Zeppelin arguably wielded the best drummer ever in John Bonham.
Speaking of drummers, Twenty One Pilots' Josh Dun knows how to crack furious rudiments on his kit – and playing one solo on a platform held up by the crowd is a good trick. But another solo where he duels with his recorded doppelganger on the screens? Please. Twenty One Pilots have some catchy songs ("Stressed Out"), but the performance became an ADD mashup where they mixed sounds (punk, reggae, rap, electro) and instruments (Tyler Joseph switched between bass, piano, and – yikes – ukulele) with tons of pyro and even a line dance with security staff.
Saturday turned out to be the best overall day – in lineup, weather, and crowd size. It peaked in the late afternoon with a mainstage tour-de-force by Anderson.Paak, a consummate entertainer able to rap, sing, and play drums, which he did atop one of the multitiered, color-saturated platforms that formed a playground for his deft, horn-iced band the Free Nationals and could be seen from the back. He even had the confidence to share the stage with Lil Nas X, who briefly came out in his cowboy duds to rap the weekend's biggest hit in "Old Town Road."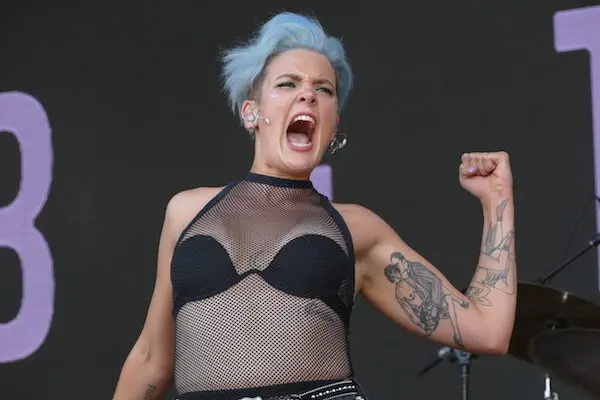 But Saturday started early with a run of Boston-bred talent on the main stages in the lyrically smart Sidney Gish, the pulverizing Pile, the Berklee-honed Betty Who (who bolstered her vocals with backing tracks through a beaming dance workout), and Carlisle's 20-year-old Clairo, who seemed as shy as her modest bedroom pop.
However, the third stage was really cooking on Saturday, from the robust, crowd-pumping rapper Denzel Curry and engaging queer-pop singer King Princess to the Irish troubadour Hozier, who brought his fervent following to evening church with gospel-tinged folk-rock. But the set of the day, even of the weekend, came from driving, melodic British post-punk agitators Shame, whose bassist Josh Finery bounced across the stage like a ping-pong ball while shirtless frontman Charlie Steen took his vocal exhortations into physical release with extended crowd-surfing forays. It was a far more fulfilling midafternoon ride than the colorful, Flaming Lips-wannabe indie-pop of Superorganism, the cool pop of Mitski (who used a table as a prop for detached poses to her songs), and the textural wash of Big Red Machine, led by the National's Aaron Dessner and Bon Iver's vocoder-happy Justin Vernon. Saturday ended on the main stages with the electronic waves of Odesza and Aussie headliner Tame Impala, which has grown less interesting in its move from textural space-rockers to electro-soul painters. Leader Kevin Parker's a winsome, decent-enough singer but shouldn't put down his guitar to roam the stage; you could barely see him in the low-lit fog anyway.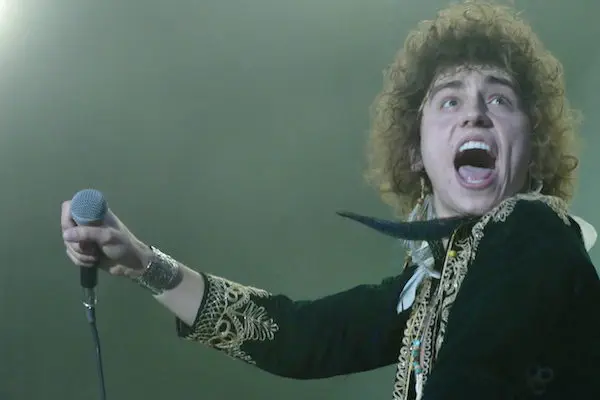 The best (or worst, depending on your preferences) aspect to Boston Calling has become its attention to youth-centric subcultures that have blown mainstream in DJs/electronic music and hip-hop. And this was the year that the festival widened possibilities for its fourth stage, Harvard's small hockey arena, which was mainly used for comedians in the past. Literally a chill change of pace on a warm day, the arena not only hosted comics like Michael Che (though he was off his game) and Jenny Slate, but turned into a disco for DJs, including a Sunday turn by Chromeo (up against Travis Scott) and an even more intimate set by arty singer Kilo Kish.
Sunday turned out to be the real day for hip-hop, despite early turns by indie-pop local heroes Guster (whose Ryan Miller suggested they were the festival's oldest performers) and leading returnee Marina, who lost the shine of her former group the Diamonds in performing glossy pop with four dancers. In the best break from hip-hop (or specifically the fleet-tongued rapper/producer Logic), Grammy winner Brandi Carlile closed the third stage with a triumphant set that showcased her clarion voice, from folk-rooted songs of motherhood to a dynamic cover of the Led Zeppelin-popularized "Babe, I'm Gonna Leave You" (Greta beware).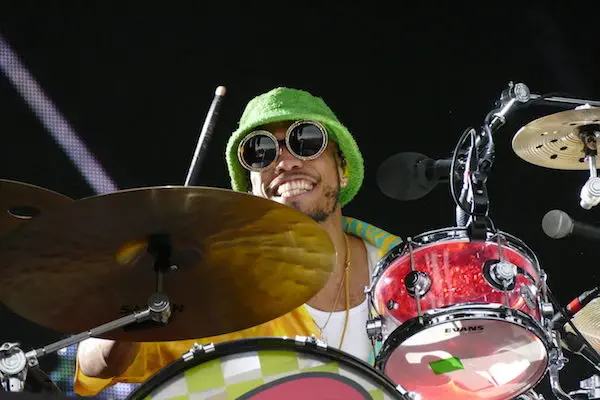 Hip-hop heads otherwise reveled in the shambolic three-way interplay of Sob X RBE (well, four-way including the DJ, who seemed to get the crowd going more before the MCs dragged onstage) and the hard-hitting Sheck Wes before Travis Scott took the stage. Altering his recently toured Astroworld set for such summer-savvy props as a giant popcorn box and a carousel platform that he could climb atop, the Houston rapper didn't so much spin his wordplay as deliver his songs like a pacing, rat-a-tat-tat force of energy. And fans responded in kind, bouncing with hands high and opening instant mosh pits like portals to fierce abandon. For some acts, including Shame and Denzel Curry on the third stage, a festival shares power for the crowd to become as large a part of the experience as the artist — and perhaps for those performers, that is equally a part of their art as well.
---
Paul Robicheau served as the contributing editor for music in The Improper Bostonian in addition to writing and photography for The Boston Globe, Rolling Stone and other publications.