By Helen Epstein
Edward Albee's provocative theatrical exercise is far trickier to realize onstage than it is to appreciate on paper.
The Goat or, Who is Sylvia? by Edward Albee. Directed by Eric Hill at the Unicorn Theatre, Berkshire Theatre Group, Stockbridge, MA, through June 15.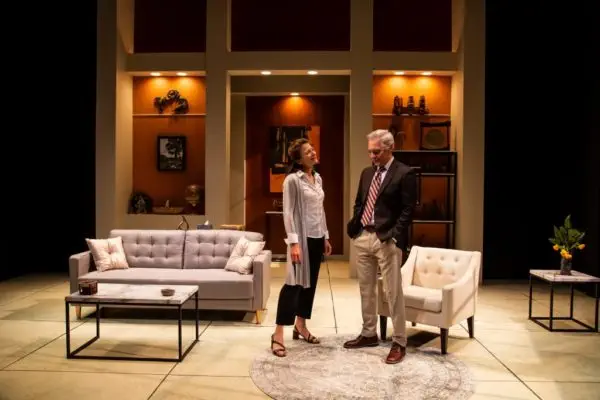 Edward Albee was 74 when The Goat or Who is Sylvia? opened on Broadway in 2002, and had already written nearly 30 plays. In a later interview that accompanied his obituary, the dramatist did not raise the question: what is perversion? He described The Goat, or Who is Sylvia? as an exploration of the limits of modern, American, upper-middle-class, liberal tolerance. Where were we as a civilization? Could an audience tolerate the notion of Christ as a suicide? Of a son passionately kissing his father? He gave The Goat or, Who is Sylvia? a subtitle: Notes Toward a Definition of Tragedy, that intimates more formal, aesthetic concerns. He structured the play according to the Aristotelian unities of time, place, and action and produced what might be seen as a free-variation as well as an update on Greek tragic drama, seasoned with theatrical in-jokes along with bits of situation comedy and domestic drama.
The time is 2000; the place is an upper-middle-class home in suburban America; the action is first floated as a joke, but then arrives as a reality — a revelation of betrayal, bestiality, and their consequences. The Goat or Who is Sylvia? premiered 40 years after Who's Afraid of Virginia Woolf? but it is far riskier, and every bit as brilliantly-written, bitter, and furious.
As the play begins, rock star architect Martin, who has just received the Pritzker Prize – "the Nobel for architecture" — is getting ready for a television interview in his elegantly austere living room, a bastion of white privilege. The satisfying set by Randall Parsons might have been taken from a spread in Architectural Digest, its coolness warmed up by African art and several pieces of fragile ceramics. Beside the chair where Martin will be photographed, his crisp, competent, hyper-articulate wife Stevie replaces a tasteful container for tissues with a vase of bright yellow ranunculus. I note these flowers' somewhat esoteric name because the couple use it, along with points of grammar, to celebrate their erudition and fine taste in all things.
Martin's interviewer is his best friend and former college room-mate Ross, who has made a successful career in television. The exercise should be fun and easy, a celebration of Martin's accomplishment at having reached the apex of his profession at the age of 50. Instead, it devolves into the antithesis of a celebration: first a confession of having betrayed his wife; then, the revelation that rather than the other party being a woman, she is a goat; then the psychological and physical destruction of the carefully created family — Martin and Stevie have a teenage son — and home.
Although The Goat or, Who is Sylvia? played 309 performances and received both the 2002 Tony Award for Best Play and the 2002 Drama Desk Award for Outstanding Play, many people walked out. Presumably, many more refused to buy tickets. Albee insists on his leading man proclaiming that he is as deeply in "love" with his goat as he is with his wife. My companion, who had not studied Greek tragedy, found this premise unbelievable and the stark unity of action boring. I, on the other hand, found the premise theoretically believable — but not in this production.
Albee's provocative exercise is far trickier to realize onstage than it is to appreciate on paper. When Shakespeare's Queen Titania is given a magic potion by Puck and falls in love with Nick Bottom, who has been transformed into an ass, their relationship unfolds as a broad running joke. But, while Martin at first tries to frame his unlikely attraction as a joke, Albee insists on probing the deep unpredictability of sexuality in real life. This is a tough sell with this architect. Despite his conventional and comfortable lifestyle, Martin does not display any of the arrogance or energy we associate with tragic heroes or star architects. Martin's tragic fate or error of judgment or hubris, according to Albee, is propelled what seems an highly unlikely occurrence: that a fastidious, highly conventional professional initiates a sexual relationship with a goat, that he feels guilty and baffled by it, but expects his best friend will understand and maintain his confidence.
These assumptions present major challenges to a director of The Goat or Who is Sylvia? as opposed to a theater professor discussing it in class. Eric Hill has chosen to stage the play as a realistic domestic drama with a set that recalls the similarly intimate, upscale set of BTG's excellent production of Albee's At Home at the Zoo two summers ago: Once again he has cast as his lead David Adkins, who played the role of the mild-mannered Upper East Sider who meets a vagrant on a Central Park bench one Sunday afternoon. But while Adkins was convincing as the pleasant, self-effacing textbook editor, his laid-back performance in this production seems all wrong. The architect is slated to design an entire Midwestern city, but Adkins' Martin lacks the charisma, gravitas, and ego of a star. Further, he seems more absent-minded than distracted or distressed by his peculiar situation. I saw no passion in his Martin.
Jennifer Van Dyke's Stevie, on the other hand, is a sharply-drawn snob, flippant, and frequently irritating, in her role as a famous man's consort. Her anxieties about what seems to be her husband's mid-life crisis and her own aging are conveyed snippily, with a stiff upper lip. Although she picks up the scent of goat wafting about her husband, she quickly dismisses her barnyard association as impossible. Van Dyke is convincing as the kind of woman so invested in her view of the world that she refuses to believe the evidence of her own senses.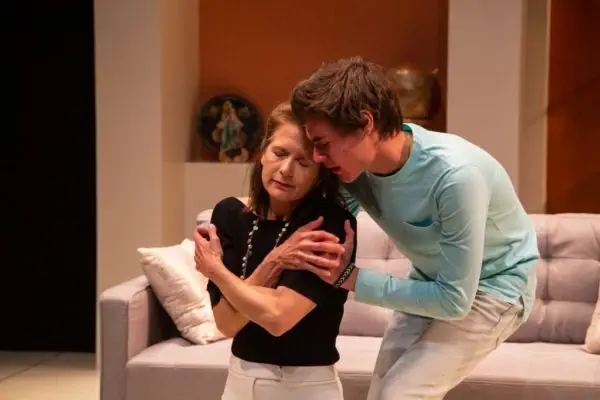 Josh Aaron McCabe, as her husband's louche and vulgar old friend Ross, provides a wonderful contrast in character and style to the well-bred WASP couple. As host and interviewer for a TV series called "People Who Matter," who's known Martin since the age of 10, he quickly sees that his famous friend is not himself and prods him to spill his secrets. As long as Ross thinks Martin is sexually involved with a woman, he is is empathic if condescending. But once he understands that Sylvia is a goat, he is shocked: "You're in very serious trouble. This is a goat! You're fucking a goat!" As a "loyal friend" to both members of the couple, Ross betrays Martin's confidence in a letter to Stevie.
Hell hath no fury like Stevie betrayed. Van Dyck embodies growing rage as she begins interrogating her husband, but in an operatic monologue that dwarfs Martha's diatribes in Who's Afraid of Virginia Woolf?. As she rants, Stevie picks up and hurls every precious object at hand, including, of course, the vase of ranunculus, emblem of her idyllic home and marriage. Hill has directed the scene with a minimum of actual physical violence but it is nonetheless gut-wrenching.
The third part of The Goat or, Who is Sylvia? features Martin and his son Billy. Evan Silverstein performs persuasively as the blubbering, unattractive, and emotionally volatile gay teenager, who has been coping with his father's genteel homophobia, only to discover that Martin has been pursuing a love that still dares not speak its name. After all this tumult, the necessarily bloody ending is a bit of an anti-climax.
Whether or not you find Albee's The Goat or, Who is Sylvia? more than an intellectually nimble entertainment will depend on how well you can tune into the artificial, insular world of Albee's characters — and out of our many current global tragedies. I enjoyed Albee's mastery of language and form, the cohesive work of director Hill and his team of actors and excellent designers, but wound up thinking that BTG's choice of reviving this play was remarkably unconscious of the cultural climate of 2019.
---
Helen Epstein is the author of ten books of non-fiction including The Long Half-Lives of Love and Trauma (2018) She is a regular contributor to The Arts Fuse.