By Steve Feeney
Amid the continual flood of new jazz releases, this anniversary bash is one to be savored.
We Are On The Edge: A 50th Anniversary Celebration, The Art Ensemble of Chicago. (PI Recordings)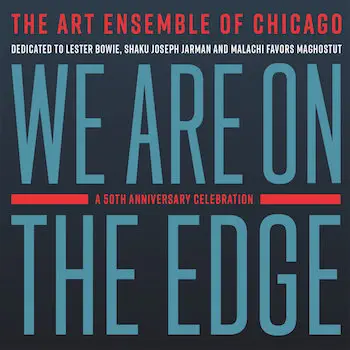 The Art Ensemble of Chicago was not only in it for the long haul, the group embraced the notion that its music-making should be a long haul. Though admirable, that never-say-die attitude could also be frustrating for a young jazz fan looking for a quick musical fix. I remember asking, "When do they get to the point?" When they did, they were great.  But it seemed like you had to sit through a lot of table-setting before the musical meal was served.
So, were they an exhausting group or "an exhaustively great band," as critic Gary Giddins once wrote (while still pointing to a lack of focus in their early years)? Such questions have pretty well faded over time.  And, for the remaining doubters, their latest offering should put any qualms firmly to rest.
Roscoe Mitchell (78) and Famoudou Don Moye (72) dedicate We Are On The Edge:A 50th Anniversary Celebration to the late Lester Bowie, Malachi Favors Maghostut, and Shaku Joseph Jarman, their former partners in the Ensemble.  They've filled those empty chairs for this new release with an impressive array of veteran and younger players, most connected in one way or another to the Windy City jazz scene and its free-wheeling aesthetic.
Better known players Hugh Ragin (trumpet), Tomeka Reid (cello), Nicole Mitchell (flutes), and Jaribu Shahid (bass) are joined by eleven others. The result is a group sound that covers an enormous range: it can be as austere as contemporary composed music, but also as loose as gut-bucket excursions that smack of age-old musical traditions.
The album consists of a studio and a live disc, with some tunes repeated in both formats. The recording quality is excellent throughout both CDs. Amid the continual flood of new jazz releases, this is one to be savored.
The studio and live versions of Mitchell's title piece and the live-disc-only take of Maghostut's "Tutankhamun," an Ensemble classic that dates back 50 years, demonstrate the group's comfort with music that ranges across multicultural compositional ideas.  Try to pin the Art Ensemble of Chicago down stylistically — at your own risk.
Reid's cello is particularly resonant on the live "We Are On The Edge" (which is paired with a piece called "Cards"); Ragin responds to the tune's plaintiveness with melancholy long tones. Moyes' bells whirl around the snippets of breathy sound that issue from Nicole Mitchell's flute.  Roscoe Mitchell's sopranino sax enters to initiate a freer passage before the somber strings return.
The studio take of "We Are On The Edge" features an assertive but lyrical recitation by the poet Moor Mother (Camae Ayewa), a reminder that this band was always fully engaged (politically and personally) in the broader cultural moment. Venture beyond the edge, Ayewa suggests, could be a "victory" or "a new hell."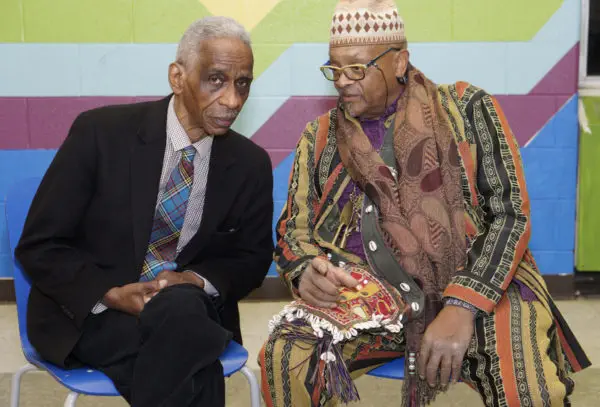 Percussion and various "small instruments" take us straight to an "Oasis at Dusk" on both discs. Nicole Mitchell figures prominently, as does Shahid, along with two other bassists. Ethereal vocalizations add a capstone of mystery to a composition that finishes, on the live set, with a vigorous percussion workout on "Chi-Congo 50," a piece that is given a longer, more collective rave-up in the studio version.
A bass intro sets the Middle-Eastern ambiance as the Ensemble digs into "Tutankhamun." After a playful walk, a stark middle passage gives us strings being scraped– perhaps setting up the spookiness as we are brought into the tomb, if you will. It's a place where lost spirits are evoked in cries and moans from sax and flugelhorn.  Shakers and bells give way to Roscoe Mitchell's search for a microtone that will squeeze us into the final chamber. Nicole Mitchell joins in, the duo presence generating a remarkable stretch of searching sound.  The return of the bass and drums suggests that they may have found a way to the heart of the secret.
"Saturday Morning" is Moye's conga-driven celebration of life, highlighted by some Yoko Ono-style vocalizations from Christina Wheeler, who also adds some subtle electronics in a few other spots on the album.  The sublimity of the Ensemble's signature closer, "Odwalla/The Theme," follows. Roscoe Mitchell introduces the band members and each responds with a brief flourish over the ever-repeating descending theme. The tune signals that the group is finishing up its performance. But the vibrant spirit of this piece and the power of this 2-CD set testifies to the fact that the Art Ensemble of Chicago still has a long way to go.
---
Steve Feeney is a Maine native and attended schools in Maine, New Hampshire and Massachusetts. He has a Master of Arts Degree in American and New England Studies from the University of Southern Maine. He began reviewing music on a freelance basis for the Portland Press Herald/Maine Sunday Telegram in 1995. He was later asked to also review theater and dance. Recently, he has added BroadwayWorld.com as an outlet and is pleased to now contribute to Arts Fuse.