By Bill Marx
"ignorance about those who have disappeared/ undermines the reality of the world." — Zbigniew Herbert
Cardboard Piano by Hansol Jung. Directed by Benny Sato Ambush. Staged by New Repertory Theatre at the mainstage in the Mosesian Center for the Arts, 321 Arsenal Street, Watertown, MA, through April 14.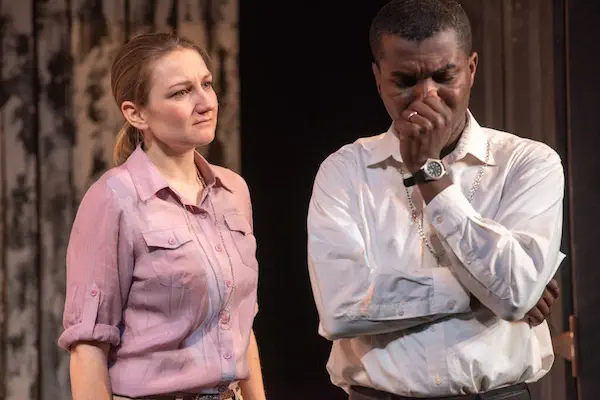 For a number of different reasons, including funding mandates, commercial viability, and whitebread demographics, Boston theaters don't often venture outside of American culture and its prescribed list of hot button issues. (Of course, by the time they hit our stages they have cooled off considerably.) Hansol Jung's Cardboard Piano is admirable if only for the fact it is set in Northern Uganda and, in the context of a lesbian love story and its tragic end, deals with homophobia and the savagery of war, in this case the chaos of the so-called Second Congo War, a conflict in which the Ugandan government aided and abetted acts of barbarity on a massive scale. Jung, to her credit, is less interested in detailing crimes than in exploring the emotional/psychological fallout. In particular, the search for expiation, of finding forgiveness in a spiritual context. If only, like so many American plays, Cardboard Piano wasn't so determined to ignore how redemption inevitably involves entering the realm of the social.
The first act gives us two teen female lovers, the African Adiel (Rachel Cognata) and Chris (Marge Dunn), the daughter of American missionaries, in a church late at night. It is 2000, New Year's Eve, and they record their awkward, but affectionate marriage ceremony. Two gun-wielding soldiers enter the church, one a homophobe named Pika who has had his ear cut off. The perpetual threat of violence makes this act compelling, but it is more fast-moving screenplay than it is drama. We are much more involved in what is going to happen next to who (will someone be killed?) than what someone will reveal about themselves to us or to others. Worse, Jung necessarily has to keep adding more nerve-wracking predicaments to keep our attention, and she overloads. Essentially the act serves as the traumatic memory, the act of unforgivable inhumanity in the face of charity, that will be revisited in act two, which takes place 15 years later. That is when the script serves up powerful moments; we witness the meltdown that follows the disclosure that grace can be an illusion.
The problem is that it is hard to write more without serving up spoilers. Pika (who has renamed himself Paul) has become a preacher in the very church where he came upon Chris and Adiel. Chris has returned with her father's ashes, obeying his wishes for them to be buried on the grounds of the church. What has been hidden is revealed. Paul is shattered when the truth comes out, but his emotional evolution is too ambitious to fit comfortably in such a relatively short period of stage time. Michael Ofori doesn't quite pull off the challenging modulations here — bluster and humor giving way to anger, shame, and despair. The women, Chris and Paul's wife Ruth (Cognata), are relegated to standby-status — registering concern with a touch of moral superiority. Adiel's cousin, Francis, comes off as more of a plot device than a full-fledged character.
Finally, for a political drama, where are the politics? For me, the limitation here is that, by placing expiation so firmly in a conventional religious context, Cardboard Piano turns its back on the kind of collective truth-telling represented by South Africa's Truth and Reconciliation, a process that is explicitly referred to in the script. There was nothing spiritual about that secular version of confession; all sectors of society were forced to look at their participation in apartheid. It is not enough to come clean before God, proclaim that you are a good or a bad person, offer yourself up for divine punishment. Transforming reality means speaking discomforting truths about yourself and your tribe in front of others of all backgrounds — to generate collective waves of shame, regret, and shock. Then social change might follow.
Along with my impatience with Jung's leaning much too hard on traditional faith is her dramaturgical clumsiness. Critics used to make fun of Tennessee Williams's proclivity to highlight his titles in this plays. Jung goes Williams one better here — or worse. The oft-repeated image of a cardboard piano as a sign of hope is not just plunked here — it is jack hammered, a 'poetic' means for playwright to tell us what we are supposed to think. Trust the audience to make the connections — don't, as in a movie script, draw a diagram for them.
This said, the New Repertory Theatre's New England premiere production of Cardboard Piano is of real interest. Benny Sato Ambush's direction is clear and adroit; he does his best to establish emotional connections among the characters efficiently. Jon Savage's set exudes a gaunt flair. The play probes (too quickly) into a number of thorny issues: how to deal with the traumatic legacy of government sanctioned inhumanity; how to move beyond hatred without overlooking the demand for justice. Perhaps more important is the implied demand to provide (through religion, public trials, and theater) the living witness that is owed to every one of the once-living victims of a catastrophe.
---
Bill Marx is the editor-in-chief of The Arts Fuse. For over three decades, he has written about arts and culture for print, broadcast, and online. He has regularly reviewed theater for National Public Radio Station WBUR and The Boston Globe. He created and edited WBUR Online Arts, a cultural webzine that in 2004 won an Online Journalism Award for Specialty Journalism. In 2007 he created The Arts Fuse, an online magazine dedicated to covering arts and culture in Boston and throughout New England.