By Peg Aloi
The film assembles an eclectic and impressive crew of actors, writers, directors and scholars to explore the representation of black characters and culture in (mostly) American horror cinema.
Horror Noire: A History of Black Horror – Official Trailer | A Shudder Original Documentary from Xavier Burgin on Vimeo.
For horror fans of a certain age (say, over 40) their first experience of a major black character in a horror film was probably Ben in 1968's Night of the Living Dead. George Romero is known to have said he was not looking to cast a black actor to play Ben, the man who becomes the de facto leader of a band of survivors fighting off an invasion of flesh-eating ghouls (but what am I saying, OF COURSE YOU'VE SEEN THIS MOVIE), but Duane Jones showed up to audition and knocked it out of the park. Of course, this changed everything; the film, on many levels, winds up being a searing commentary on the social upheaval of the time: Civil Rights, women's liberation, the Vietnam war, and the erosion of the American Dream.
A groundbreaking classic of horror, Night of the Living Dead sits at the center of a sprawling discussion of black characters in Horror Noire, a new documentary shown exclusively on Shudder. If you don't have Shudder, you're in luck: the streaming service, in collaboration with Women in Horror Month, is offering a free 30 day membership with the promotion code 'WIHMX." Just go to Shudder.com before the end of February and fill in the code — no financial info is needed. It's appropriate to bring Women in Horror Month into this discussion, because the main hosts and co-producers of this fascinating documentary are black women who happen to be respected horror scholars.
Based on Robin R. Means Coleman's book Horror Noire: Blacks in American Horror Films from 1890s to Present, (Coleman also offers commentary, along with Ashlee Blackwell and others) and directed by Xavier Burgin, the film assembles an eclectic and impressive crew of actors, writers, directors, and scholars who explore the representation of black characters and culture in (mostly) American horror cinema. The actors discuss their love of certain films, like Candyman: iconic star Tony Todd provides a wonderful commentary on his role in the well-loved franchise, and other actors share their love of his performance as well as the film's artistry and controversy. The Craft's Rachel True describes what it's been like to always play the "concerned black friend" in a contemporary horror film whose only job is to ask her white female friend "Are you okay?"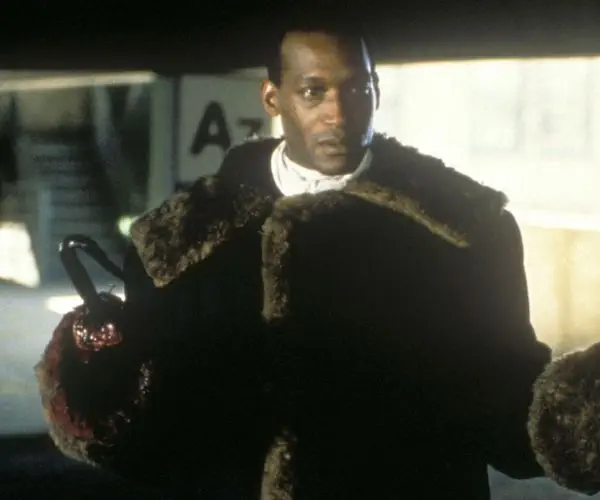 Discussion of Night of the Living Dead inspires awe and shudders, especially the final credit sequence, which displays images eerily reminiscent of the Jim Crow South. "Black history is black horror" is the film's grounding premise, and this is nowhere more evident than when scenes from D. W. Griffith's Birth of a Nation are shown. The original King Kong is understood to be a racist depiction of the African "other" as a murderous ape who abducts white women. The commentary never shies away from looking at the more disturbing aspects of this intersection of sexuality and race. But, amid the anger and pain, there is awe, and joy. The conversation about Blacula (1972), an erotic and beautifully filmed vampire story that set off a flurry of what became known as "blaxploitation flicks," is animated and heartfelt. Director William Crain praises late stars William Marshall and Vonetta McGee; other directors (like Tales from the Hood's Rusty Cundieff and Get Out's Jordan Peele) reminisce about the film's importance to their formative years, inspiring their love of horror films. There is passionate agreement about other milestone favorites, such as Eve's Bayou and The Serpent and the Rainbow, and an overview of tropes like the "Magical Negro" or the "Sacrificial Negro" which are found in films as diverse as Ghost, Poltergeist, and The Shining.
The little-seen 1973 art house film Ganga and Hess, also starring Duane Jones, is fodder for a rich dialogue. Made by experimental filmmaker Bill Gunn, under rushed and secretive circumstances, it is a lush, dreamy, and mythic vampire film set in and around Manhattan. I first saw it at the Harvard Film Archive (my thanks always to John Gianvito for his excellent programming for many years), and later learned the film had become more or less impossible to see because only one print was available. A badly-edited version retitled Blood Couple was released on video. Jones' portrayal of Hess Green, a wealthy academic recluse who becomes addicted to human blood, is nuanced and powerful, a perfect foil to Marlene Clark's alluring performance as Ganga, the aspiring socialite he falls in love with. The film contains many stunning but subtle references to African-American culture; it was so clearly ahead of its time that, of course, it has lain fallow for many years. This entertaining documentary accomplishes a number of worthy goals, including educating viewers and enticing them to learn more. There were some unusual omissions, like It Comes at Night and Angel Heart. But if Horror Noire's main claim to fame was luring more cinephiles to see Ganga and Hess (also available on Shudder), that would be accomplishment enough. Fortunately, there is much more here to learn about and appreciate. I envision that Horror Noire will become a canonical work for film history buffs and horror aficionados alike.
---
Peg Aloi is a former film critic for The Boston Phoenix. She taught film and TV studies for ten years at Emerson College. Her reviews also appear regularly online for The Orlando Weekly, Crooked Marquee, and Diabolique. Her long-running media blog "The Witching Hour" can be found at at themediawitch.com.