Arts Fuse critics select the best in film, dance, visual art, theater, music, and author events for the coming weeks.
By The Arts Fuse Staff
Film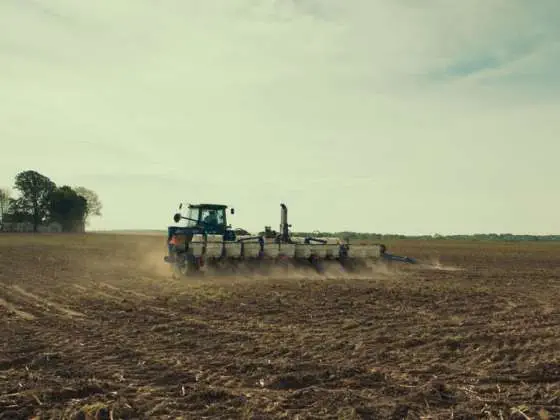 Monrovia, Indiana
Through November 24
Museum of Fine Arts, Boston, MA
"Welcome to Monrovia, Indiana. With a dwindling population of 1,083, the small town, first founded in 1834 as one of many farming communities that served as the backbone of early America, is a compelling new subject for prolific documentarian Frederick Wiseman's latest look inside the kind of places, people, and systems that make up the country."(IMDB) Arts Fuse review
Border
Currently playing
Coolidge Corner Theatre in Brookline, MA
Playing exclusively at the Coolidge Corner Theatre, this is a unique and disturbing film from John Ajvide Lindqvist (the author of Let The Right One In) and award-winning director Ali Abbasi. "Lindqvist's vision is Gothic, memorably skimming the border between reality and the supernatural, examining the irreconcilable division between the civilized and the perverse." (Arts Fuse review)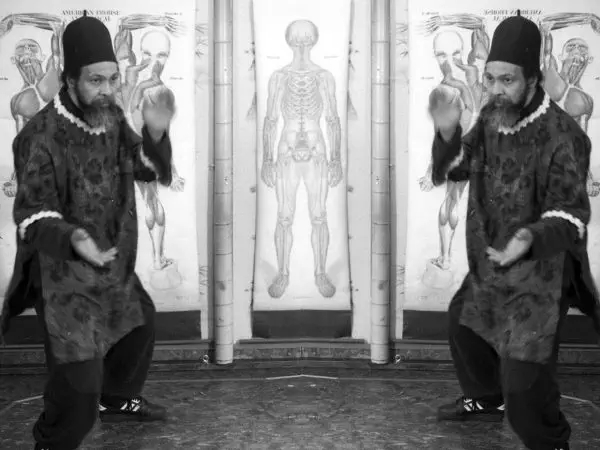 Milford Graves Full Mantis
November 25 through 30
Museum of Fine Arts in Boston
The first ever feature-length portrait of renowned percussionist Milford Graves explores "his kaleidoscopic creativity and relentless curiosity." Graves has performed internationally since 1964, both as a soloist and in ensembles with such musical legends as Albert Ayler, Giuseppi Logan, and Sonny Sharrock. He is one of the founding pioneers of avant-garde jazz and remains among those who are still pushing the form forward.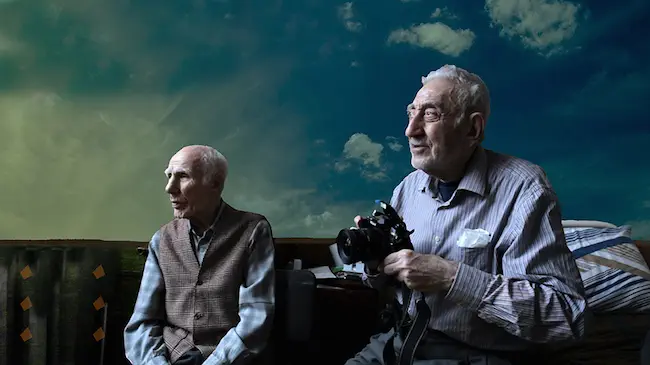 Distant Constellation
November 26 at 7 p.m.
Brattle Theatre, Cambridge, MA
The DocYard presents this beautifully composed documentary which looks at the colorful residents of a Turkish retirement home, a community made up of pranksters, historians, artists and would-be Casanovas. Director Shevaun Mizrahi's dreamy film is a playful meditation on time and memory — it received an Independent Spirit Award nomination. Mizrahi will appear in person to discuss the movie with local filmmaker Ann Kim.
Wonder Boys
November 29 at 1 p.m.
Coolidge Corner Theatre, Brookline, MA
Actor/producer Michael Douglas will receive this year's Coolidge Award at 8 p.m. on November 29.  That afternoon he will participate in a post-screening Q&A of Wonder Boys, the critically acclaimed film directed by Curtis Hanson based on Michael Chabon's story of the tangled relationship between a university student and his self-destructive professor. It stars Douglas with Tobey Maguire, Katie Holmes, Frances McDormand and Robert Downey Jr.
Prospect
November 30 through December 3
Brattle Theatre, Cambridge, MA
Prospect is a rare example of a DIY low-budget sci-fi film. It is the debut feature for writer-directors Christopher Caldwell and Zeek Earl. The film began life as a short  that the filmmakers finished with the help of a Kickstarter campaign. "The feature adaptation expands on the premise, adding Jay Duplass, Game of Thrones' Pedro Pascal, and The Wire's Andre Royo to the mix, while also holding true to the original short's aesthetic inspirations. The finished product isn't as arresting as the best indie science fiction films, but it nevertheless establishes Caldwell and Earl as filmmakers to watch, capable of doing a lot with very little." (The Verge)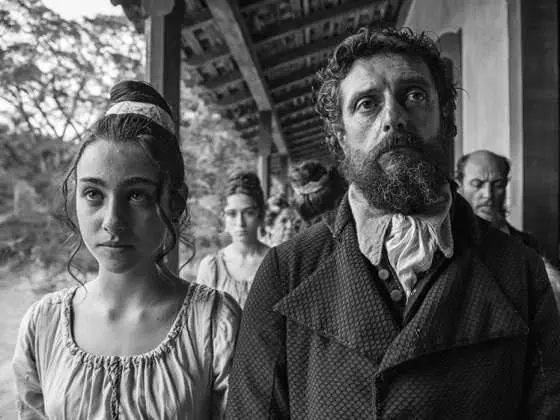 New Cinema from Brazil
December 1  through 6
Museum of Fine Arts in Boston, MA
Four new films by emerging filmmakers from Brazil:
Vazante – a stunning meditation on colonialism and feminism
December 1 at 12:30 p.m.
Pendular – a poetic study of the relationship between two artists.
December 2 at 12:30 p.m.
Rust (Ferrugem) – the tough realities of teenage life in the age of social media
December 2 at 3 p.m.
Good Manners – a topical Gothic fairy tale
December 6 at 7:30 p.m
— Tim Jackson
---
Jazz
Eliane Elias (p/vo), with other players to be announced at Scullers, November 23 and Saturday November 24, 8 p.m. & 10 p.m.. Elias's recent CD, Dance of Time, may be the best balance she has yet achieved in juggling her Brazilian heritage, effortless-sounding vocals, and brilliant keyboard work. Expect this gig to be very Brazilian, but never lightweight – there's steel inside her velvet gloves. Example: the above YouTube clip of João Gilberto's "O Pato" from the new release. The only Portuguese you need to know is that "O Pato" means "The Duck," and you'll have a hard time keeping a straight face — but listen to her piano solo, too.
Chris Speed (ts), Chris Tordini (b), Dave King (dm) at Regattabar, Cambridge, MA, November 27 at 7:30 p.m. Speed has a breathy, introspective approach to his instrument, and this new trio, touring behind the new CD Platinum on Tap, offers lots of interesting interplay. Two tracks can be sampled on the website of Intakt Records.
Ben Wendel (ts) Seasons Band [probably including Aaron Parks (p), Gilad Hekselman (el-g), Matt Brewer (b), Henry Cole (dm)] at Regattabar, Cambridge, MA, November 29 at 7:30 p.m. When this group played Sanders Theater under the auspices of the Celebrity Series, they were mightily impressive. (Here's my review of that date.) A club gig should be looser and even livelier, and this one will feature material from their new CD, due out October 12.
Stefon Harris (vib/mar) and Blackout [probably including Casey Benjamin (as/bcl) and possibly Jean Baylor (vo)] at Regattabar, Cambridge, MA November 30, 7:30 p.m. A mallet virtuoso who made more than a mark holding the vibes chair in the SF Jazz Collective, and who was just co-honored (with Dee Dee Bridgewater and others) with a Doris Duke.Foundation award. Like one of his primary influences, Bobby Hutcherson, he is equally fluid on vibes and marimba. He and Blackout, which usually features reedman Casey Benjamin, are touring behind the fall release of a new CD, Sonic Creed. The preview tracks, which also include vocals by Jean Baylor, are very promising, and this should be a fine night of music. Also, apparently, it will be a bargain. Since the Regatta isn't selling tix for the second set, your single entrance fee will most likely get you as many sets as Stefon chooses to play.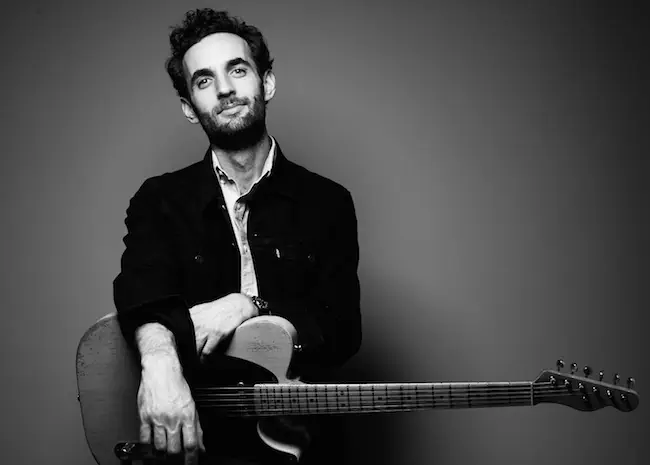 Julian Lage (g) Trio, probably with Scott Colley (b), Kenny Wolleson (dm) at the Berklee Performance Center, Boston, MA, November 30 at 8 p.m. Sponsored by Celebrity Series of Boston. The new CD, Modern Lore, brims with tuneful stuff, and the trio format shows off Lage's trademark fuzzy twang, showing a little bit rock and more than a little bit country, rooted in a firm jazz sensibility. The Berklee concert will surely draw the guitar crowd, so Lage will have to bring his A game to the stage.
Arturo Sandoval (tp), with other players to be announced at Scullers, Boston, MA, November 30 and Saturday December 1, 8 p.m. & 10 p.m. The fiery Cuban trumpet player, who started out with Chucho Valdes and Irakere decades ago, never fails to put on a great show. His technique is stunning, and his choice of supporting players is usually impeccable. Read my colleague Steve Provizer's review of Sandoval at the Cabot in Beverly to whet your appetite.
Anthony Coleman (p), Henry Fraser (b), Francisco Mela (dm) at the Lilypad, December 1 at 8 p.m.. Coleman divides his time between Brookyn and Boston, and his restless imagination is always worth hearing. His new trio promises music of importance and gravity, and hearing them at the Lilypad virtually guarantees an intimate artistic experience.
Paula Cole (vo, music director), Meshell Ndegeocello,(b, vo), Terri Lyne Carrington (dm), Shemekia Copeland (vo), Nona Hendryx (vo). Doyle Bramhall II (vo), Dom Flemons (g / vo), The Western Den [Chris West (g /vo) & Deni Hlavinka (kb / vo)] at  The Cabot, 286 Cabot Street, Beverly, MA,  December 4, at 8 p.m.  A benefit show to support renovations at The Cabot, honoring Bessie Smith, in which each of the headliners will take a turn playing a song from Bessie's catalog, and then perform an original.  The range of talent is impressive and eclectic, from jazz to blues to Americana.
Allan Chase (as), with other players to be announced. The Lilypad, December 4 at 8 p.m. An impeccable improviser, a deep thinker, and a deeply-respected teacher, Chase's occasional visits to the Lilypad are more than worth your while. He is performing with the Macuco Quintet. Based in Cambridge, Massachusetts, the group was formed in 2014 by Joel Springer to play original compositions & some by Hermeto Pascoal.
— Steve Elman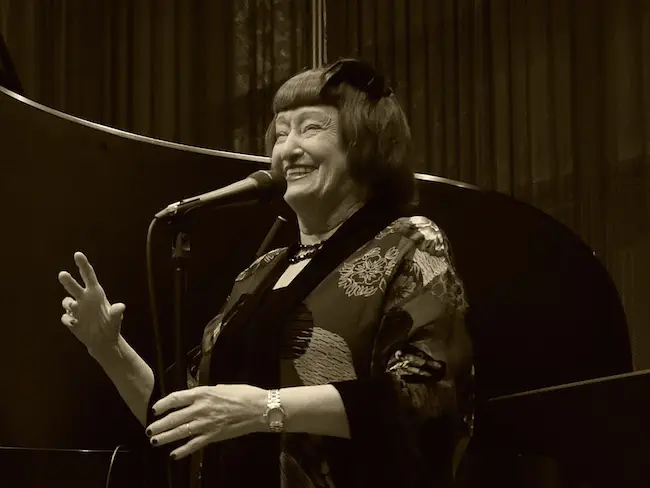 Sheila Jordan
At the Mad Monkfish, 524 Massachusetts Avenue, Cambridge, MA, November 30 at 7 and 9 p.m
"Internationally acclaimed jazz vocalist Sheila Jordan returns to The Mad Monkfish for her 90th Birthday Celebration." She will be accompanied by The Yoko Miwa Trio, featuring pianist Yoko Miwa, bassist Brad Barrett, drummer Scott Goulding. From The Arts Fuse review of Jordan when she performed in Cambridge in 2016: "No simple phrase can summarize what Sheila Jordan does, because her work is much more personal than that of her contemporaries. She discovered how to be herself through song, and with every passing year she has found greater depth in that approach."
— Bill Marx
---
Dance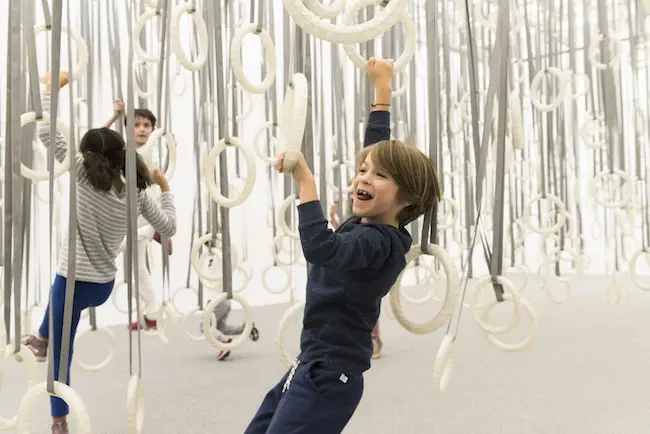 William Forsythe: Choreographic Objects
Through February 24, 2019
Institute of Contemporary Art/Boston , Boston, MA
Whether you're a long-time fan of William Forsythe's world-reknowned choreographic works or hearing his name for the first time, the ICA encourages you to step inside his choreographic world through this unique installation (the first of its kind in the U.S.). Spanning over two decades, this major exhibition includes room-size interactive sculptures, participatory objects, and video installations inviting viewers to confront and engage with the fundamental principles of choreography, which Forsythe calls "Choreographic Objects." This exhibition was organized by Eva Respini, Barbara Lee Chief Curator, with Jeffrey De Blois, Assistant Curator. Arts Fuse review
THANGsgiving 2018
November 23 from 9 a.m. to 3 p.m.
Center for Arts at the Armory
Somerville, MA
Head to the Armory in Somerville to enjoy a full day of new music, dance, and "other thangs." Guests are invited to come and go as they please; there will be a myriad of performing artists filling the hall with movement and sound. This is a free public event.
all by myself
November 29, 30, December 1 at 7:30 p.m.
Center for Arts at the Armory, Somerville, MA
Those looking for a creative and interactive approach to experiencing dance should add Ruckus Dance's all by myself to their calendars. The performance presents two duets, featuring couples Em Papineau and Sofia Engleman, and Joy Davis and Eric Mullis. There will also be a solo from director Michael Figueroa. All will be performed to silence. Yet don't let the quiet fool you — this might be one of the most audibly-creative shows you'll experience — viewers are urged to bring headphones, iPods, and cellphones and choose their own soundscores while engaging with the work.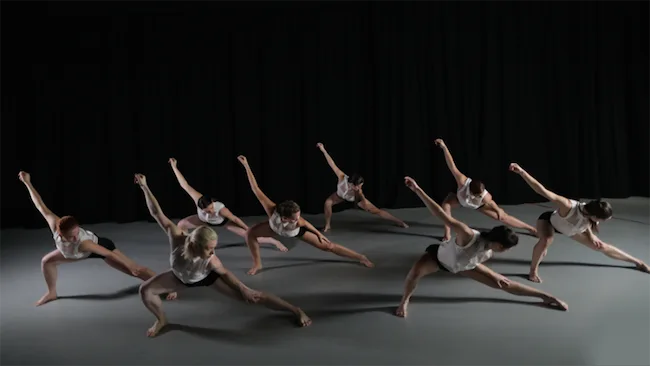 Boston Dance Theater
November 30 & December 1 at 8 p.m.
Institute of Contemporary Art, Boston
Boston, MA
Committed to presenting relevant works by acclaimed choreographers, Boston Dance Theater makes its official debut under the co-direction of Jessie Jeanne Stinnett and award-winning Dutch-Israeli choreographer Itzik Galili. The performance showcases the talents of local dancers, while presenting the Boston premieres of works by Itzik Galili, Sidra Bell, and Yin Yue. Free pre-performance talks with Boston Dance Alliance Executive Director Debra Cash will take place 30 minutes prior to the curtain in the ICA Common Room, with an additional post-performance Q&A with the artists on November 30.
— Merli V. Guerra
---
Visual Arts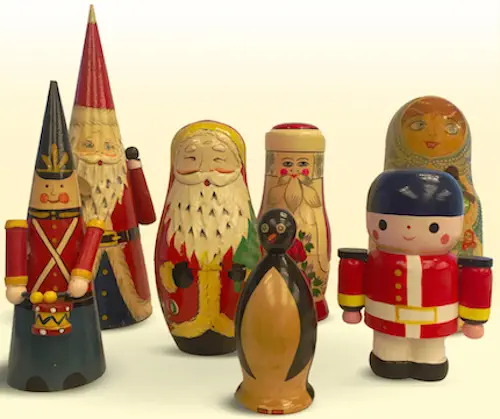 Corncobs to Cosmonauts:Redefining the Holidays during the Soviet Era
Through January 27, 2019
West Gallery, Museum of Russian Icons, 203 Union Street, Clinton, MA
The museum's West Gallery has been transformed into a glistening winter wonderland. 150 Soviet Era ornaments sit alongside festively adorned "New Year's trees" and holiday toys, books, and cards. After the 1917 Russian Revolution, the anti-religious Bolsheviks discouraged the frivolities of Christmas, seeking to promote the achievements of the state. Donated to the museum by collector Frank Sciacca, these limited edition ornaments depict a wide variety of unexpected inspirations for decoration: including grapes, corncobs, folk heroes, chubby babies, airplanes, and cosmonauts.
Mira Cantor: Promiseland
Through December 2
Kingston Gallery, 450 Harrison Avenue #43, Boston, MA
A fascinating exhibition that crowds the gallery space with an installation of large scale charcoal and acrylic drawings and life size caricatures. The bold and gutsy work depicts people of all different colors and walks of life. Life size figures hang suspended from the ceiling and are loosely constructed from recycled materials and canvases that have been sewn and stuffed. A mini-retrospective of the artist's work as a metaphor for hope, the show urges viewers to think about their own place in the human condition.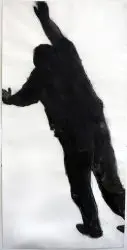 Constanza Aguirre: Wandering in the Land of Oblivion
Through January 11, 2019
Urbano Project, 29 Germania Street, Jamaica Plain, MA
"The Wandering is the displacement in space and time of thousands of individuals. This gives rise to a loss; a loss of references, the loss of knowledge, trades, and a loss of history. This wandering can only be reclaimed through creating as a process of individuation."
A powerful series of large scale black and white works that depict darkly silhouetted figures gesturing in movements of work and labor. In her work, this Colombian (but Paris-based) artist investigates the possibilities of emancipation and reclamation through the elevating powers of creativity and making.
Paul Rousso: Recent Works
Through November 30
450 Harrison Avenue #31, Boston, MA
This brightly colored 21st century pop art show is an ambitious study of the swiftly diminishing presence of paper in our modern society. The artist's search for "what comes next" includes larger-than-life crumpled re-compositions of candy wrappers, money, newspapers, and cereal boxes. Humorous titles such as "Fruit Loops Fun Size #5" add just one more dimension to this incisive yet playful show.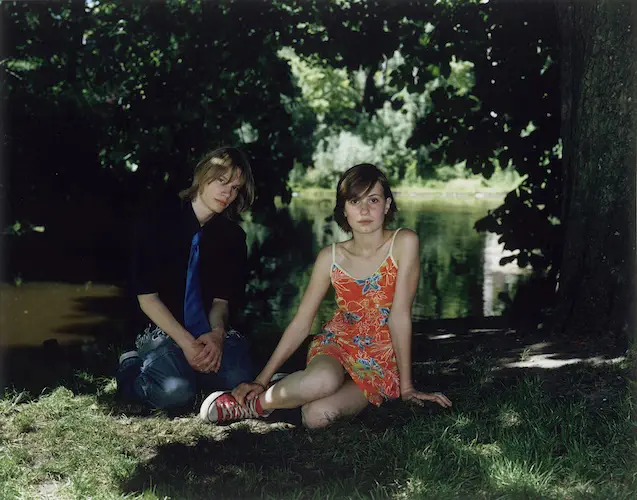 Rineke Dijkstra
Through January 21, 2019
Museum of Fine Arts, Avenue of the Arts, 465 Huntington Avenue, Boston, MA
Full of subtle contemporary nuances, Dutch portraitist Rineke Dijkstra's hypnotic work deserves concentrated examination. Her famed artistry looks at quiet yet powerful moments of transition and change. On display in this show are seven full length portraits from her Park series, which presents photographs of children in major urban parks around the globe.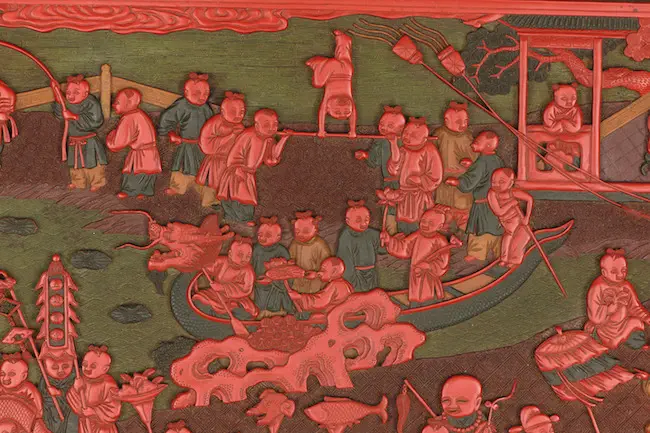 Empresses of China's Forbidden City
Through February 10, 2019
Peabody Essex Museum, East India Square, 161 Essex Street, Salem, MA
200 spectacular objects tell the untold stories of the Forbidden City's hidden empresses and how they shaped China's last dynasty — the Quing dynasty — from 1644 to 1912. This priceless collection of sumptuous treasures illuminates their contributions to the famed court's politics, art, and religion.
– Aimee Cotnoir
---
Theater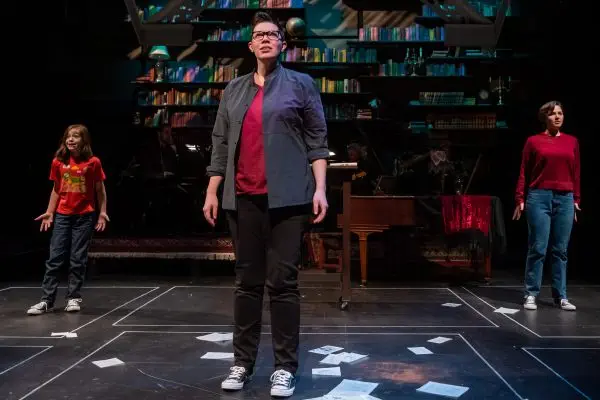 Fun Home Music by Jeanine Tesori, Book and Lyrics by Lisa Kron. Based on the graphic novel by Alison Bechdel. Staged by SpeakEasy Stage Company at the Calderwood Pavilion at the Boston Center for the Arts, 527 Tremont Street in Boston, MA, through November 24.
The show won five Tony Awards, including Best Musical. Featuring music by Jeanine Tesori, and a book and lyrics by Lisa Kron, this "is a landmark musical about seeing one's parents through grown-up eyes. Based on Ms. Bechdel's best-selling memoir of the same name, this groundbreaking musical introduces us to Alison at three different ages, revealing memories that celebrate the curiousity of childhood, the challenges of coming out, and the complexities of family." Arts Fuse review
WET: A DACAmented JOURNEY written and performed by Presented by Arts Emerson at the Emerson Paramount Center, Jackie Liebergott Black Box, Boston, MA, through November 25.
The show "rockets between hilarity and heartbreak—will instantly humanize the headlines and take audiences inside the realities of striving for a better life under the extreme conditions of living life as a political football. Alpharaoh, a social worker who knows firsthand the mental, emotional and psychological hardship of this unending process, risks his own freedom to share his story in this nationwide tour."
A Nightmare on Elf Street, written by Ryan Landry, "based on the obvious." Directed by Kimi Samko. Staged by Ryan Landry and the Gold Dust Orphans at the Ramrod Center for the Performing Arts (Machine Nightclub), 1254 Boylston Street, November 29 through December 23.
The annual Christmas entertainment from Landry and company is a "slasher that marks the return to the stage of audience favorites Detective Shirley Holmes (Landry) and Dr. Jodi Watley (Qya Cristal), who are on the case to figure out who is murdering the members of Santa's flight team."
Miss Bennet: Christmas at Pemberley by Lauren Gunderson and Margot Melcon. Directed by Sean Daniels and Bridget Kathleen O'Leary. Staged by the Merrimack Repertory Theatre at the Nancy L. Donahue Theatre at Liberty Hall, Lowell, MA, November 28 through December 23.
Well, it had to happen. A made-for-the-stage sequel to Jane Austen's Pride and Prejudice: "heroine Lizzie invites her sisters to spend the holidays at her new home, Pemberley." Polite romantic hijinks no doubt ensue.
7th Annual David Bowie Black Friday (& Saturday) aka David Boobie. Staged at Oberon, 2 Arrow Street, Cambridge, MA, November 23 at 9 p.m. and Nov 24 at 7 p.m.
I am for any Xmas show that advises us to "spit in the eyes of fools, put on your red shoes, and run to the center of things." On the program: "the holidays are approaching once again, which means it's time for the glorious return of Bowie-flavored burlesque. Niki "Starbust" Luparelli and her all-girl Total Blam Blam David Boobie Band" revive "their lascivious tribute to the Thin White Duke and the female form."
Something Strange Staged at Oberon, 2 Arrow Street, Cambridge, MA, November 23 at 9 p.m. and Nov 24 at 7 p.m. Also November 29 and 30 at 8 p.m. and December 1 at 1 p.m.
Another entertainment that aims to kick the holiday spirit where the sun don't shine. "A live music and burlesque tribute to The Nightmare Before Christmas by Walter Sickert & the Army of Broken Toys. Boys and girls of every age, wouldn't you like to see something strange? Walter's the one hiding under your bed, teeth ground sharp and eyes glowing red, army of toys hiding under yours stairs, fingers like snakes and spiders in my hair. In this town, don't we love it now? Everybody's waiting for the next surprise!"
In the Forest, She Grew Fangs by Stephen Spotswood. Directed by Kelly Smith. Staged by Also Known As Theatre at Deane Hall in the Calderwood Pavilion at the Boston Center of the Arts, Boston, MA, November 16 through December 2.
More counter Christmas programming. "A bloody fairy tale set in the world of a Gillian Flynn thriller, sprinkled with a dash of Gossip Girl, that delves into the power young women possess — and how they may use it if pushed too far."
— Bill Marx
---
Classical Music
Mendelssohn and Mozart
Presented by Bach, Beethoven, & Brahms Society Orchestra
November 18, 3 p.m.
Faneuil Hall, Boston, MA
Stephen Lipsitt leads the BBBSO in a concert that culminates in Mozart's Requiem (which also features the New World Chorale). Before that come a set of Mendelssohn concert pieces for clarinet and basset horn, and some Bach Inventions.
Fedorova plays Rachmaninoff
Presented by Boston Philharmonic Youth Orchestra
November 25, 3 p.m.
Symphony Hall, Boston, MA
The BPYO returns to action with an ambitious opening program. Pianist Anna Fedorova is the soloist in Rachmaninoff's lush, popular Piano Concerto no. 2. After that comes Shostakovich's great, ambiguously autobiographical Symphony no. 10. And starting things off is Weber's stirring Overture to Euryanthe.
— Jonathan Blumhofer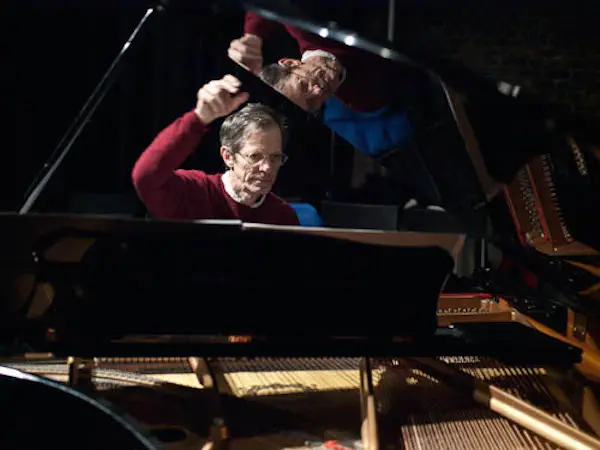 Winsor Music
November 25, 7 p.m.
At St. Paul's Episcopal Church, 15 St. Paul Street, Brookline, MA
"Winsor invites pianist Stephen Drury, a virtuoso interpreter of 20th-century American music to play some of the most riveting pieces of that genre. We will also present a new commission by exciting, young, Israeli composer Osnat Netzer."
Cambridge Society for Early Music
November 30 through December 8
Various Locations (Check the website)
"Concerts featuring Elizabethan music by Holborne, Dowland, Johnson and Byrd."
Christmas in 15th-Century France & Burgundy
December 1, 8 p.m.
At St. Andrew's Episcopal Church, 79 Denton Road, Wellesley, MA
"The 2018 winners of the Gramophone Classical Music Award for Early Music, the vocal ensemble Blue Heron, directed by Scott Metcalfe, is a group of professionals dedicated to exploration of medieval and Renaissance music."
L'Histoire at 100
December 1 at 8 p.m. and December 2 at 4 p.m.
At the First Church in Boston, 66 Marlborough Street, Boston, MA
On the Chameleon Arts Ensemble program: Igor Stravinsky, Concertino for string quartet; Joan Tower, Petroushskates for flute, clarinet, violin, cello & piano; Camille Saint-Saëns, Septet in E-flat Major for trumpet, string quartet, bass & piano, Op. 65; Igor Stravinsky, L'Histoire du Soldat (The Soldier's Tale).
— Susan Miron
---
Roots and World Music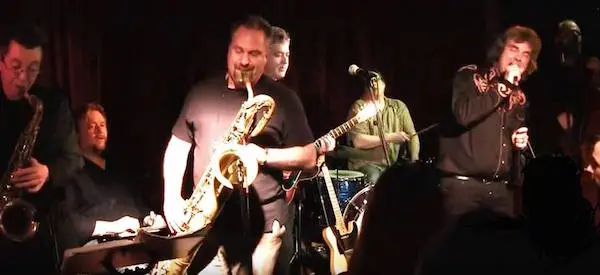 Giant Kings
November 20
Lizard Lounge, Cambridge, MA
Tickets always disappear fast when the Giant Kings set up shop at the Lizard Lounge, and for good reason. This authentically all-star outfit has all that's needed for a night of blazing country soul: the guitars of Duke Levine and Kevin Barry, the powerful voice of Chris Cote, and a top-flight rhythm and horn section.
Seamus Begley Trio
November 21
Burren Backroom, Somerville, MA
Celebrated Irish accordionist Begley joins forces with dancer/pianist Samantha Harvey and top-shelf Sligo fiddler Oisín Mac Diarmada of Teada fame.
Charrito Negro-Yeison and Jimenez-Francy
November 21
North Shore Events Center (formerly Wonderland Ballroom/Club Lido), Revere, MA
By all accounts Colombian superstar Carlos Vives' recent Wang Theater show was quite the spectacle. Now his countrymen join forces for this pre-Thanksgiving bash headlined by Charrito Negro, who has long been one of Colombia's top musical storytellers.
— Noah Schaffer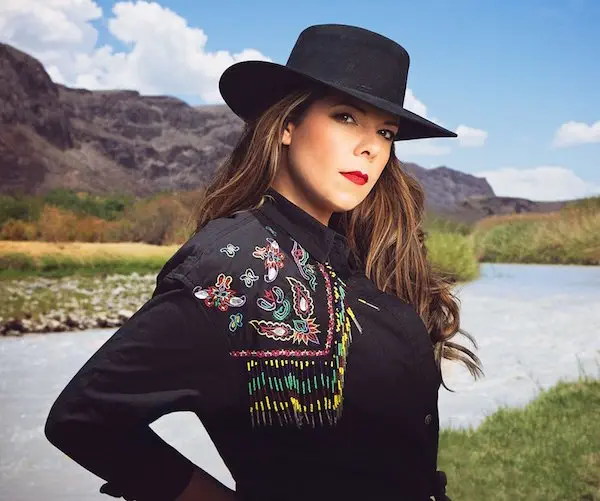 Melanie Brulée
November 20
Atwood's Tavern, Cambridge, MA
Falling for a singer's voice the first time you hear it is a surrender wrapped in mysteries. With Melanie Brulée and her English-language debut Fires, Floods & Things We Leave Behind, her unusual combination of home bases offers to unravel at least one puzzle — she lives in Toronto but spends much time songwriting in Nashville. Even more revealing, she cites Ennio Morricone as an influence and you can hear she offers a fully internalized reading of the composer, not a mere imitation. The dozen tracks on the album are supposedly connected in some way with the 12 steps of addiction recovery, but that doesn't clarify anything for me.
A more vivid backdrop is that the songs were inspired by a road trip from Nashville to Las Vegas along Route 66. Tracks like "Can't Rely on Rain" and "Tennessee Years" are sad and grateful scenes and encounters on an inward and outward journey — the second number so poised and timeless I was sure it was a cover. Nope. Brulée's visceral phrasing and timing sweep her right past ouches like the title "Whiskey and Whine" and a quick references to "the heart of Texas" and "black as coal." Mysteries remain — haven't heard her French album Debridee, nor heard her do straight duets with pedal steel, guitarist, and harmony singer Kevin "The General" Neal, which is the format that will appear at Atwood's.
— Milo Miles
Rock, Pop, and Folk
Speedy Ortiz with Palberta and halfsour
November 27 (doors at 7, show at 8)
The Sinclair, Cambridge, MA
This Northampton indie quartet released Twerp Verse, their third album since their 2013 debut LP, on April 27. The band's several Boston-area gigs this year included an opening spot at Foo Fighters' Fenway Park appearance in July. On November 27, Sadie Dupuis and company will return to more familiarly intimate environs when they headline a triple bill at The Sinclair.
Michelle Lewis with Rachel Marie
November 30 (show at 7)
The Burren, Somerville, MA
Michelle Lewis is an LA-based singer-songwriter who was born in Boston and educated at Berklee College of Music. All That's Left, which became available on October 19, is her third LP in a discography that also includes two EPs. Among its ten tracks are nine originals, including the lead single "Push On," and a cover of Bruce Springsteen's "Dancing in the Dark." Cambridge resident Rachel Marie will open Lewis's performance at the Burren on November 30.
Cloud Nothings with The Courtneys and Weeping Bong Band
November 30 (doors at 8, show at 9)
The Sinclair, Cambridge, MA
Cleveland native Dylan Baldi is only 26 years old, but already has six albums' worth of material to his credit as the leader of noise-rockers Cloud Nothings. Baldi wrote much the band's previous album, 2017's Life Without Sound, during the year or so that he spent living in Western Massachusetts. Last Building Burning hit stores on October 19 and has maintained the unabated flow of praise that has washed over the group's last four efforts. Bring your earplugs and be ready to rock as Cloud Nothings hover over concertgoers from the stage of The Sinclair on November 30.
Snail Mail with Why Bonnie
December 1 (doors at 5, show at 5:45; the 9:15 show is sold out)
The Sinclair, Cambridge, MA
Snail Mail is the stage name of 19-year-old musician Lindsey Jordan. Before releasing her first EP at age 16, she took guitar lessons from Mary Timony, previously of the Boston band Helium and currently of Ex Hex. June 8, 2018 saw the arrival of her debut album, Lush. Jordan opened for Alvvays at the Paradise in September, but this time around she will be headlining early and late shows at The Sinclair on December 1. (Cambridge is the second stop of the current leg of her North American tour, which commenced after more than a month of dates in Japan, Taiwan, China, Thailand, Singapore, Indonesia, and several current–including the soon-to-be former–members of the EU.)
Mike Cooley
December 4 (doors at 6, show at 8)
City Winery, Boston, MA
Guitarist Mike Cooley is a co-founding member of Drive-By Truckers. Although he may be slightly eclipsed by fellow founder Patterson Hood, Cooley has written at least one song on each of the group's eleven albums. On 2014's English Oceans and 2016's American Band, his contributions numbered six and five, respectively, and he composed seven of the 19 tracks on 2008's Brighter Than Creation's Dark. Therefore, the fact that he little or no solo material do draw from will do nothing to diminish what will surely be a jaw-dropping display of brilliance at City Winery on December 4.
Other upcoming shows include Echo & the Bunnymen at Orpheum Theatre (11/20), Melissa Etheridge at The Cabot (11/24), The Duke Robillard Band at 9 Wallis (11/30), and Popa Chubby at 9 Wallis (12/1)
— Blake Maddux
---
Author Events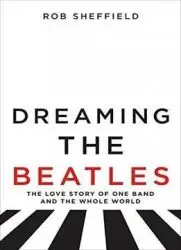 Rob Sheffield
Dreaming the Beatles: The Love Story of One Band and the Whole World
November 27 at 7 p.m.
Brookline Booksmith, Coolidge Corner MA
Free
"Rob Sheffield, the Rolling Stone columnist and bestselling author of Love Is a Mix Tape offers an entertaining, unconventional look at the most popular band in history, the Beatles, exploring what they mean today and why they still matter so intensely to a generation that has never known a world without them."
Belle Brett & Cheryl Suchors
Gina in the Floating World & 48 Peaks: Hiking and Healing in the White Mountains
November 28 at 7 p.m.
Newtonville Books, Newton Centre MA
Free
A twofer: Belle Brett reads from her first novel, which focuses on a young woman who, while studying for her MBA in Japan, is lured an "exotic world of unorthodox Zen instruction, erotic art, and high-octane sex." Connecting with friends and with nature, Cheryl Suchors redefines success in 48 Peaks: she discovers a source of spiritual nourishment, spaces powerful enough to absorb her grief, and joy in the persistence of love and beauty. The volume inspires us to believe that, no matter what obstacles we face, we too can attain our summits.
Susan Orlean
The Library Book
December 3 at 6:30 p.m.
Cambridge Public Library, 449 Broadway, Cambridge MA
Free
"On the morning of April 29, 1986, a fire alarm sounded in the Los Angeles Public Library. As the moments passed, the patrons and staff who had been cleared out of the building realized this was not the usual false alarm. As one fireman recounted later, "Once that first stack got going, it was Goodbye, Charlie." The fire was disastrous: It reached 2,000 degrees and burned for more than seven hours. By the time it was extinguished, it had consumed 400,000 books and damaged 700,000 more. Investigators descended on the scene, but over thirty years later, the mystery remains: Did someone purposefully set fire to the library — and if so, who?
Weaving her life-long love of books and reading with the fascinating history of libraries and the sometimes-eccentric characters who run them, award-winning journalist and New York Times bestselling author Susan Orlean presents a mesmerizing and uniquely compelling story as only she can."
— Matt Hanson