What the box set makes adamantly, abundantly clear is how egalitarian Joe Strummer's musical vision truly was. If you don't already know his solo work, you should.
By Matt Hanson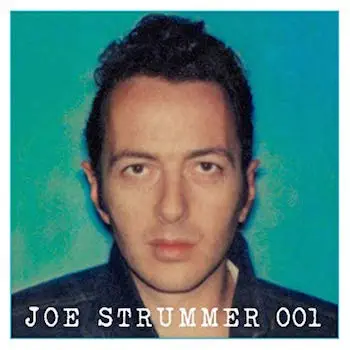 It is a truth universally acknowledged that when a great band breaks up, acrimoniously or not, there's no guarantee that the remaining members' solo work will be any good. It's not always rational to expect solo work to be at the level of the great music a band made as a cohesive unit. The Beatles would be the obvious exception to this rule, but they were the exception to pretty much every rule. The Rolling Stones prove this point more clearly — rumor has it that Jann Wenner couldn't cajole any of his Rolling Stone writers to find anything to praise about one of Mick Jagger's '80s era solo records, so he penned the rave himself. Simon got along pretty well without Garfunkel, and still does. Robert Plant clearly has the edge over Jimmy Page in terms of life after Zeppelin. As fine as Thom Yorke's solo records can be, they're just no match for the alienated majesty of Radiohead. There are, of course, many more examples which are highly debatable, but let's keep the rock nerd parlor games to a minimum for now, shall we?
The Clash provide an interesting example of the difficulties of life after being in "the only band that matters." Mick Jones, the McCartney to Joe Strummer's Lennon, found some success with Big Audio Dynamite and penned the deeply underrated song "Rush," which happens to be one of the wisest songs ever written. But I would have to give Strummer the winning nod in terms of the solo work, which carried on the diversity and vitality of the Clash on his own piquant terms. His solo career has been newly curated in Joe Strummer 001, an almost-comprehensive box set of Strummer's solo work from UK-based Ignition Records.
For longtime Strummer devotees, the scrapbook-like compilation of near-hits and lost gems overlaps with some already familiar material. The box set opens with two rambunctious numbers — "Letsgetabitrockin'" and "Keys to Your Heart" — that were first recorded with his rough and ready '50s-style rock band The 101'ers. That group tore its way through the London pub scene, eventually drawing the attention of his future bandmates. Their historical importance is undeniable, but the songs are already available in the 101'ers compilation record Elgin Avenue Breakdown. Then comes the buoyant "Love Kills" which provided the theme for Alex Cox's film Sid and Nancy, starring Gary Oldman at his snarling best. But why wasn't the thunderous "Dum Dum Club" from the soundtrack included? Were the rights harder to come by?
Several songs are carried over from his recordings with his crack backing band The Mescaleros, including the anthemic "Johnny Appleseed" which might have been the closest thing to a hit he had in his entire solo career. I'm happy to say that they hold up just as well as when they first came out. "Redemption Song," his heartfelt duet with an ancient Johnny Cash, is still one of the most beautiful musical coincidences of all time. But it was already available as part of Cash's magnificent Unearthed sessions — how many people who would be curious about this set wouldn't have heard it already?
For old fans, the real value of the set shines through in the majority of the rest of the tracks, particularly the second disk. Strummer always had a knack for sniffing out underground cinema — there's the aforementioned Sid and Nancy soundtrack, but he also appeared in films by Alex Cox and Jim Jarmusch, most notably in the latter's Mystery Train. The Clash first hit New York City back when Apocalypse Now and Taxi Driver were the talk of the town, and wrote some fine songs incorporating those film's hallucinatory imagery into the lyrics. Occasionally they took the stage to a backdrop of Ennio Morricone music and had WWII films broadcasted on them as they played. Strummer himself adopted Travis Bickle's mohawk for some time after that. For a lifelong fan, it's fun to find out how much of his lost soundtrack material there was to unearth, and we are treated to a few perfectly solid tunes that were written for obscure independent films that might have been consigned to oblivion. "Pouring Rain," from the early '90s indie film When Pigs Fly might be the best vocal on the record. "It's A Rockin' World," from a long-ago South Park musical compilation, is a joyously uplifting tune that would have been left to molder had it not been included here.
We also see Strummer experimenting and (mostly) pulling off some extremely varied material. He gets his jamboree on with the bluegrass-like "Tennessee Rain" and incorporates Near East melodies with pop forms in "15th Brigade" and "Yalla Yalla." After Pogues singer Shane MacGowan was laid low after a particularly wild bender, Strummer took over for the incapacitated lad for a tour or two. Celtic influences were never that far from his mind — he had Scottish blood on his father's side — and he explores this with the accompaniment of Celtic fiddle on "Rose of Erin" and "Minstrel Boy" a classic Irish ballad of death and independence beloved of firefighters which was written by Irish poet Thomas Moore after the failed Irish rebellion of 1798.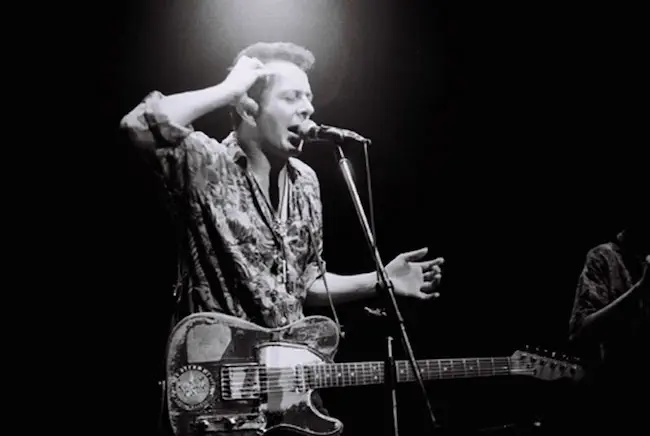 What the box set makes adamantly, abundantly clear is just how egalitarian Strummer's musical vision was. The Clash's music was large and contained multitudes, ranging from boots-in-the-alley punk howlers to dub reggae to '50s-style rave ups to some not-at-all-hokey attempts at rapping. Luckily, Strummer never backed down from the challenge of pushing forward even as he aged. Maybe the abomination of the post-breakup faux Clash record Cut the Crap taught him a lesson about the perils of ripping off your own style. The collection proves beyond all doubt that Strummer was never content to rest on his laurels — he kept growing, expanding, and challenging himself, underscoring the democratic, open-border mentality inherent in his lyrics. If you don't already know Strummer's solo work, you should — if you do, the compilation offers only a few redundancies along with the lost gems.
---
Matt Hanson is a critic for The Arts Fuse living outside Boston. His writing has appeared in The Millions, 3QuarksDaily, and Flak Magazine (RIP), where he was a staff writer. He blogs about movies and culture for LoveMoneyClothes. His poetry chapbook was published by Rhinologic Press.