The Peculiar Patriot may say it is about making us feel the human price of mass incarceration in America, but there is more than a little True Romance in the mix.
The Peculiar Patriot, written and performed by Liza Jessie Peterson. Directed by Talvin Wilks. Presented by ArtsEmerson, National Black Theatre, and HI-Arts at the Emerson Paramount Center's Jackie Liebergott Black Box, 559 Washington St, Boston, MA through October 28.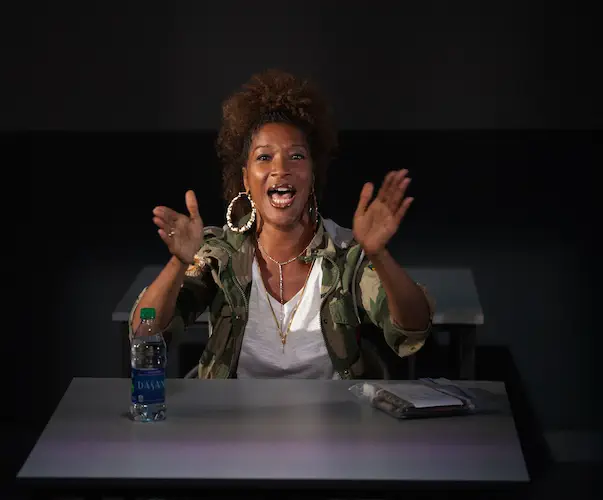 By Bill Marx
The Arts Emerson program notes claim that The Peculiar Patriot "confronts the complex and critical issue of mass incarceration." And it does, but there is a catch.
ArtsEmerson Artistic Director David Dower observes that poet Liza Jessie Peterson's one-person show "is not coming at us through our heads. She's sneaking in through our hearts." And Peterson, as her vibrant character Betsy LaQuanda Ross, generates  sympathy galore, gossiping and chattering — with hip-hoppy humor and bracing blasts of resistance — to Joann, an old friend serving time in a woman's prison in upstate New York. We are told stories about dealers and addicts (and learn that drug laws incarcerate black people at disproportionate rates), suicides behind bars, and the struggle to survive in the world after incarceration. Hard-hitting points are made (here and there) about how the jailing of people of color has become a profitable industry for mega corporations, too-big-to-fail banks, and government. Along the way we are informed and entertained – but The Peculiar Patriot would have been more effective as drama if we had been challenged to think … perhaps about how to act. But that would have meant confronting a harsh reality, rather than hearing stories about it.
In other words, this is yet another exercise in the theater of empathy, and it a good one, in that Peterson is a talented performer who is consistently engaging, jumping between humor and indignation with ease. The character is pure mensch — always likable and predictably stalwart – over the course of 90 minutes she doesn't change, though the circumstances for Joann and her family darken. That stability becomes a dramatic problem (is she always indomitable?), compounded by LaQuanda telling Joann (a lot) about her contrasting boy friends. Radical firebrand Pablo hops from time to time into the conversation to condemn what has become a virtual system of modernized slavery from which politicians and the super-rich generate income and power from the legalized misery of the underclass; Curtis, a no-good drug dealer LaQuanda has dumped, woos her (via letters) from prison, where he undergoes a not entirely convincing conversion.
It is terrific that LaQuanda has a love life (unlike Joann), but there is an irony here. The Peculiar Patriot may say it is about making us feel the human price of mass incarceration in America, but there is more than a little True Romance in the mix as LaQuanda tells Joann — at length — about her two muscular guys, speculating about which one of her hunks she might end up with. For me, it is revealing (and troubling) that the male love object undergoes the kind of 'inspiring' transformation — key to leaving audiences on an up-note — that eludes the women in the narrative.
The theater of empathy inevitably focuses on individuals we are invited to identify with, usually by formulaic means. Not that the teary approach isn't effective; by the end of The Peculiar Patriot your heart breaks for Joann. But that means prisons, and their investors, who rake in millions, are let off the hook. Characters in plays like this are passive, in the sense that they chose self-improvment, rather than changing the system. No one ever argues about what can be done in these kind of plays. Perhaps because probing too deeply might disturb the audience's empathetic vibes? Perhaps Pablo can't become too detailed in his attacks on whites. Who knows who is sitting in the audience? Or funding the university/theater?
For example, Pablo refers to the banks that are investing in for-profit prisons. But he doesn't name them. According to inthepublicinterest, here are the big 6: Wells Fargo, Bank of America, JPMorgan Chase, BNP Paribas, SunTrust, and U.S. Bancorp. Lucre from these institutions — earned from supporting for-profit prison — are jacking up our 401(k)s, contributing to the coffers of universities and the arts, etc. The hefty rewards from the racist exploitation of our prison population are being invested everywhere, which might explain why so little is being done, among the beneficiaries, to stop what is going on.
One last point: in the show's program, Arts Emerson plugs Emerson College's Prison Initiative, which "provides high-quality college courses to people incarcerated in Massachusetts." A worthy cause, but perhaps Pablo, Joann, and LaQuanda would also suggest more direct action: that audience members check out the Prison Industry Divestment Movement (#FamiliesBelongTogether), which is pressuring, through petitions and other means, banks to "stop financing two large for-profit private prison corporations, CoreCivic and GEO Group, which operate immigration detention centers where separated families are being held against their will." We need to do more than understand the lives of the afflicted: our moral and political scrutiny should be aimed at the banks and their well-funded lobbies.
And directing our attention both ways will create more complex and exciting theater. A promising new script such as The Niceties pits a smart young black student against an older white liberal professor: the two passionately debate racism today and in the American past. Wouldn't Pablo, Joann, and LaQuanda be more powerful characters if they did more on stage than tell their affecting stories? What if they confronted their formidable adversaries — make the corporate types and politicians (from the Right and the Left) explain the unavoidable vicissitudes of the free market. Talk about mitigating inequality as well as providing opportunity. In our divided America, that would be a singularly patriotic act.
---
Bill Marx is the editor-in-chief of The Arts Fuse. For over three decades, he has written about arts and culture for print, broadcast, and online. He has regularly reviewed theater for National Public Radio Station WBUR and The Boston Globe. He created and edited WBUR Online Arts, a cultural webzine that in 2004 won an Online Journalism Award for Specialty Journalism. In 2007 he created The Arts Fuse, an online magazine dedicated to covering arts and culture in Boston and throughout New England.