Stephen Adly Guirgis has written a fine play about those who would blur their minds rather than admit just how tired they are.
Between Riverside and Crazy by Stephen Adly Guirgis. Directed by Tiffany Nichole Greene. Scenic design by Eric D. Diaz, costume design by A. W. Nadine Grant, lighting design by Daisy Long, sound design by Nathan Leigh, props design by Jennifer Butler. Produced by SpeakEasy Stage Company at the Boston Center for the Arts, Tremont Street, Boston, MA, through October 13.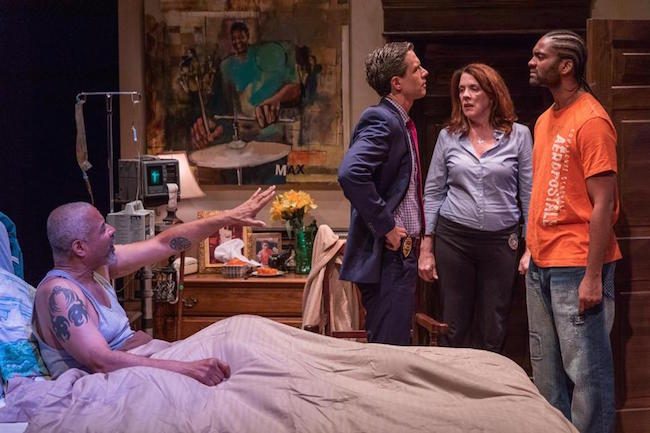 By David Greenham
If you're white, somewhere between middle age and long past retirement — the demographic of much of the theater-going public, I suspect — there's a likelihood that you still believe, deep down, in the concept of the American Dream. You have faith that by way of hard work, determination, and faith in your community, the flag, and the country, people can succeed and even thrive in America. When we see those unfortunates begging in the median strip or stand in the grocery store line behind someone paying with food stamps, we smugly but politely think "I wonder what bad choices they made."
In Between Riverside and Crazy, Stephen Adly Guirgis' Pulitzer prize-winning drama, Walter "Pops" Washington (Tyrees Allen) is one of those guys who had it all: a New York cop with 30 years on the force, happily married, and living in a large rent stabilized apartment on the Upper West Side. It all changed one night when he was blind drunk at a notorious after-hours bar. He was confronted a rookie cop in uniform and, instead of identifying himself as police officer, he's belligerent. He is shot six times.
From that moment, everything changed. Eight years later, when the play is set, Pop's wife has died and his apartment is a flop house. His son Junior (Stewart Evan Smith), a convicted felon, is probably selling stolen goods out of the apartment. Junior's girlfriend Lulu (Octavia Chavez-Richmond) is possibly taking classes in accounting, but is usually high. Another convicted felon, Oswaldo (Alejandro Simoes), seems to be turning his life around by focusing on diet and exercise, which works right up until the moment he visits his father, and the past. Suddenly, it seems, Pops' world is collapsing in on him, and all he can do is drink.
Guirgis dives in, and in the confident hands of director Tiffany Nichole Greene and the talented SpeakEasy Stage Company cast members and designers, we're pulled in before we know it. Pops is nothing if not complex: charming, caring, cynical, heartbroken, bitter, and hopeful. Tyrees Allen eases his way through, supplying a memorable portrait of a complicated and hopeless man. He never loses his belief in redemption, even if we're pretty sure it's never really going to work out for him.
But the key to play's success is its fast-moving dialogue. The opening scene between Oswaldo and Pops is fun and weird; yet it also pokes into the depths of these characters, examining layers of their past lives. Oswaldo banters about the benefits of a breakfast of raw almonds and health water from Whole Foods — accompanied by ring dings wrapped in baloney and washed down by Fanta grape soda. For his part, Pops is content with a breakfast of pie and swigs of whisky. Oswaldo counters: "I'm not trying to get all up in your business, but maybe that's also the reason you always be eating pie — because of, like, you got Emotionalisms — ya know?" He adds, "don't take this wrong, but they say pie is like poison." Pops snaps back "Pie is not poison, Oswaldo, pie is like pie."
Allen's Pops is the dead center of this universe, but the production succeeds on the considerable strength of its supporting cast. Simoes' Oswaldo skims across life's surface, barely suggesting the hurt that lies just below the surface. Smith's Junior seems to know he should take a responsible path, but can't resist the draw of darker options. The bubbly Chavez-Richmond brings a fresh air to the room even though it's clear that she's mostly lying to herself.
As Pop's longtime partner, Detective O'Connor, Maureen Keiller makes the struggle between the character's love for Pop and her love for her fiancé, Lieutenant Caro (Lewis D. Wheeler) clear. Despite all the various dangers, Caro is actually the biggest threat to Pop. He wants Pop to sign a paper ending his eight-year legal battle with the Police Department for a cash settlement. Pop's defiance comes off as the same kind of self-inflicted wound that marks all the characters: the more he fights, the worse his odds of winning become. And yet, what should he do? Give in? Admit that his life is over?
One of the play's risker scenes involves the Church Lady, which features a remarkably nuanced performance by Celeste Olivia. At once sexy and frightening, her meeting with Pop culminates with the communion of an orgasm. At this moment, the protagonist seems to find clarity, although it nearly kills him to get there.
Between Riverside and Crazy is among a number of recent plays that touch on an uncomfortable reality rather than maintaining a reassuring illusion that has been (and remains) profitable for some. The American Dream was never within reach for many of us. Those who aren't lucky spend their days battling for survival: it is their only aspiration, and it is exhausting. Guirgis has written a fine play about those who would blur their minds rather than admit just how tired they are.
---
David Greenham is an adjunct professor of Drama at the University of Maine at Augusta, and is the Program Director for the Holocaust and Human Rights Center of Maine. He spent 14 years leading the Theater at Monmouth, and has been a theater artist and arts administrator in Maine for more than 25 years.