"The work is now stronger having successfully balanced both the needs of the visual choreography and the sound."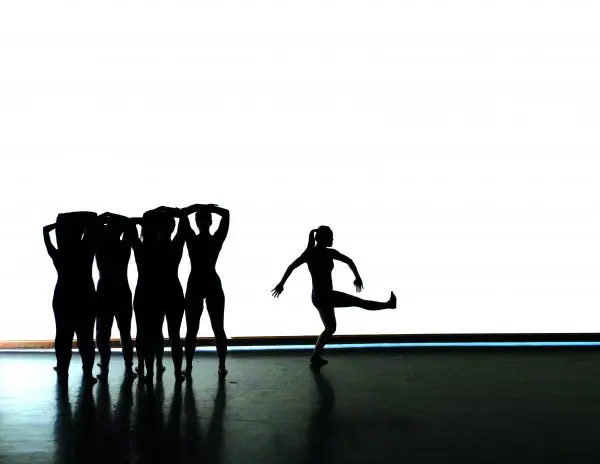 By Janine Parker
HIVELAND, the new evening-length work choreographed by Luminarium Dance co-directors Merli V. Guerra and Kimberleigh Holman, will premiere next weekend at Cambridge's Multicultural Arts Center. (Performances will run September 21, 22, 28, and 29 at 8 p.m.) Although its original seed was small in one way — a five-minute dance — it was quite large in another: the short segment was commissioned for a TEDxCambridge event that was performed in front of a large audience at the Boston Opera House in 2016.
In addition to their duties of running, directing, and choreographing for the company, Guerra and Holman, former college classmates who co-founded Luminarium in 2010, also perform with the group. Holman frequently creates the lighting design for Luminarium's shows; Guerra is also a dance writer, a senior contributor to The Arts Fuse. Guerra, Holman, and I communicated via e-mail. Below are condensed and edited portions from our correspondence about the new production.
---
Arts Fuse: HIVELAND has now grown from a five-minute dance presentation into an hour-long work. How did that come about? Who said 'hmmm, I think we should make an evening-length piece out of this'?
Merli V. Guerra: Seeing our five-minute opening act rally a crowd of 2600 intellectuals and creatives at TEDxCambridge was an incredible and empowering moment. And then it was over. This piece, in which  we had poured so much physical and choreographic energy into, was now ready to be catalogued on our website. This bothered me and I [learned] that it bothered Kim as well.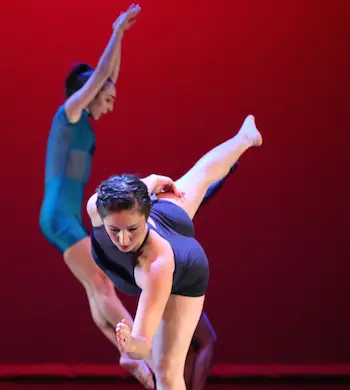 Kimberleigh Holman: There was so much more to explore — who are these characters, and how does their story expand? It was such a fun project to work on, and there was so much potential for expansion.
AF: Going into the process, did you have specific ideas about whether there would be some "literal" choreography? Did you want your dancers to sometimes move like bees? Or was the idea of the "hive" mostly/all metaphoric? Did either of you do any kind of "field work" or some research that involved studying of bee behavior/movement quality? Did you instruct your dancers to move like "creatures" or like humans or both?
MVG: It's interesting you ask if we instructed our dancers to move "like 'creatures' or like humans or both" because this was an element that came into play long before the hive connection ever took hold! For years, Luminarium's productions have largely been held in intimate [spaces with] our performers in close proximity to the audience. I distinctly remember one poignant performance in which I found myself performing within a few feet of those watching; [at one point] I felt the breath of a viewer on my shoulder as she leaned in and said to her friend, "Look at this one's arms — how graceful!" In these moments, I am reminded that the act of performing often gives viewers a false sense of separation as the observer.
On the opposite end of the spectrum is the Boston Opera House. Knowing this, Kim and I put aside our typical pedestrian-style costuming. In an intimate setting the element provides texture because of its layering, but in a massive proscenium theater costuming can blur lines and detract from the choreography. We clad our dancers in sleek, skin-tight costuming in vibrant hues, and instructed them to not act human. Instead, we wanted them to take on an almost lizard-like quality — running with arms tightly by their sides, darting quickly with elastic buoyancy, and clustering together as though discovering this new world together for the very first time.
KH: The idea of the hive came later in the process. I was having a beehive installed in my backyard around the same time. The more we thought about titles with the actual presence of bees, the more fascinating the use of 'hive' became. After settling on the title HIVELAND, and as we passed into the final few rehearsals for the work, I couldn't help but observe the bees in my backyard and think about how fitting this title is. From the structure of a hive, the roles and duties in the colony, and the constant buzz and hum, much of the hive concept is embodied abstractly in composition, interpersonal relationship, and even sound.
AF:Would you talk about the "sound," that is, composer Christos Zevos' original score for HIVELAND?
MVG: Christos has an incredible ability to create an atmospheric surround. In moments when my characters are thrust into the abyss, left only to their own thoughts, Christos has perfectly engulfed each character in a sound-based environment that seems to echo back her thoughts through ambient sound. At other moments — especially while sculpting my duet between Jess Chang and Melenie Diarbekirian — I've become acutely aware of the fact that my choreography often gravitates towards extreme shifts in tempo, power, and emotional feel. While this translates visually quite easily, it is much more difficult to translate this into a traditional musical composition whose beat has been concretely established. Finding the balance between communication and compromise is a tricky one, but ultimately the work is now stronger having successfully balanced both the needs of the visual choreography and the sound.
AF: Would you describe the "arc" of the piece?
KH: At the beginning of the piece the dancers emerge from an obscured, almost two-dimensional realm, into light and dimensionality as they face a mysterious hexagonal portal on the floor, and build into a frenzy. This growing mania ends in the group charging towards the portal, one individual leaping into it and getting stuck.
The group explores the idea of getting stuck inside this shape, acknowledges  that there's a mysterious power that the recurring hexagons possess, curiously tests its limits, and eventually the entire pack passes through. In the new world, the group is faced with the fact that they're all individuals in a close enough proximity to have to engage with one another. They explore that care to the point of co-dependence, power dynamics, communication, and more, as smaller versions of the hexagons turn up, sometimes mysteriously as a sort of bread crumb trail, other times as a marker to assert dominance. Eventually the group is forced to come back together, to work as a unit, to find the initial jubilance they had at the top of the show when they were fully unified, before they move on again.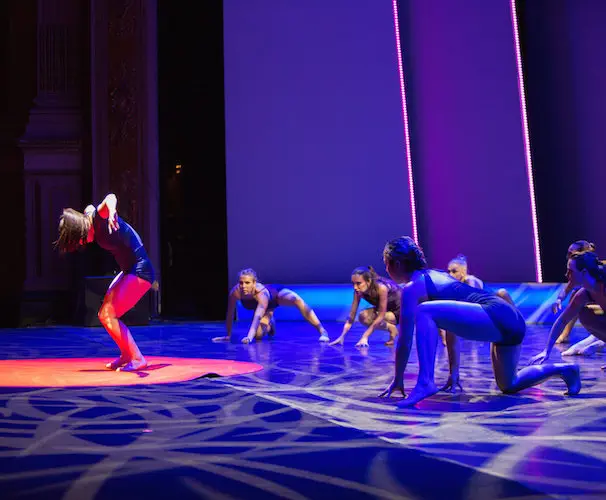 MVG: My favorite element of the production is [that] hexagonal portal that lies at the edge of the stage, daunting our seven characters, who are both drawn to it and befuddled by it. The more we began developing the rest of the production, the more potential we began to see for this set piece, which led to my building a prototype out of cheap dollar store hula hoops and pool noodles, in an effort to find the right size, shape, and design. I scoured every corner of Joann Fabrics, gathering images of every vibrant hue in the store, yet it was the silver-tipped faux-fur that Kim and I gravitated towards — why? It was so unexpected! It left us wondering: Is this portal a living being itself? How does it react when touched, poked, plucked? How does it capture or absorb the light?
AF: Since lighting is also an integral part of Luminarium's concerts, can you discuss some of the lighting design? Were there any particular challenges in achieving specific effects?
KH: We adore the Multicultural Arts Center because it isn't your typical dance space, but it comes with challenges because you aren't working with a conventional lighting set up. For this production, I'm going to work with isolating specific areas in the space, and I'm also trying to highlight major shifts in the work with shifts in color. A lot of these pieces utilize the full stage, so I'm looking for ways to add dimension to the different chapters in this story while working in the overall aesthetic of the work.
---
Janine Parker can be reached at parkerzab@hotmail.com.