The Black Clown commands the vastness of the Loeb's stage with an enviable energy.
The Black Clown, a musical theater piece based on a poem by Langston Hughes, adapted by Davóne Tines and Michael Schachter. Directed by Zack Winokur. Staged by the American Repertory Theater, Loeb Drama Center, 64 Brattle St., Cambridge, MA, through September 23.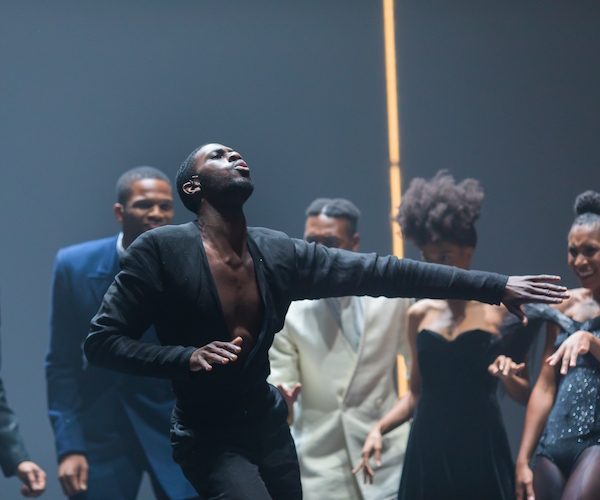 By Robert Israel
Like a gospel revival meeting that clamors to draw us in, The Black Clown — a spoken word/sung/dance piece based on a poem written in the '30s by African-American author Langston Hughes — is being given a spirited world premiere staging at the Loeb Drama Center. The American Repertory Theater presentation features an all-black cast of 13 that is frequently thunderous, setting off its fireworks for a good cause — bringing  Hughes' powerful art to a wider audience.
During his heyday, Hughes (1920-1967) achieved a cult following. In 1959, Lorraine Hansberry titled her play A Raisin in the Sun after a line in his poem "Harlem." In the '60s, Hughes' poem "Backlash Blues" became a Civil Rights anthem after firebrand singer/activist Nina Simone set it, memorably, to music. Still, there were artist/activists that Hughes once championed – notably author James Baldwin – who accused him of exercising excessive caution in his personal and artistic life after he was investigated by the House Un-American Activities Committee (HUAC). "Every time I read Langston Hughes I am amazed all over again by his genuine gifts and depressed that he has done so little with them," Baldwin wrote. Decades later, critic Hilton Als in the New Yorker echoed that disappointment — he called Hughes "self-preserving" and labeled him "one of the architects of black political correctness."
There is no evidence that backs up the criticism of Baldwin or Als in Hughes' verse in this exciting production. The Black Clown commands the vastness of the Loeb's stage with an enviable energy. That said, the production could use more formal shaping to counter its proclivity to constantly burst at its own seams and lose the sting of Hughes' message.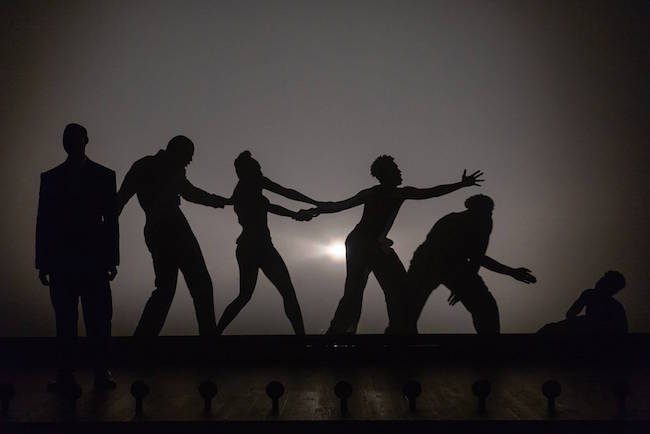 The poem explores how a black man is demeaned by the white world, dismissed as aberrant, an entertainer who is viewed as an inferior, a cartoon rather than than a human being. Director Zack Winokur conveys this social judgment through the use of silhouettes: the rear of the stage is cordoned off from the main performing area. The players mime scenes behind the action with backlighting. The idea is to dramatize the black man's experience of radical separateness. Yet, because the action in this musical is so jam packed and its vitality so uninhibited, evidence of darkness is lost amid all the showbiz. The ferocious itch to entertain doesn't give us time (or encouragement) to reflect on the shadows. This problem is compounded by the dance numbers. Chanel DaSilva's choreography doesn't even try to be disciplined — the steps and the performances are free-spirited to the max. Rarely during the 70-minute show do the proceedings slow down and allow for a serious thought. In many scenes the dancers are literally sprinting across the stage. When they make these mad dashes, especially in silhouette behind the scrim, we are supplied with visions of blur. So much for the blues-themed stasis of African-American alienation.
Davóne Tines, who serves as the show's co-adapter and lead singer, is a marvel to watch and listen to; he carries the weight of the production. Director Winokur could use him more effectively by pairing him in a duet, or in a trio — that alteration would also highlight some of the other members of the ensemble. The cast members are endowed with terrific voices and are multi-talented. By blocking The Black Clown's scenes more effectively — focusing on the poem's story, perhaps even imposing more narrative structure — a future production might better use of its performers by cutting down on the razzle-dazzle and creating more drama.
There are many indelible moments. The scenes at a jazz club jump out with a realistic vigor, as if they were lifted from Hughes' Sweet Flypaper of Life (his text, paired with Roy DeCarava's photographs, captured the joys and sorrows of families in Harlem during the '50s). There is a dance scene when the players break free of their chains, tossing them off as they were as light as feather boas. There is an interlude when a ladder descends from on high — yet it leads nowhere and is impossible to climb. And another episode gives us the ensemble singing a rousing version of "Sometimes I Feel Like a Motherless Child," spurring a cheering audience to its feet.
The Black Clown winds up in a revival tent with Davóne Tines, making adroit use of his rich baritone, expressing the agony of the character's longing to be seen as a man, not a clown. Hughes' poem is nothing if not relevant — it expresses, through simple eloquence, the longing of many who yearn to be respected in a land that promises equality but cruelly withholds it. The message of The Black Clown is that liberty in America is a birthright and that it has too long been denied. The patience for pratfalls is over.
---
Robert Israel writes about theater, travel, and the arts, and is a member of Independent Reviewers of New England (IRNE). He can be reached at risrael_97@yahoo.com.