The genius of this film is that no preaching is necessary; it makes its political point in an apolitical way, an art film that is, incidentally, didactic.
Hale County This Morning, This Evening screening at the Brattle Theatre, Cambridge, MA, September 10, as part of the DocYard fall series.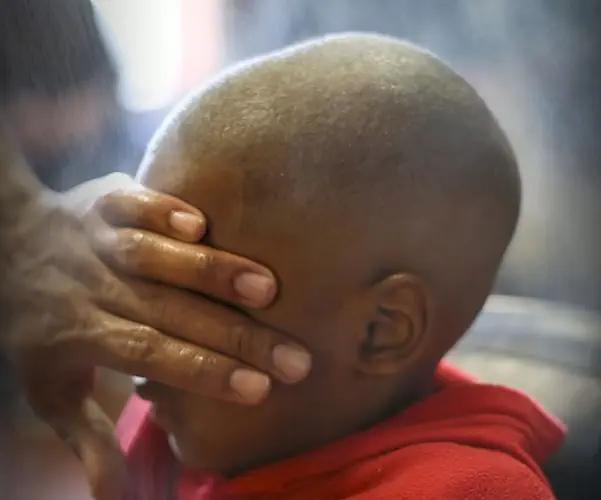 By Neil Giordano
Hale County, Alabama has arguably served as one of the inspirational spaces for the traditional of American documentary ever since James Agee and Walker Evans's groundbreaking 1941 volume Let Us Now Praise Famous Men, a cornerstone of the nonfiction canon. Later in the 20th century, Alabama-born photographer and painter William Christenberry (an acolyte of Evans) worked exclusively in the area, adjacent to his native Tuscaloosa, capturing portraits of structures and landscape in decay, images that look back at the rural south with nostalgia, wonder, and sadness.
Of course, Agee, Evans, and Christenberry never claimed that life in Hale County was representative, or that their works were the be-all, end-all. Their impressive accomplishments have been criticized over the years, particularly with the rising power of diversity. Agee's lustrous and expansive prose is sometimes more about staking a claim for self-conscious modernism than exploring its poor white subjects, while Evans's stark photographs sometimes default, a bit too automatically, to existential blankness. Christenberry gives us beautiful color images of a seemingly abandoned land. But how much of Hale County do the visions of these artist leave behind? The question is, what did their work avoid or plainly fail to see?
Enter first-time director RaMell Ross who, in 2018, sets out to fill in the lacuna left by his artistic forebears. Hale County is a film that explicitly revisits and criticizes the recorded past — in terms of sociology and documentary history — by looking closely at the present. Instead of poverty, we are given bounty; instead of decay, vibrance. And, most crucially, in place of images of white culture in struggle and decline, we witness — finally — the African-American experience. And these tones are so lush and lively that we cannot fail but to see Hale County anew. The fact that it took a black filmmaker like Ross to make up for early oversights is no accident. The genius of his film is that no preaching is necessary; it makes its political point in an apolitical way, an art film that is, incidentally, didactic.
The film is monomaniacally "lyrical." Its montage-like narrative structure focuses on scraps of daily life, making elegant combinations of faces, sounds, and colors. The footage generated a bouncy rhythm, glancing at — sometimes lingering — the community's quotidian events as well as its rituals: a church hall caught mid-worship, an outdoor party full of laughs and a few arguments, a high school sports crowd cheering on the home team. But each of these small episodes transcends easy archetypes about "ordinary life" — these juxtapositions establish a kind of spiritual connection. Some one-off scenes exhibit an artful beauty. A basketball practice is filmed subjectively, from the ball handler's point of view as he hones his 3-point game. The cutting here is choreographed into a sequence reminiscent of a series of dance steps. A car ride on a country road at night provides a nostalgic glimpse of youth on a weekend night, its slow pacing forcing the viewer to look out the window, to pay attention to the landscape bathed in moonlight.
'Hale County This Morning, This Evening' is a rarity -- an impressionistic documentary.
Click To Tweet
Hale County is a rarity — an impressionistic documentary. No screen graphics, no voiceover, minimal dialogue, just sensory impressions subtly connected with each other, motifs explored and repeated. The sound design, too, merits notice by dint of its occasional strangeness and unexpected grace — voices and ambient noises are intermixed and modulated, serving as transitions within and between episodes.
Ross' subjectivity is not simply a matter of aesthetics — it is used to make a political point. The history the Black Belt rural south is one of oppression and struggle, of sharecropping and lynching, of white prominence and hegemony. The irony is that Hale County's black population — the majority of its inhabitants for as long as records have been kept — has never been truly seen living out their ordinary lives. Not that, amid the domestic beauty, we don't see flashes of social pathology. A brief episode involving a police stop had me holding my breath at the sudden tension, at the fragility of the prosaic.
We can only hope that, as the documentary form becomes more democratic and diverse in the 21st century, the visions of filmmakers like RaMell Ross will make up a new canon, one that makes the invisible visible, reshaping what we know of our past and present.
---
Neil Giordano teaches film and creative writing in Newton. His work as an editor, writer, and photographer has appeared in Harper's, Newsday, Literal Mind, and other publications. Giordano previously was on the original editorial staff of DoubleTake magazine and taught at the Center for Documentary Studies at Duke University.