Ruby Rose Fox's artistic/political mission with Salt is clear: the singer wants to look back at and revamp the radicalism of the '60s.
Salt, written and performed by Ruby Rose Fox. At OBERON, 2 Arrow Street, Cambridge, MA, on June 22 (closed). At the Isabella Stuart Gardner Museum, Boston, MA on June 28 and July 13. At Wellfleet Preservation Hall, Wellfleet, MA, on July 14.
By Michael Lin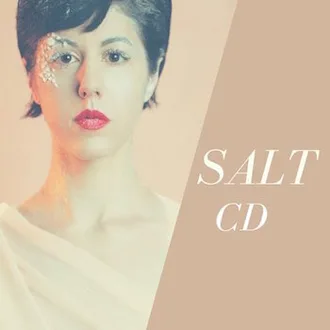 Advertised as a "one-woman pop opera," Ruby Rose Fox's Salt accompanies the release of the Boston-based performance artist's sophomore album of the same name. Her show is an eclectic fusion of art and politics, making use of spoken word recordings, video projections, and choreography. The result is a galvanizing experience that is at once beautiful, sobering, and provocative.
Opening for Fox at OBERON was singer-songwriter Josh Knowles, who performed an eight-song set backed by a four-person band. Knowles's energetic tunes clearly drew heavily from his classical training. Soothing melodies were brought to powerful climaxes generated by way of an array of electronic effects: looped string tracks were mixed together on-stage, with a strong percussion foundation provided by cajón. Unlike Fox's razzle-dazzle performance, Knowles's set was strictly no-frills — minimal banter, no fancy costumes or pyrotechnics. The emphasis was on intimacy rather than theatricality.
Ruby Rose Fox, in contrast, was gorgeous spectacle. Her stage accoutrements say it all: two clothing racks full of esoteric costumes, a projector pointed at a setup of screen and scrim, and a gargantuan step ladder decorated top-to-bottom with what looked like white fabric.
As Lou Reed's "Caroline Says I" played, Fox entered dramatically from the back of the house, clad, neon bright, in white and pearls, making her way through the audience and onto the stage. There, she began a frenzied choreographed sequence of gestures and movements that eventually left her breathless.
Fox then performed each of the songs from her new album; it looked as if she was creating a live music video. For one song, she sat perched atop the stepladder in a flowing train that reached the floor; she held an umbrella lit with LEDs. She resembled  an enormous floating jellyfish. For another song, titled "Your Sister is Dead, I'm Buying a Sega," she donned a Sonic the Hedgehog costume, adding a brightly colored armband bearing a corporate logo. Given that words like "Charlottesville" and "KKK" appear with regularity, there is no question about what the armband signified.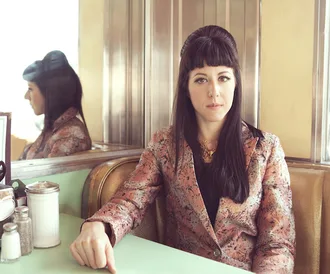 Between songs (and while Fox changed costumes), we heard the voice of an unidentified male speaker. He lectured on a range of philosophical topics, including faith, introspection, and the meaning of being. Throughout the show, there was a stream of projections: the Democratic donkey and the Republican elephant standing side by side, then morphing into Coca-Cola and Pepsi logos, finally returning to their original forms. There was a montage of industrial buildings, weapons of war, and natural disasters. Images of children receiving treatment for bone cancer were juxtaposed against a video game about spirituality. At one point in the show, Fox sings "Mr. President, bow down, Lady Godiva's back in town." Stage historians take note: Salt is one of the first (at least in Boston) no-holds-barred anti-Trump entertainments.
Which is not to say that Fox's performance should simply be seen as garish political point-scoring. Her singing voice is deep and melodious, proffering the clarity of a well-polished instrument. Her music falls under the purview of pop, though the tunes here are more about delivering messages via relaxed tempo poetry than revving up dance club beats. Fans of Fox's first album, Domestic, will hear some artistic development in Salt — its sound is smoother and more refined, yet no less forceful than her previous effort.
At the end of her performance, as Fox strode back out through the audience clad in a dress made of assorted packaging debris and consumer waste, Lou Reed's "Caroline Says II" was played in the background. The first track of Salt is titled "Caroline Says III"; Lou Reed and his album Berlin are mentioned by name. Fox's artistic/political mission with Salt is clear: the singer wants to look back at and revamp the radicalism of the '60s as a response to what Fox perceives as the authoritarian conservatism of Trump and his administration. In this case, resistance means creating an imaginative conversation with the artistic traditions of protests past. Salt may be the beginning of a musical theater that calls for activism rather than well-intentioned agreement.
---
Michael Lin is a game designer, playwright, actor, and Foley artist. His theatrical writing has most recently been performed by Somerville-area theatre groups Theatre@First and the Post-Meridian Radio Players. A graduate of the MIT Comparative Media Studies program, Michael is excited to be contributing to The Arts Fuse.