Apart from a few weak elements, GBS's Calendar Girls is a well-acted, well-staged comedic romp filled with wit, warmth, and genuine insight.
Calendar Girls, based on the Miramax Motion Picture by Juliette Towhidi and Tim Firth. Directed by Nancy E. Carroll. Staged by the Greater Boston Stage Company at 395 Main Street, Stoneham, MA, through June 17.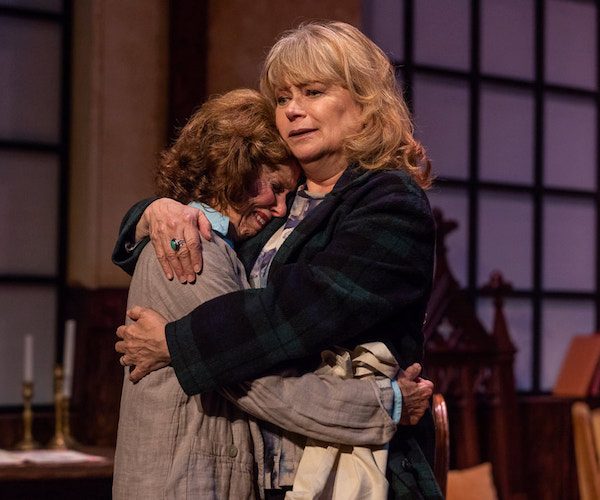 By Erik Nikander
It would be foolish to expect a show like Calendar Girls to be groundbreaking. It is, in essence, crafted to be a crowd-pleaser — a bright and funny comedy based on an established property (the hit 2003 Miramax film of the same name starring Helen Mirren). This description isn't meant to be disparaging; in fact, Greater Boston Stage Company does quite a good job of reveling in the script's poignant cheer. Driven by the confident skill of director Nancy E. Carroll, the script may often be light in tone, but it never feels flimsy. Apart from a few weak elements, this is a well-acted, well-staged comedic romp filled with wit, warmth, and genuine insight.
After her husband John (Sean McGuirk) dies of leukemia, Annie (Maureen Brennan) teams up with Chris (Karen MacDonald) to design a charity calendar. Realizing that stodgy photos of landscapes and bridges won't garner all that much money for the local hospital, Annie and Chris decide the calendar should instead feature tasteful nude photos of their friends in the local Women's Institute, including Ruth (Sarah deLima), Celia (Mary Potts Dennis), Cora (Kerry A. Dowling), and Jessie (Bobbie Steinbach). The project soon grows bigger than any of the ladies could have anticipated, attracting the attention of the world at large and threatening to irrevocably damage their friendships.
It would be impossible to give every member of this twelve-person cast his or her proper credit without doubling the length of this review but, rest assured, the ensemble proves adept at generating considerable mirth, especially from the script's central female protagonists. Karen MacDonald is particularly effective as the gregarious spitfire Chris; Maureen Brennan's Annie responds to that character's excesses by way of a more grounded, emotionally steady "straight woman." Sarah deLima is sweet and affecting as the long-suffering Ruth and, as the relentless Jessie, Steinbach is blunt and hilarious. The male members of the cast aren't quite as memorable, but Nael Nacer gives a funny and eccentric turn as the skittish photographer Lawrence.
Nancy E. Carroll directs the show with a nimble sense of tone, maintaining throughout the proceedings a sense of camaraderie and sympathy. She's adept at balancing amusing moments with the more somber, reflective scenes. In particular, she skillfully realizes the play's funniest episode: the nude photo shoot at the end of Act I, in which the characters bare their souls and bodies for Lawrence's camera. By this time, we have grown to understand the characters' everyday lives, making it all the more amusing to see the town's staid sense of propriety turned upside down. Carroll and her cast relish this hilarious crescendo.
It's unfortunate, then, that the play loses its footing during the draggier Act II. Including its brief intermission, Calendar Girls runs for two and a half hours. That is overkill given its relatively modest and straightforward storyline. Thus the GBSC has to grapple with a script that is badly in need of trimming down. In terms of dramatic thrust, the play meanders after the photo shoot, which is understandable because that scene makes (and leaves) such a strong impression. There are still compelling moments after that point, of course, but the action becomes bogged down in individual character subplots and drawn-out melodramatic conflicts.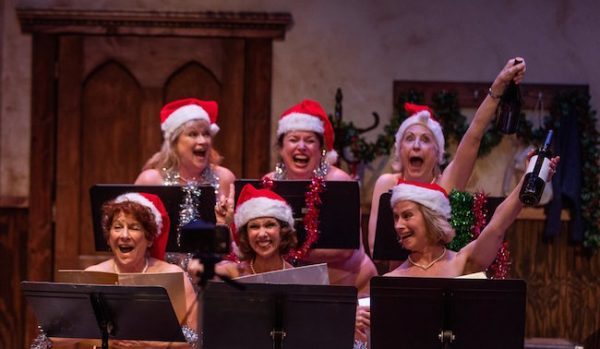 One element GBSC could have improved on is its accent work. Many of the actors nail their British dialects, but some waver in and out of linguistic focus. And one performer is not convincing in the least. There's no dialect coach mentioned in the credits for this production, and that is a shame. The expense of bringing in a professional would have paid dividends in terms of establishing the production's realism.
Fortunately, the technical work behind Calendar Girls is nearly always top-notch. Even a show about nudity requires clothes, and the costumes, designed by Gail Astrid Buckley, are terrific; they accentuate the lives and personalities of each character. Jenna McFarland Lord's set relies on some strange visual perspectives, but the design is pleasingly detailed and versatile. The plethora of props, provided by Lisa Guild, gives the world of the play plenty of texture. Karen Perlow's lighting work is mostly conventional, but there are some subtle and interesting uses of color.
Though it may be a tad too predictable (and too long), Calendar Girls is largely successful, thanks to a strong ensemble cast and agile direction. Despite the material's interludes of silliness, the staging never loses sight of the story's heart and humanity. Subjects such as aging, sexuality, cancer, and community are handled in a way that respects their gravity without becoming too dark. Calendar Girls's joie de vivre is never forced or inauthentic; even during its more sluggish moments, the show never wears out its welcome.
---
Erik Nikander is a critic, playwright, and filmmaker based in the New England area. His film criticism can be read on Medium and his video reviews on a variety of topics can be viewed on Youtube at EWN Reviews.