The nine components of Streams present a surface impression of diversity – from intimate meditation to punk rock to chamber music to collective improv. But the organic unity of the work derives from the sense that these pieces of music are in active conversation with one another.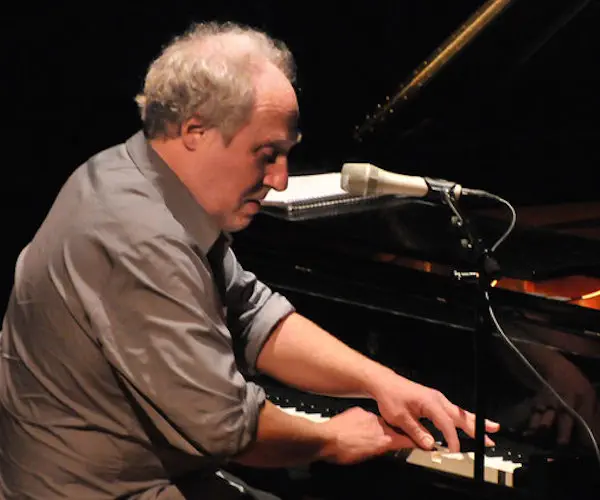 By Steve Elman
The May 2 premiere of Anthony Coleman's Streams was an Event, and a series of "events," in the way that George Russell used the term. Although fewer than two hundred people came to Jordan Hall to hear it, those who were there will be able to say that they witnessed a milestone in a distinguished career. The performance was relatively brief – about ninety minutes from start to finish, including a repetition of one of the compositions. But Coleman's meticulous crafting made every second worthwhile.
Coleman's musical oeuvre is not of a single piece. I remember him as a bold and innovative pianist, part of a "third wave" of avant-garde musicians active in Boston in the 1970s that included Marty Ehrlich, Jon Damian, Jon Voigt, and Tom Plsek. Although each of these artists made (and make) very distinctive and personal music, they share an esthetic that accepts unstructured playing, collective improvisation, late-twentieth-century classical composition, chance, and noise elements as useful tools in their musical kits. For me, their musics were the first strokes towards works that defy category and ignore genre. Is what they do classical? Is it jazz? Who cares?
To learn more about the man and his work, have a look at Steve Provizer's excellent interview with Coleman elsewhere on the Arts Fuse. In that interview, he reminisces about his early influences, notably including the iconoclastic Jaki Byard. He also says, "I didn't think I wanted to stay with old forms of music. I wasn't a retro kind of person."
It now seems inevitable that Coleman would be drawn to the downtown scene in New York, where he became part of John Zorn's repertory company of avant-garders, working with and being influenced by Zorn, Marc Ribot, Arto Lindsay, Bobby Previte, and many others. Along the way, he joined in Zorn's exploration of Jewish heritage, and that became a permanent element in his own work.
Coleman returned to Boston in 2006 to join the New England Conservatory faculty. Over the past ten years, his stature as a performer and composer has consistently grown, and he has continued to challenge himself. I vividly remember his decision to explore the music of Jelly Roll Morton in depth, which led to a Jordan Hall concert and a CD in 2009 (Freakish [Tzadzik]), both of which were thoroughly authentic and completely Coleman.
Streams exists because of a commission by NEC. It is a salute by the Contemporary Improvisation department (formerly Third Stream, often abbreviated to "CI") to the Conservatory as a whole, celebrating NEC's 150th anniversary and the 40th anniversary of CI itself.
Often, though not always, the musical language of Coleman's work, as exemplified by Streams, is a sound analog to one of Alexander Calder's mobiles in a gust of air – a collection of separate, carefully-crafted shapes or kernels, connected with fine filaments, in a flow of constant motion, floating, touching one another, obscuring one another, finally coming to rest. Also, in this particular case, there is a notable influence of the late Cecil Taylor, whom Coleman readily acknowledges.
The nine compositions of Streams could be heard as parts of a suite, or divisions in a song cycle, or "events," as I mentioned above. They present a surface impression of diversity – from intimate meditation to punk rock to chamber music to collective improv. But the organic unity of the work derives from the sense that these pieces of music are in active conversation with one another.
Coleman took great care with the pace and sequencing of the nine elements. In my hearing of them, I perceived a mirror-like structure of parallelisms and echoes: "In memoriam" works (for Peter Row and Cecil Taylor) stand as the first and last pieces, each reflecting both the past and present of the Conservatory. "Shaym" and "Semiocapital," protest pieces with forceful texts, are placed second and eighth. "To Tell, Amputationally" and " Cross Currents 1982," multi-movement works that are the most directly "classical" of the parts, occupy the third and seventh spots. Two pieces that are particularly eclectic, "For C. C. and C. W." and "Pretty Pressure," stand fourth and sixth. A solo piano work holds fifth place, at the center.
Even the staging was significant. Before the CI Chamber Ensemble played "Cross Currents 1982" and the Contemporary Rock Ensemble played "Semiocapital," the Chamber Ensemble set up to the left of the stage and the Rock Ensemble to the right, with each group spotlit only when it was playing. This offered a kind of visual yin-yang of classical v. rock, and a similar juxtaposition was on display in the music they played.
(For a complete [personal] overview of the evening as I heard it, with personnel lists for each piece, see More below.)
Throughout the evening, I had a profound sense of the baton being passed to a new generation of leaders at CI. As Gunther Schuller championed Ran Blake and Blake championed Hankus Netsky, here were Netsky championing Coleman and Coleman championing Eden MacAdam-Somer. To look at it another way, as preeminent creative figures – Schuller, Blake, George Russell, Jaki Byard, Steve Lacy, Bob Brookmeyer, etc. – have been invited to join the faculty of NEC and through their work gradually transformed Third Stream into CI, now Coleman celebrates his tenth year with the school and steps up to a new level of influence (alongside Jason Moran, Ken Schaphorst, Dominique Eade, Bert Seager, Donny McCaslin, and other current faculty members).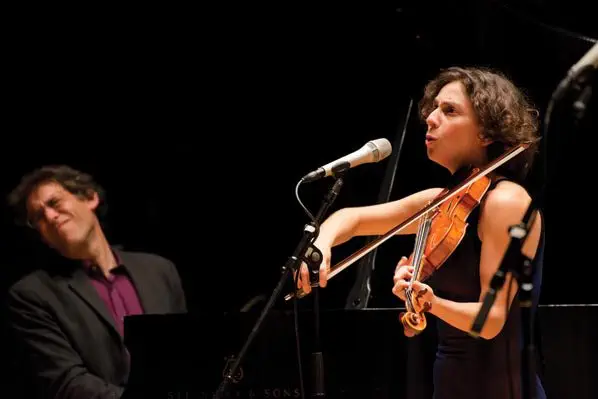 Although this was Coleman's night, Contemporary Improvisation Co-Chairs Netsky and MacAdam-Somer were crucial to its success. They helped him frame it, performing with Coleman in first piece and taking a joint bow with him at the end. Netsky contributed a warm verbal introduction before the music began, and MacAdam-Somer shepherded the finale, "April 5, 2018," Coleman's tribute to Cecil Taylor, with well-focused conducting. And they contributed the student ensembles they lead – Netsky's Jewish Music Ensemble and MacAdam-Somer's CI Chamber Music Ensemble – for prominent positions alongside Coleman's own student group, Survivors Breakfast.
The performances, by faculty and students alike, were all on a superbly high level. The Conservatory continues to attract and develop student musicians who have the technical skills to match those of the professionals in this town – and to demonstrate nearly the same level of interpretive ability. In Streams, I was once again impressed by three soloists who were featured in Linda Chase's The City Is Burning, which had its premiere at NEC in October: Baritone Sam Jones's pure pitch and beautiful vocal quality were amply displayed in "Pretty Pressure," as he gently shifted his approach from cabaret to American songbook crooning to classical lied to contemporary pop articulation. Magdalena Abrego brought huge energy to her guitar work with Survivors Breakfast and the Contemporary Rock Ensemble. And drummer / percussionist Taichiro Ei showed that he can do anything, playing in five different pieces that called for delicacy at one moment and thrash at another. He also led a rumbling improvised duet with bassist Ross Wightman (another standout MVP, incidentally).
I was impressed by Muqi Li again; her mastery of the guzheng, a Chinese instrument like a zither on a grand scale, has given NEC composers an unusual tone color to work with, and Coleman integrated her very effectively into two of his pieces.
I also heard for the first time some artists I'm going to be listening for in the future: Steven Long, whom Coleman relied on to play the central piano solo "Guggul," fulfilled his assignment with great sensitivity and received one of the most enthusiastic ovations of the night – and then came back to play harmonium at a crucial moment in "April 5, 2018." Trumpeter Rubin Holbein had two short but very evocative moments, in "To Tell, Amputationally" and the Taylor tribute.
There are two more moments to mention, each calling forth the shade of a past master.
Apparently Coleman was dissatisfied with something in the first performance of "Shaym" (his smiling remarks to the ensemble were inaudible to the audience), because he called for a second playing. This was a welcome opportunity to re-hear the piece and discern more about its structure, and I was suddenly struck with a spiritual similarity to Thelonious Monk's music. The revelation was much like what happens when you hear one of Monk's tunes for the second time – what may seem hard to grasp on first hearing jells into a logical whole when you know what's coming.
The finale, in memory of Cecil Taylor, deserves special mention because it showed how well Coleman understands Taylor's methods of construction. The piece did not sound like an imitation of Taylor's music, but rather an interpretation of his process and innovations, much in the way that any good hommage to one of the great jazz composers builds on his or her work rather than attempts its duplication.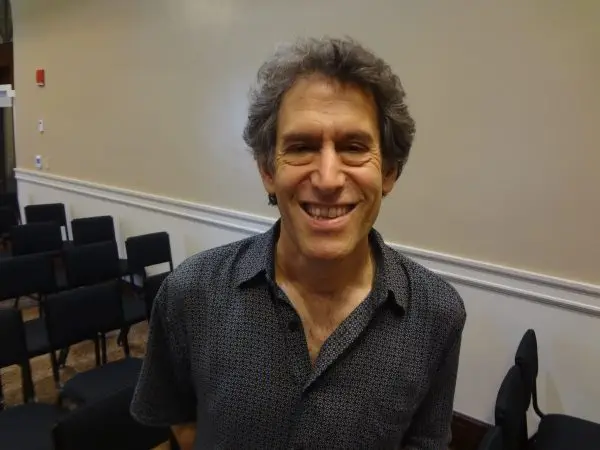 By putting "April 5, 2018" last, Coleman wasn't just standing at the bier of one of the masters of music. He was drawing the final arc in a great circle. When Taylor was a student at NEC in the mid-fifties, the academic atmosphere was very different from what it is today, and not at all congenial to the idea of music outside the mainstream. (In the notes to his 1958 LP Looking Ahead!, his friend Nat Hentoff quotes him saying, "Only organists had classes in improvisation at the Conservatory.") In fact, Taylor only began improvising when encouraged by saxophonist Andy McGhee, himself an NEC alum and later a Berklee professor, who passed away just five months before Taylor, in October 2017.
So Anthony Coleman brought Cecil Taylor to the stage at Jordan Hall at last, a place where Taylor may have played as a student, but in so far as I know, never performed as a mature artist. It's about time.
---
More:
Anthony Coleman: Streams
Presented by the Contemporary Improvisation department of the New England Conservatory in celebration of the Conservatory's 150th anniversary and the 40th anniversary of the department
May 2, 2018, Jordan Hall 7:30 – 9 p.m.
1) Alap for Peter Row
Hankus Netsky, ob
Eden MacAdam-Somer, vla
Anthony Coleman, p
In memory of Peter Row, NEC professor and master of Indian classical music, who died April 2, 2018.
Not overtly Indian. Tones sliding back and forth, with tonalities blending. Sometimes impossible to tell where one instrument's sound began and another's ended. Long-breathed and tinged with melancholy. Netsky's adept circular breathing on oboe used as a tone color, not a virtuoso display.
2) Shaym (Froth) [two performances]
Jewish Music Ensemble [Netsky's ensemble of NEC students]:
Vocal trio — Caroline Kuhn, Rachel Webb, Elise Leavy, sopranos
Alex Quinn, tp
Bulut Gulen, tb
Barrett Hahn, cl
Daniel Ackermann, ts
Matthew Shifrin, acc
Daniel Cetlin, Sophie Wang, v
Chenchu Rong, mar, xyl
Utsav Lal, p
Jon Dewitt, bjo, g
Ross Wightman, b
Peiying Li, dm
Conducted by Anthony Coleman
Text in Yiddish, by Daniel Kahn, Yuri Vedenyapin, and Natalie Lifson. translated by Netsky for the program.
In his opening remarks, Netsky said it was inspired by the shootings at Marjory Stoneman Douglas High School in Parkland, FL on February 14, and the spoken part of the text, written by Natalie Lifson in Ha-Aretz, makes specific mention of school shooting. (Translation by Netsky: "If a known hater . . . shot up a school . . . people would at least be discussing the possibility that it was a hate crime.")
But the sung text seems more of a direct protest against the anti-Semitism expressed during the "Unite the Right" rally by alt-right partisans, white supremacists, and neo-Nazis on August 11, 2017 in Charlottesville VA. (Translation by Netsky: "It's a lie, a dirty lie, a blatant lie from the old days / Oh Jews, rise up, they can go to Hell!")
By extension, the overall outrage could express the sentiments of any of the survivors of the November 5, 2017 church shootings in Sutherland Springs, TX, the October 1. 2017 Mandalay Bay shootings in Las Vegas, the June 12, 2016 Pulse nightclub shootings in Orlando, the December 2, 2015 shootings in San Bernadino, or any other of the numerous mass murders of the past decade.
Instrumental music flowed from out-of-tempo to Klezmerish passages to a relentless sinister march. It began with sudden spare bursts from the ensemble, punctuated by skittering violins, leading to the sung and spoken sections. A six-note figure reappeared in various guises.
The female voices were sometimes speaking, sometimes singing in dissonant harmony, and briefly singing in consonant harmony à la the Andrews Sisters (shades of "Bei Mir Bistu Shein"). At conclusion, passionate repetitions of "Shrayt! [Cry out!]"
3) To Tell, Amputationally
Survivors Breakfast [Coleman's ensemble of NEC students]:
Rubin Holbein, tp
Daniel Bitrán, cl
Isaiah Johnson, Barrett Ham, bcl
Luke Fieweger, bsn
Gabriel Garcia, as
Alec Toku Whiting, mando
Magdalena Abrego, Cole Blouin, e-g
Steven Long, p
Ross Wightman, b
Taichiro Ei, dm
Could be interpreted as having three movements (fast-slow-fast) and coda, or four movements (fast-slow-fast-slow).
I. A theme like two or three Steve Lacy tunes played simultaneously, with a dose of Gunther Schuller, then developed. A sense of pealing bells or multiple alarms, especially in the guitars.
II. Low moans and squeals from the reeds, then layers of sound building but not changing the mood. Finally trumpet (Rubin Holbein) leading the procession to silence.
III. A rumbling duet for trap kit (Taichiro Ei) and bass (Ross Wightman). Then a "lyrical" line over the busy foundation. Guitar (Magdalena Abrego) punctuated the music with machine-gun effects.
IV (or coda). Long tones again. A three-note motif in the trumpet recalling the old Gillette "Look Sharp" jingle.
4) For C. C. and C. W.
Ted Reichman Ensemble:
Ted Reichman, Sunniva Brynnel, acc
Will Kubas, wordless vo
Jake Zaslav, tp
Gabriel Garcia, as
Matthew Okun, e-g
Thomas Davis, org, syn
Monic Chen, p
A sine-wave-form, beginning sparely with a hazy cushion of sound, becoming busy with pointillistic outbursts, ending sparely. Kubas's voice was beautifully integrated as an instrument into the ensemble
5) Guggul
Steven Long, p
According to WebMD, guggul is a traditional Ayurvedic medicine "made from the sap of the Commiphora mukul tree, which is native to India. . . . for treating atherosclerosis, . . . arthritis, lowering high cholesterol," etc.
This solo piano piece worked well as both the spiritual center of the evening, an interlude between the various chamber ensembles, and a clearing of the air.
There was more than a little of the lyrical side of Cecil Talyor, and some shades of Ran Blake as well. A short section in tempo, sort of. Concluding with the use of a large soft mallet on the bass strings. Beautifully played, enthusiastically received.
6) Pretty Pressure
Sam Jones, vo [baritone]
Hope Wilk, hp
Cole Blouin, e-g
Ross Wightman, b
Taichiro Ei, per
Robert Murphy, elecs
Text created by Coleman using the predictive text function of his iPhone. The resulting words are a sort of mashup of attempts by people to make appointments or dates with one another.
Elegant vocal in a mosaic of differing styles over a spare but tangled background. Despite its disparate elements and shifting focus, there was a remarkable sense of completeness and finality in the final seconds.
7) Cross Currents 1982
CI Chamber Music Ensemble [Eden-Somer's ensemble of NEC students]:
Ana López, wordless vo
Stuart Martin, recorders
Emms Gies, v
Eden MacAdam-Somer, vla
Jon Dewitt, g
Muqi Li, guzheng
Adam Tuch, p
Taichiro Ei, dm
Unlike much of the music on the program, this piece is tonally-centered, but not strictly tonal.
The textures are spare and clear. Each of the three movements has enough of a tonal center so that the shift between movements represents a real shift in mood.
I. Three lead voices – folky viola (MacAdam-Somer) at first over single-note unisons from the ensemble, then wordless vocal (López) in near-counterpoint with viola, and finally guzheng (Muqi Li) mixing with the other two.
II. A more complicated interaction of the instruments on a different tonal center.
III. A quasi-minimalist first section on a third tonal center, and then a shift in mood to a sort of atonality.
8) Semiocapital
Contemporary Rock Ensemble:
Melissa Weikart, vo
Thomas Abbott, Magdalena Abrego, e-g
Billy Yang, as
Chiwei Lo, kb
Matthew Okun, e-b
Taichiro Ei, dm
Text by Coleman and Carrie Furniss, a faculty member of the Community Music School of Boston who is studying with Coleman and pursuing a Master's degree at NEC. The concepts expressed in the lyric are derived from the work of Italian Marxist Franco "Bifo" Berardi.
The program referred attendees to two sites with excerpts of Berardi's work. Selected passages from these references:
From "Semio-capital and the problem of solidarity," libcom.org (January 2012, based on remarks given during a panel discussion in August 2011):
"I define semio-capital as the sphere of the increasing replacement of production by a financial – and financial means de-territorialised – and fractal-recombinant form of production."
From "Cognitarian Subjectivation," e-flux.com, Journal #20 (November 2010):
"An epidemic of panic and depression is now spreading throughout the circuits of the social brain. . . . Marx spoke of overproduction, meaning the excess of available goods that could not be absorbed by the social market. But today it is the social brain that is assaulted by an overwhelming supply of attention-demanding goods. The social factory has become the factory of unhappiness . . ."
Two apposite lines from "Semiocapital":
"I don't wanna deal with all the things I see on my screen. We're paralyzed; there's too much to do"
A committed performance. No hint of this ensemble as a condescension to popular culture from an academic enclave. Punkish, aggressive, atonal. Strong "alienated" vocal, with some polyrhythmic guitar lines recalling Captain Beefheart's music. At conclusion, passionate repetitions of "Semiocapital!"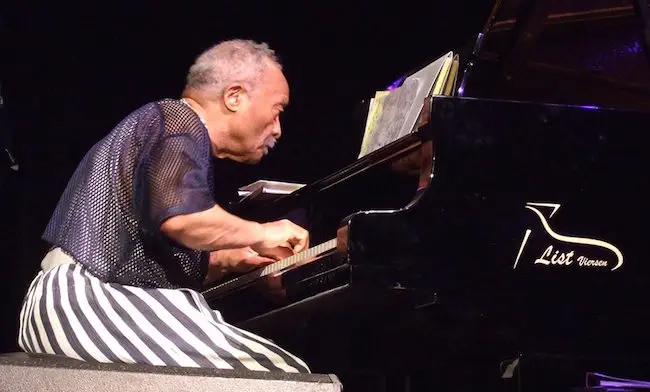 9) April 5, 2018: In Memoriam Cecil Taylor, 1929-2018
Melissa Weikart, Grace Ward, wordless vo
Rubin Holbein, Jeff Cox, tp
Daniel Bitrán, Dan O'Brien, cl
Isaiah Johnson, bcl
Gabriel Garcia, Billy Yang, as
Muqi Li, guzheng
Magdalena Abrego, Cole Blouin, e-g
Matthew Shifrin, Sunniva Brynnel, acc
Steven Long, harmonium
Adam Tuch, melodica
Alec Toku Whiting, mando
Anthony Coleman, p
Thomas Davis, kb
Matthew Okun, e-b
Robert Murphy, b
Taichiro Ei, dm
Eden MacAdam-Somer, conductor
The title is the date of Taylor's death.
In five sections, played without pause:
A. Three tonal kernels established by the piano (Coleman). The ensemble then following this lead, thickening the texture, easing into free improvisation, brought to a halt by MacAdam-Somer.
B. Trumpet (Holbein), alto sax (Garcia), bass clarinet (Johnson) alone. Then this trio juxtaposed with another trio of clarinet (O'Brien), mandolin (Whiting), and accordion (Shifrin). Texture thickens as in first section, easing into free improvisation, brought to a halt by MacAdam-Somer.
C. Two chords set the stage for harmonium (Long), leading into a kind of "insect music," easing into free improvisation, brought to a halt by MacAdam-Somer.
D. Solo piano (Coleman), evocative of Taylor. Motifs picked up by ensemble, easing into free improvisation, brought to a halt by MacAdam-Somer.
E. A single chord repeated three times, in a pattern of long / two shorts, easing into free improvisation, thinning out, guided by MacAdam-Somer until the original chord returned, balanced by a six-note figure from the piano. All sound gradually subsided to a single piano note, softly and poignantly echoed by the ensemble.
---
Steve Elman's four decades (and counting) in New England public radio have included ten years as a jazz host in the 1970s, five years as a classical host in the 1980s, a short stint as senior producer of an arts magazine, thirteen years as assistant general manager of WBUR, and currently, on-call status as fill-in classical host on 99.5 WCRB since 2011. He was jazz and popular music editor of The Schwann Record and Tape Guides from 1973 to 1978 and wrote free-lance music and travel pieces for The Boston Globe and The Boston Phoenix from 1988 through 1991.