Local music venues — especially those with "off" music like jazz — are caught in a vise, with real estate escalation on one side and corporate-dominated digital technology on the other.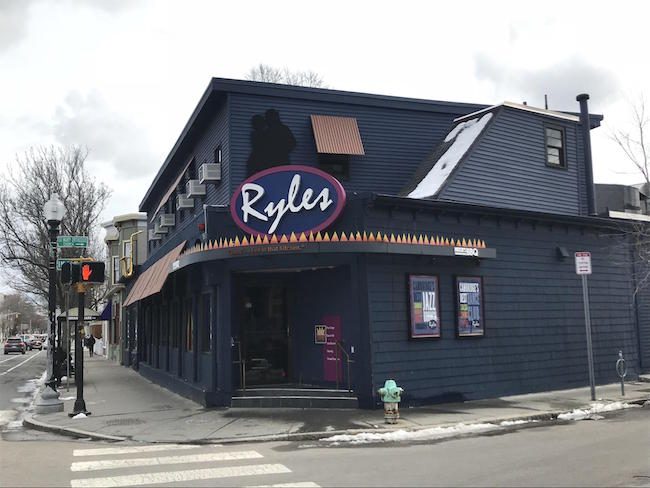 By Steve Provizer
Musician Cory Weeds, operator of the Cellar Jazz Club in Vancouver:
We're never out of the water…. We're never, ever home free. Never. Not after 12 years, not after 14 years, probably not after 20. We're always two or three bad weekends away from being in trouble.
Running a music venue, especially a jazz venue, has never been an easy way to make a buck. In Boston, with few exceptions, such venues come and go fairly quickly. Ryles, soon to close, has actually been around for a while. Prior owner Jack Reilly, who took over Ryles after his previous place, Jack's, burned down, instituted a mostly jazz policy starting in the 1970s. The present owners moved into other genres, but essentially continued this music policy when they took over in 1994. This is a run of either 40 or 24 years, depending on how you look at it — a pretty long shelf life for a local music venue. Compare it to other well-known jazz clubs in Boston:
Lennie's on the Turnpike was around for 13 years total. The Jazz Workshop-Pall's Mall ran 15 years. The Regattabar is 33 years and ongoing. Scullers is 29 years and ongoing. There was jazz in the Copley Hotel for about 35 years. The longest running (mostly) jazz place is Wally's Café, which has continued to operate for 69 years.
Apart from these, there's been a succession of venues with at least some jazz that have come and gone much more quickly — or changed their music policy from jazz. In fact, I've compiled a list of about 200 places where jazz has been presented in the area since the 1960's, which, apart from clubs, include restaurants, libraries, Elks Clubs, museums, outdoor spaces, theaters — any place where you can put chairs or blankets. The list is available here.
Every time a music venue closes, jazz lovers make a couple of assumptions: First, the landlord has raised the rent to an unaffordable level. Second, the rent has reached an unaffordable level because fewer people want to listen to the music and, in general, that people are going out to hear live music less and less often. Let's look at the real estate piece of this.
The rise of real estate values in Metro Boston is astonishing, with dire consequences for many, so escalating rents have played a major part in venue closings. Sometimes a club that's been around for a while, sitting on what is now valuable real estate, sells out for a nice bundle of cash. Such seems to be the case with Ryles, although the details of the sale have not been completely disclosed. Intriguingly, the owners of Ryles have put a restriction in the deed so that whoever buys the Inman Square property will not be allowed to open a new music venue there for 30 years. Apparently, they hope to sell the rights to the name Ryles, assuming that someone else might be able to re-open it elsewhere. Carla DeLellis, the proprietor of the club Johnny D's, owned the venue's Somerville building. She was the landlord, so it wasn't about a squeeze. She was simply ready to retire.
The two largest jazz venues in Boston are located in hotels that would seem to provide a partially safe harbor: the Regattabar in the Charles Hotel and Scullers in the Doubletree Suites. Management apparently thinks they provide enough benefit to the hotel that there are no plans to turn those music rooms into function rooms. Still, the Regattabar often closes for private events, and shifting entertainment winds make the arrangement unpredictable.
Real estate, seen from another perspective, is one of the reasons for the continuation of some clubs in Boston. The longevity of Wally's can be explained in part by the fact that Wally's proprietors, the Wolcotts, own the brownstone in the South End that houses the club. Two music rooms in Inman Square, the Lilypad and Outpost 186, should have a long shelf life. The proprietors of those clubs–Gil Aharon of the Lilypad and Rob Chalfen of Outpost 186—also own the buildings in which they operate.
Apart from the challenges raised by real estate, what part does the alleged lack of interest in jazz play in venue closings? A familiar lament trotted out every decade, whenever a venue closes, is: "It's not like the good old days." So, closings in the '80s looked back at the '70s as better days and closings in the '90s looked back at the '80s as better days—ad infinitum, ad nauseam. Using this logic, no doubt people bemoaned the demise of gutbucket speakeasies after prohibition ended in 1933.
There are convincing reasons to think that the commercial viability of jazz is on the wane, but it's not clear that the digital revolution is accelerating financial deterioration faster in jazz than in other genres. Jazz and classical consumers continue to buy CDs at a rate higher than listeners of pop, hip- hop, and rock.
As far as attendance at live music concerts is concerned, the last NEA survey, in 2012, shows a slight decline from 2002. On the other hand, the percentage of African-American and Hispanic attendees actually rose, and that increase rose higher for Latin, Spanish, or salsa music concerts. Jazz festivals are doing well, but yes, much of what they program is not jazz.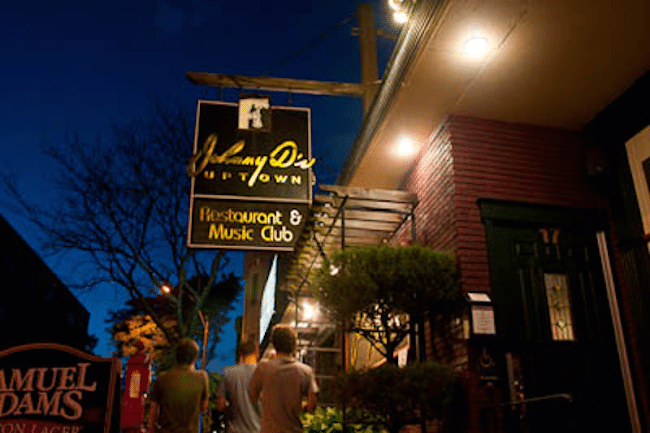 It would be useful to have a historical perspective on the relative income and employment level of musicians through time, but Department of Labor statistics on arts employment in the 20th century are threadbare. Despite the lack of statistics, oral history, media of the period, and written histories show that it's always been a scuffle. The most lucrative period for jazz musicians was probably between around 1936 and 1941, when the dancing and listening needs of the public and the music most closely aligned and jazz-swing was America's popular music. Apart from these few years, there were not many ways for jazz musicians to become prosperous. Yet they could make a dollar—or at least get a free meal—in exchange for playing somewhere: parades, block parties, political rallies and picnics; circuses, vaudeville, medicine shows and riverboats; speakeasies, clubs, dance halls and supper clubs; the military; college and theater gigs, balls, cotillions, and other formal affairs; recording and live work on television, radio and film; weddings, funerals and brothels cut across all levels of society. For many reasons, most of those income streams slowed down and eventually dried up.
Early changes in technology were disruptive, but navigable. Recording, radio, automobiles, the LP, cassettes, and CDs, each affected how jazz musicians made a living. However, in the past 75 or so years, new technologies have seriously diminished employment opportunities. The fidelity of recordings, the evolution of electronic instruments (especially keyboards and synthesizers), digital distribution, and YouTube have permanently altered the global cultural landscape. DJs replaced live musicians, and now iPhones are replacing DJs.
In addition, economies of scale and changes in FCC regulations have led to large corporate owners swallowing up most local TV and radio outlets. Centralized programming inevitably means less local music.
So—where do we go from here?
Local music venues—especially those with "off" music like jazz—are caught in a vise, with real estate escalation on one side and corporate-dominated digital technology on the other. As noted, the only venues that seem well positioned are those whose operators also own the property.
Given this environment, the closing of venues is to be expected. There will probably be more in the Boston area. Yet there remain reasons for optimism: there's a large pool of excellent musicians in our area and audiences who want to hear them. We have a great jazz scene, but it's under-performing compared to its potential. A strategy is needed to ensure (or at least encourage) performance venues that are inviting to audiences.
The key is to more fully utilize all the elements in the existing grassroots infrastructure:
• Presenters need to continue to be creative in producing in hyper-local spaces like libraries, churches, homes, gallery spaces, small clubs, and lofts. They should share information on available spaces and, whenever possible, try to avoid scheduling conflicts.
• Musicians should intensively advertise gigs on social media.
• Local print, TV, and radio media should be asked to provide more preview performances and to do interview features with musicians.
• Smaller venues should consider collaborating with publicists to funnel audience members from the larger venues to the smaller ones (publicity people might expand on their current pro bono efforts).
• Grassroots political pressure, organized through existing nonprofits such as Jazz Boston and the Mass Cultural Council, should be applied to cities and towns in Metro Boston that have turned away from ensuring the creation of small performance spaces in new public construction. (I realize that jazz people are not big "joiners," but increasing memberships in the already well-established non-profits would give added clout to negotiations.)
There's an unhappy history of musical segregation in Boston, but its a very positive sign that producers who generally book in Cambridge or Somerville are now utilizing spaces in the South End, Roxbury, and Dorchester. Coordinated creative and political action among all interested parties is imperative if we want to yank music lovers off their iPhones and out to hear the fantastic live jazz that is being presented every night of the week all over the Metro Boston area.
---
Steve Provizer is a jazz brass player and vocalist, leads a band called Skylight, and plays with the Leap of Faith Orchestra. He has a radio show Thursdays at 5 p.m. on WZBC, 90.3 FM and has been blogging about jazz since 2010.