Claire's Camera is enjoyable and charming, but it's definitely minor Hong, made on a lark at Cannes.
Claire's Camera directed by Hong Sang-soo. Screening at the Brattle Theatre, Cambridge, MA through April 15.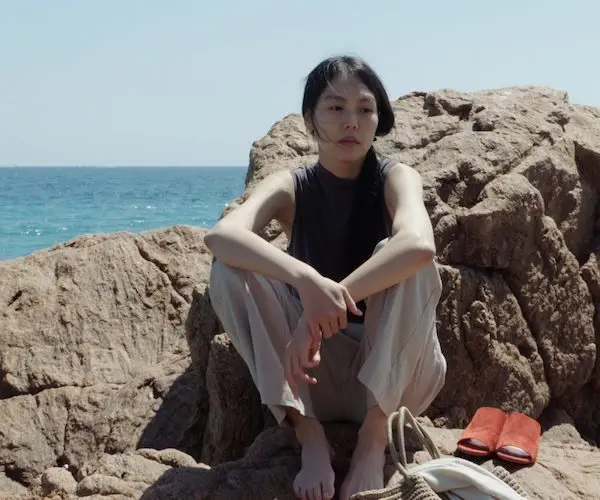 By Gerald Peary
Where have I been at the cinema? Friends tell me that the films of Hong Sangsoo have played over the years in Boston and Cambridge, but I'd never seen any of them until, recently, spending ecstatic nights at the Harvard Film Archive for their extraordinary series, "The Moral Tales of Hong Sang-soo," concluding April 14. I've now watched seven Hong movies, but fifteen more to go from this prolific South Korean, who, at moments, feels like my favorite filmmaker currently working anywhere. I am so elated to step into his world of artsy people casually strolling on city streets and beaches, having endless conversations in bistros and taverns, and, amidst the walking and the chatting, feeling life's stinging disappointments and mini-tragedies, and always the failure of love. A mingling of the witty, probing interchanges of Eric Rohmer with the sadnesses of Chekhov.
I think constantly with Hong of Nina in Chekhov's The Seagull, the young actress bruised by the men in her life, who use her as a pawn in their aesthetic vision, who take advantage of her sexually and then send her out to drift. So also in Hong's films are fragile young women often the victims of older men, some of them married and many of them loose-living filmmakers. Close to home for fiftyish auteur Hong. "Men are idiots," a young woman shouts out in Hong's On the Beach At Night Alone, and that remark resounds through Hong's oeuvre. The actress who suffers the most in his films, who carries his torch, is his muse and off-screen girlfriend, the utterly remarkable Kim Min-hee, known to western audiences for the erotic classic, The Handmaiden. Kim has starred in many of Hong's films as someone who men find alluringly beautiful, yearn to fuck, and also, in their fumbling way, wish to destroy.
For the usual sexual reasons, Kim is in deep trouble in Hong's Claire's Camera. She's Jeon Manhee, the assistant to a South Korean film sales agent, brought to France to work at the Cannes Film Festival. Her mistake is to have a one-night stand there with an alcoholic film director, So Wansoo (Jung Jin-Young), 50, who has a movie in the fest. And, yes, he's an absolute idiot, who, on a day soon after their tryst, sights Jeon on the streets of Cannes and gives her a stern lesson on why she shouldn't dress like a slut wearing hot pants in public. He's also cheating on his girlfriend, Jeon's middle-aged boss, Nam Yanghye (Chang Mi-hee), and breaks up with her cruelly while they are having a casual meal.
But all is not bad for Jeon, because she has the luck of meeting by the beach a sprightly French schoolteacher, Claire (Isabelle Huppert, in her second movie role for Hong).  Claire is an amateur photographer, who takes Polaroids of those she meets, and declares that the photos have mystically transformed them, that they are different people before and after. Maybe. In any case, Jeon and Claire have a fun time hanging out in the Cannes streets, or promenading to Jeon's apartment so Claire can taste Korean food.
There are many who regard Huppert is our greatest screen presence, and there are those like me who feel that Kim is cinema's most essential young actress. So it seems a dream idea to put them together as chums in Claire's Camera. Is the chemistry all we desire it to be? Some of the time. But there is awkwardness too because their scenes are long takes in English, in nobody's native language. For Kim and Huppertm there was an intimidating amount of English dialogue to learn very quickly, because of the way Hong works. As he's explained in many interviews, he wakes up at 4 a.m. and, for five hours, writes and types up the dialogue for the day, often for as many as three to five scenes. At 9 a.m. he hands the pages to the actors to memorize.
I've noticed it in other Hong movies, but it's far more prevalent here: the actors looking as if they are stumped in the middle of a scene, not recalling lines perhaps, figuring whether to improvise or not, definitely confused. It's obvious that Hong doesn't care, welcoming into his frame life's screw-ups, including by his actors. In the back of shots, non-actors appear, oblivious to the camera or, the opposite, peer into the camera, and Hong keeps all of that in his movie. At one moment, his acting stars are almost injured, when Kim and Huppert, in character, try to squeeze between moving cars. Like with a student production, nobody has bothered to block off the street, as the camera rolls on.
Claire's Camera is enjoyable and charming, but it's definitely minor Hong, made on a lark at Cannes. But there is one great scene, when Jeon has a coffee break with her boss, and, out of nowhere, her boss fires her for supposedly being dishonest. There's no explanation of how she's been dishonest, but Jeon must go. Although there are only two people sitting at a table, it's terrifying, every employee's living nightmare, being accused, not knowing why. Kafkaesque.
---
Gerald Peary is a retired film studies professor at Suffolk University, Boston, curator of the Boston University Cinematheque, and the general editor of the "Conversations with Filmmakers" series from the University Press of Mississippi. A critic for the late Boston Phoenix, he is the author of nine books on cinema, writer-director of the documentaries For the Love of Movies: the Story of American Film Criticism and Archie's Betty, and a featured actor in the 2013 independent narrative Computer Chess.