by Helen Epstein
Go here for information about a live-chat, scheduled for August 23rd, with Helen Epstein on "The Art of Narrative Writing."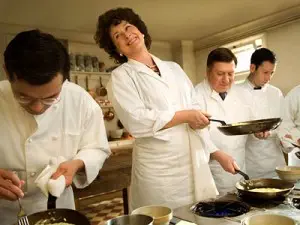 Despite what the NYTimes thinks Meryl Streep cooks up a storm in "Julie and Julia."
I usually trust the Times' A. O. Scott on movies, but this time I don't share his reservations about the film "Julie & Julia." Nora Ephron has written and directed one intelligent, funny movie that manages to be both realistic and entertaining about men, women, marriage, success and failure and — not least — the incredibly long time it takes to learn good cooking!
Meryl Streep as Julia Child does another of her amazing transformations. In this case, the illusion is physical: a rather short woman, she managed to make me believe she was over six feet tall. Amy Adams is — pace A.O. Scott — more than able to hold her own as the foil to Streep and the the two actors playing supportive husbands, Stanley Tucci and Chris Messina, are excellent in their supporting roles.
My Parisian husband and I found all the French cultural notes right on pitch and had a wonderful time laughing.
Helen Epstein also blogs at shewrites.com