A manipulative entertainment that sets out to confuse theater and therapy.
Every Brilliant Thing by Duncan Macmillan. Directed by Daniel Elihu Kramer. Staged by Peterborough Players, 55 Hadley Road, Peterborough, New Hampshire, through February 11.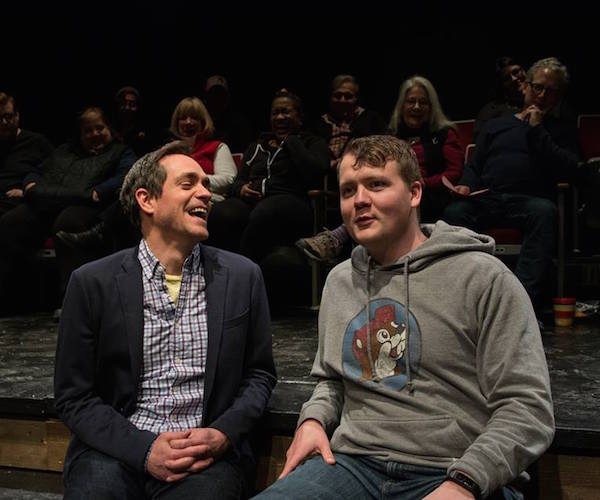 By Jim Kates
Every Brilliant Thing tries to challenge several notions of theater. It begins with the sole actor, Joel Ripka, playing an otherwise unnamed protagonist, working the audience like a local politician at the town center, introducing himself, asking their names, glad-handing, and flashing a welcoming, reassuring smile. This is before the script by Duncan Macmillan kicks in.
But no, that's not right. That's not where it begins. The production actually begins when audience members take their seats and are handed cards with numbers and phrases to be read out loud at directed moments during the hour-long monologue. Others in the audience have already been primed with props, or will be called up for improvisational supporting roles, as the performance goes on.
The performance itself is a scripted therapy session (directed by Daniel Elihu Kramer) during which the engaging young man talks about his suicidal mother, his disengaged father, and his understanding partner in love. In the course of this monologue, none of the these other characters are sketched beyond the barest of cartoon outlines. The father and the girlfriend/wife are played (improvisationally) by members of the audience, so there's some potential for depth (or at least feints towards it). But suggestions of domestic significance are quickly squelched by the unnamed speaker's agenda. He gradually comes to terms with his own depression; it becomes clear that the whole thrust of the piece, although it's constructed around the notion of celebrating the world that lies outside of self-absorption, never moves very far beyond the single character's self.
As the performance continued, I became more and more uncomfortable. Others in the audience, perhaps conditioned by daytime television shows dedicated to sensational and sentimental revelations of pain and the overcoming of trauma, loved the spectacle. Ripka was given a standing ovation at the end.
The script's central device, that of constructing a list of random things and events that make life worth living, has been more eloquently (and succinctly)  explored elsewhere. As more people around the hall shouted out their life-enhancing items (carefully prepared for them on numbered cards), the more I was led far away from the production to think about Nazim Hikmet's magnificent poem, "Things I Didn't Know I Loved," written after this Turkish poet had been released from prison:
It's 1962 March 28th
I'm sitting by the window on the Prague-Berlin train
night is falling
I never knew I liked
night descending like a tired bird on a smoky wet plain .  . .
. . .
I just remembered the stars
I love them too
whether I'm floored watching them from below
or whether I'm flying at their sides . . .
(translated by Randy Blasing and Mutlu Konuk)
Compared to this, Duncan MacMillan's ice cream and scratchy vinyl records fade into trivality.
For me, the most telling moment in this manipulative entertainment, showmanship which confuses theater and therapy, comes when Ripka circulates row by row, trying to high-five everyone in the audience, For each person he wears the same unchangeable smarmy grin. If this was "real life," why did he not react differently to each individual audience member he greeted? If this is supposed to be theater, what was its purpose in the first place? But it was theater: Ripka confesses that once he finishes running around at the end, saying that the show had been more work than he had expected — presumably a line from the script.
Still, I half expected to look under my chair and find a certificate telling me that I had a gift coming — a new car waiting to be picked up.
---
Jim Kates is a poet, feature journalist and reviewer, literary translator and the president and co-director of Zephyr Press, a non-profit press that focuses on contemporary works in translation from Russia, Eastern Europe, and Asia. His latest book is Muddy River (Carcanet), a translation of verse by Russian existentialist Sergey Stratanovsky. His translation of Mikhail Yeryomin: Selected Poems 1957-2009 (White Pine Press) won the second Cliff Becker Prize in Translation.