Though Road Show is unlikely to top anyone's list of Sondheim favorites, it's an often entertaining take on a quintessentially American story.
Road Show. Music and lyrics by Stephen Sondheim. Book by John Weidman. Co-directed by Spiro Veloudos and Ilyse Robbins. Music director, Jonathan Goldberg. Choreography by Ilyse Robbins. Scenic design by Cristina Todesco. Costume design by Amanda Mujica. Produced by the Lyric Stage Company of Boston, 140 Clarendon Street, 2nd floor, Boston, MA, through February 11.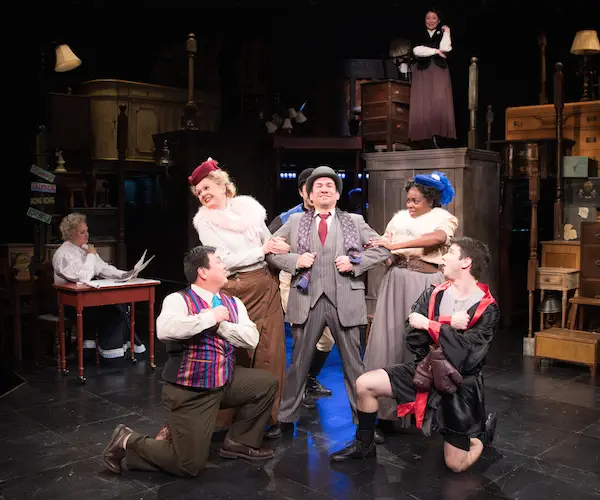 By Evelyn Rosenthal
If there were ever a perfect time for a show about a couple of ethically challenged con men/entrepreneur brothers who made a big splash with a real estate fiasco in Boca Raton, Florida, just down the coast from Mar-a-Lago—I think you see where I'm going here. Of course, such characters have been part of the American story from its beginning. But a series of 1952 profiles of Addison and Wilson Mizner by Alva Johnston that Stephen Sondheim read in the New Yorker so fascinated the composer that he never forgot them. Beginning in 1993, he and John Weidman (his collaborator on Assassins and Pacific Overtures) worked through multiple scripts, directors, and even titles (Wise Guys, Gold!, Bounce) till the show took its final form in 2008. Ten years later, the musical is making its first Boston appearance as part of Spiro Veloudos and the Lyric Stage's multiyear project of diving deep into Sondheim's body of work.
Road Show turns out to be the right title for this tale of the peripatetic Mizners, who crisscrossed the country (and the world) in search of success. Addison eventually became a Palm Beach "society" architect and originated South Florida's Mediterranean/Spanish Colonial Revival style. (His name can be found today on everything from parks to schools to gated communities and shopping districts from Boca Raton to Palm Beach.) Younger brother Wilson, a fast-talking gambler, playwright, screenwriter, and shady man about town, never met a scheme he wouldn't try or a sucker he wouldn't swindle. The show highlights stops along the brothers' roads to fame and failure, bookended by scenes of the place all roads end: the deathbed. The challenge for Sondheim and Weidman was to wrestle the careers and lives of these two outsize figures into a coherent show. This they managed by shifting the point of view to that of the more self-reflective Addison, and focusing on the relationship between the brothers, with mixed success.
So why haven't we seen Road Show in this Sondheim-loving theater town before? Perhaps because it was one of his more problematic works, with only a brief off-Broadway run. What persuaded Veloudos to take it on now, he notes in his program intro, was the theme it shares with the two other shows written by Weidman, of the "American Dream gone bad. . . . not just the lure of easy money but the need for people to leave their mark on the culture." Throughout the show, the brothers—especially Addison—are haunted by their dying father's exhortation to grab the new (twentieth) century by the throat and make it big, do something he can be proud of. But like many in their time (and ours), they are seduced by the allure of "get rich quick" schemes, beginning with the Klondike Gold Rush. In the Yukon, Wilson discovers his knack—and taste—for wheeling and dealing, and trades away the gold claim Addison has staked for ownership of a saloon. From here their paths diverge, with Addison striking out on his own and Wilson heading down the road to hucksterism.
As "Addie," Neil A. Casey conveys the earnestness of the older brother, eager to find his calling and please his parents. Tony Castellanos is a scrappy, energetic "Willie," barreling carelessly through life and other people's money. Each brother gets an expository number that fills us in on his career. "Addison's Trip," a longish romp with the fine ensemble, highlights failed ventures in Hawaii, India, Hong Kong, and Guatemala, ending with an architectural epiphany, prompted by the desire to "build a house" to hold all his artistic souvenirs. Willie gets a similar treatment in "That Was a Year," a snappy tribute to the "king of New York" and his exploits, from promoting (and fixing) fights and horse races to contributing his streetwise ear for dialogue to Broadway shows (with a partner doing the heavy lifting)—all while running through the fortune of his wife, Mrs. Yerkes, played with élan (and a droll New York accent) by Jordan Clark.
Revealing a somewhat clichéd family dynamic, Mama Mizner (Vanessa J. Schukis) sings the praises of the selfish, ne'er-do-well Willie (in the wistful "Isn't He Something"), who neglects her, to Addie, the son taking care of her. It's hard not to hear the plot mechanics creaking when, like her husband, she dies at the end of a song—and does it just before Willie finally comes to see her, leading to another fraternal rift.
The second half of the show reunites the Mizners in their biggest gamble and most spectacular failure. On a train to Florida, Addie meets Hollis Bessemer, a young man of artistic bent who confides his dream of creating an artist colony. When he introduces the architect to his rich aunt, who wants to build a house in the yet-to-be-developed Palm Beach, Addie's career takes off, along with his love life with Hollis.Patrick Varner shines as the puppyish Hollis— a fictional stand-in for Addison Mizner's friend and business partner Paris Singer, who was heterosexual. Just as the two have declared their love and contentment in the tender "The Best Thing That Ever Has Happened," guess who shows up like the proverbial bad penny?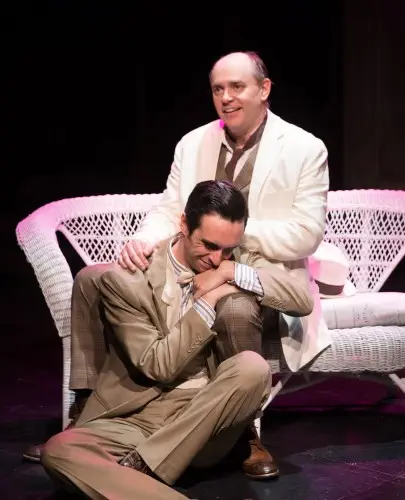 According to Sondheim and Weidman, Willie is the silver-tongued devil, tempting the innocents and leading them to the disastrous plan to build an opulent resort city in nearby Boca Raton. In "Addison's City," Hollis begs Addie to take up his brother's "marvelous idea," and in the lively "Boca Raton," set in a radio studio, the company's over-the-top publicity and false promises are instigated and delivered by Willie in ever more grandiose and implausible terms. In reality, the Boca Raton project was conceived by Addison Mizner and its PR run by Harry Reichenbach, a Hollywood publicist known for outrageous stunts—though as secretary and treasurer of their corporation, Wilson surely contributed to the venture's collapse, as did the waning of the Florida land boom. Addison's career never recovered; Wilson took off for Hollywood and continued his hustling as a screenwriter and opened the Brown Derby restaurant. The show's finale returns to Addie's deathbed, where Willie joins him to sum up their lives and discovers that he's also dead—a reference, perhaps, to the Mizner brothers' deaths in 1933, eight weeks apart.
Of course, Road Show is not meant to be an accurate, in-depth biography of both—or either—of the brothers. But its structure of quick transitions from one event or episode to another and its setting up of Willie as the straw man for Addie's problems come off as schematic, lessening the show's emotional impact. The music doesn't rank with Sondheim's best, though it sounds like him (if at times a little too reminiscent of earlier songs), and the lyrics are clever enough, sometimes even laugh-out-loud funny. Musical duties are handled well by the three-person orchestra of keyboards, reeds, and trumpet under the direction of Jonathan Goldberg, which produces a surprisingly full sound. Cristina Todesco's set with its motley stacks of armoires, chests, and other furniture that double as platforms for the actors aptly conveys the sense of two men ever on the move, always searching for the next opportunity. And Veloudos and codirector Ilyse Robbins keep the action flowing through ninety intermissionless minutes that never drag.
Though Road Show is unlikely to top anyone's list of Sondheim favorites, it's an often entertaining take on a quintessentially American story. It's also the latest work by our greatest living musical theater creator, who turns 88 in March. Especially in light of the Lyric Stage's commitment to examining the Sondheim canon beyond his greatest hits, this ably sung and acted production is well worth a look.
---
Evelyn Rosenthal is a professional singer specializing in jazz and Brazilian music, a freelance editor, and the former editor in chief and head of publications at the Harvard Art Museums. She writes about musical theater and music for the Arts Fuse.